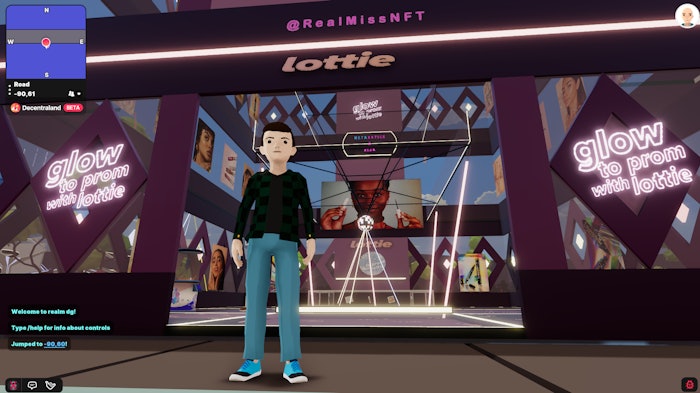 Lottie London is hosting the first metaverse prom party on Decentraland, for two weeks starting May 25, 2022, to celebrate the party prom season and engage with its Gen Z audience.
Lottie London is encouraging party guests to express themselves through wearables, conversation and dance while maintaining a safe space for creativity and self expression.
The prom party will be hosted in District X of Decentraland, near Vegas City—the largest district in Decentraland.
Party-goers will have the chance to fully immerse themselves in the prom party with an exclusive attendance POAP (proof of attendance protocol) available to the first 2,000 attendees that links directly through to the Lottie London Walmart shopping page. In addition, there are 2,000 limited edition wearables in two unique designs: a classic prom crown and corsage and a glowing makeup look created using the Lottie London prom product edit. 
The Lottie London prom product edit includes the Diamond Bounce highlighter in silver, as well as Eye Foils in shades Too Much and Shady alongside the iconic Stamp Liner Wing Edition.
To bag a wearable, guests need to take a selfie in the metaverse prom party (a screenshot) and post on Twitter tagging @lottielondon and @walmart with the hashtag #GlowToPromWithLottie.
Nora Zukauskaite, marketing director at Lottie London, said, "We are so excited to be kickstarting the prom season with the first ever prom party in the metaverse! As our second exploration into the metaverse for Lottie London we've taken a deeper dive and expanded rapidly with a wider offer of POAPs, wearables and a fully enhanced digital space. We can't wait for guests to join us and dance the night away and experience the best ever prom."