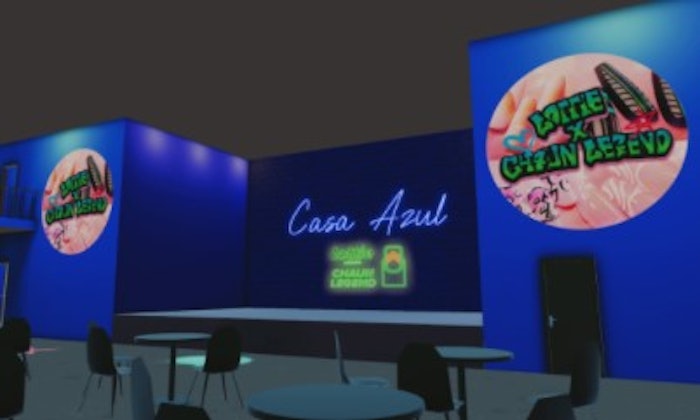 Lottie London is previewing its new nail collection with Chaun Legend on Decentraland's metaverse platform from March 17-24, 2022.
The brand is re-entering the nail category for the first time in six years. The new collection features Chaun Legend's long coffin shape and four designs inspired by his home base and first love of Los Angeles.
Lottie London will be taking over the Casa Azul venue in the Festival Land within the Vegas City District, the largest district within Decentraland. 
The week-long event has provided the opportunity for guests to receive a branded POAP (proof of attendance protocol, digital badges that verify one's attendance at virtual events) collectible token that will unlock a  limited-edition free wearable avatar head that has been enhanced by Lottie London's best-selling product Mega Brow, Stamp Liner Wing Edition and Freckle Tint.
Decentraland is the home of several beauty experiences. For instance, as part of the Metaverse Fashion Week (March 24-27, 2022), Estée Lauder collaborated with Alex Box to create a signature wearable look that attendees can wear virtually on their avatars.
"We are thrilled to be the exclusive beauty brand participating in Metaverse Fashion Week," said Stephane de La Faverie, global brand president, Estée Lauder & Aerin Beauty and group president, The Estée Lauder Companies. "It marks a pivotal point for Estée Lauder in how we reach and engage new and existing consumers in the metaverse."
Earlier this year, Valdé Beauty launched its Valdé Divine NFT collection comprising lipstick holders "made from precious quartz minerals that have been forged from the earth and artfully handcrafted into a vessel that protects lip products and elevates everyday rituals into meaningful moments of self-care and reflection." Each holder was paired with a virtual exclusive "armor" that could be worn by the NFT owners on Decentraland's platform. 
Nora Zukauskaite, marketing director at Lottie London, said, "We are thrilled to be entering the metaverse with our Gen Z powered brand, Lottie London. It is such an exciting time to explore with further innovations coming in this space, it is vital for beauty brands to be playing a role in its expansion. We cannot wait to open our Lottie London x Chaun Legend showcase to the world and allow for an exclusive preview of our upcoming collection in this digital world."