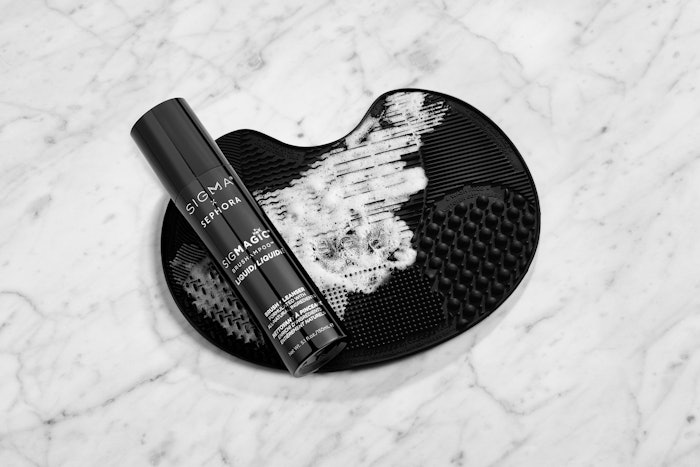 Sigma Beauty has deepened its partnerships with Sephora and Amazon. The beauty brand has launched two products that clean brushes in collaboration with Sephora while expanding its footprint to the European market with Amazon.
Sigma Beauty introduced the Sigma X Sephora SigMagic Brushampoo and Sigma x Sephora Brush Cleaning Mat at Sephora and Sephora.com on July 28.
The Sigma X Sephora SigMagic Brushampoo features a patented, all-natural liquid formula designed to give brushes a deep, gentle clean. The cleanser dissolves product buildup, oil and dirt while conditioning brushes. It is also antimicrobial and hypoallergenic, preventing the growth of bacteria for up to two weeks after use, according to Sigma Beauty.
The Sigma X Sephora Brush Cleaning Mat is a compact silicone mat with seven patented textures that allows users to swirl away makeup residue and buildup on their brushes.
The Sigma X Sephora SigMagic Brushampoo retails for $19 and the Sigma X Sephora Brush Cleaning Mat retails for $29. Both the cleanser and mat feature a sleek black finish exclusive to Sephora's collection.
In addition to the launch of these two products, Sigma Beauty will expand its reach into Europe via Amazon. The Minnesota-based company announced that it will sell its products on Amazon's European virtual storefronts in France, Spain, Italy, Sweden, Netherlands, Poland, Germany and the United Kingdom.
"Our Amazon U.S. business has experienced exponential growth with sales increasing 400% year over year," said Simone Xavier, Ph.D, co-founder and chief creative officer of Sigma Beauty. "We are thrilled to join Amazon EU and to make our top-selling products available to eight new European countries. We expect our Amazon EU business to be as successful as our Amazon U.S. business."
Sigma X Sephora SigMagic Brushampoo
Ingredients: Deionized Water, Potassium Cocoate (Virgin Coconut Oil), Potassium Palmate (RSPO Certified Palm Oil), Potassium Hydroxide