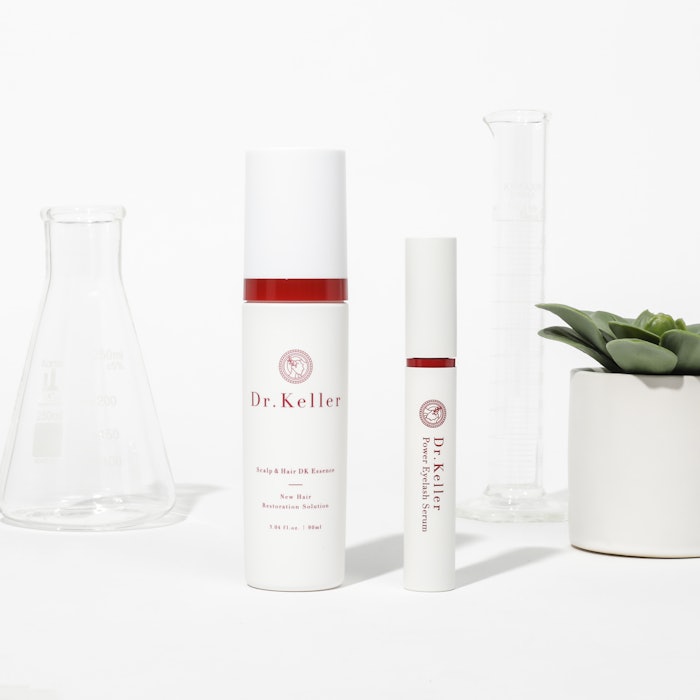 Premium Japanese beauty brand Dr. Keller has released its Power Eyelash Serum and Scalp and Hair DK Essence, featuring its proprietary skin penetration technology called QuSome.
Both products are infused with medical-grade QuSome, which improves the efficacy of active ingredients by penetrating the depths of the skin and precisely delivering them to the source of the skin's problems, according to the company.
Previously: J-Beauty, a Primer
The nano-sized QuSome particles have a diameter between 70 nanometers and 150 nanometers.
Encapsulating the ingredients into small particles makes them stronger and more stable as well as making the formula gentle for sensitive skin, per the brand.
The QuSome technology in the Power Eyelash Serum enhances the appearance of the eyelashes' length, volume and definition.
The serum also includes vercillin, anargy and capixil to help reduce eyelash fallouts, prevent loss of eyelash fibers due to aging, promote lash growth, and improve the overall health and appearance of the eyelash.
The Scalp and Hair DK Essence uses the QuSome technology to create a healthier scalp and prevent hair breakage.
The essence is formulated with carrot extract from panax ginseng (also known as Korean ginseng) that provides essential minerals to balance the scalp.
Swertia japonica extract is designed to keep the scalp healthy and offset flaking and breakage.
In addition, dipotassium glycyrrhizinate extracted from the licorice plant helps prevent dandruff and itchiness while also balancing the scalp's pH.
The products are available at www.bglen.us.
Power Eyelash Serum
$65 per O.11 oz
Ingredients: Water, BG, PEG-23 Glyceryl Distearate, PEG-12 Glyceryl Dimyristate, Oligopeptide-2, Acetyltetrapeptide-3, Pyrrolidinyl Diaminopyrimidine Oxide, Acetyl Acetate Synthetic Human Hexapeptide-5 Amide, Hydrolyzed Peptide Meieni Root, Red Thorn Flower Extract, Mitsuishikonbu Extract, Dutch Garashi Leaf/Stem Extract, Otaneninjin Root Extract, Senburi Extract, Gobo Root Extract, Pantenol, Niacinamide, Allantin, Sugar Protein, Water-Soluble Collagen Crosspolymer, Na Hyaluronate, Tosylvaline Na, Arginine, Dilauroyl Glutamate Lysine Na, Roman Chamomile Flower Extract, Blue-Green Algae Leaf/Stem Extract, Red Pepper Flower/Leaf/Stem Extract, Blue-Green Algae Fruit Extract, Rosemary Leaf Extract, Garlic Root Extract, Squalane, Tocopherol, Cholesterol, Glutamic Acid, Na Citrate, Cyclohexylglycerin, Pentylene Glycol, (PEG-240 / Decyltetradeceth-20/HDI) Copolymer, Phenoxyethanol, Silver Oxide
Scalp and Hair DK Essence
$65 per 3.06 fl oz
Ingredients: Panax Ginseng Root Extract, Swertia Japonica Extract, Dipotassium Glycyrrhizate, Water, Alcohol, Sodium Lactate, Butylene Glycol, PEG-60 Hydrogenated Castor Oil, Phenoxyethanol, Glycine, Sodium Metaphospate, Niacinamide, Hydrolyzed Collagen, Hydrolyzed Keratin, Arctium Lappa Root Extract, Anthemis Nobilis Flower Extract, Allium Sativum (Garlic) Bulb Extract, Arnica Montana Flower Extract, Hedera Helix (Ivy) Leaf/Stem Extract Lamium Album Flower/Leaf/Stem Extract, Nasturtium Officinale Extract, Pinus Sylvestris Cone Extract, Rosmarinus Officinalis (Rosemary) Extract, Sodium Hyaluronate, Polyquaternium-7, Sodium Benzoate, Polyquaternium-10, PVP, Glycerin, OIctyldodeceth-20, Squalane, Sodium Hydroxide, Disodium Phosphate