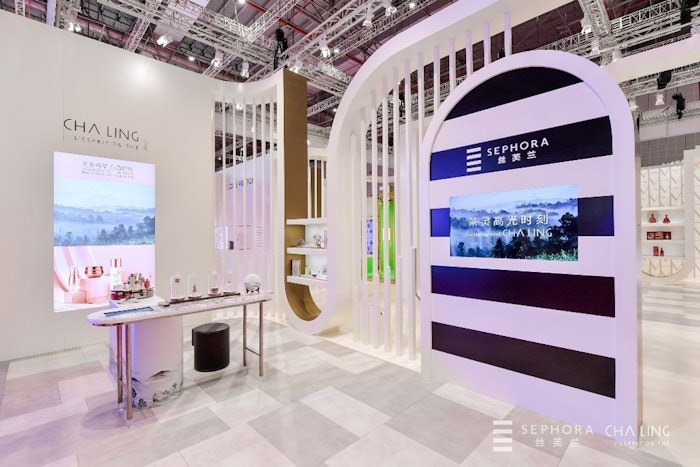 Sephora is exhibiting at the 5th CIIE in China and presenting Sin-French luxury skin care brand, Cha Ling. 
Recent reports note that Sephora has increasingly onboarded more Chinese brands to remain competitive in the country. These include Herborist, Marie Dalgar, Inoherb and MGP.
Sephora is participating at CIIE in LVMH Pavilion's theme of "Reconnection" by showcasing Cha Ling's commitment to the Chinese market through products representing the fusion of Chinese and French culture.
The products featured include Cha Ling Eau de Toilette, Cha Ling The Cream, Cha Ling Treatment Essence and Cha Ling Infusion Serum.
To support the growth of Cha Ling in China, Sephora has tapped its omnichannel sales and distribution resources, as well as its Chinese consumer trend knowledge. 
Since the brand launched in Sephora more than three years ago, Sephora has helped Cha Ling to launch a dedicated lifestyle product line to expand commercial opportunities and create the Cha Ling Tmall flagship e-commerce store.
In offline strategies, Sephora has also partnered with Cha Ling to launch the brand's spa treatment services and its exclusive Beau-Tea Class, helping the brand to diversify its product portfolio.
As of July 2022, Cha Ling achieved cumulative sales of RMB100 million within Sephora channels.
Maggie Chan, managing director of LVMH—Sephora Greater China, said, "Sephora China is a platform that integrates east and west, offering trendy beauty items from all over the world. At the same time, we are dedicated to providing Chinese consumers with cutting-edge products. Developed by LVMH Research Center, Cha Ling organically blends together Chinese and French culture to preserve China's cultural and spiritual heritage, further deepening our connection with the local Chinese market."
Angela Shum, brand general manager of Cha Ling Greater China, said, "Elements of Chinese and French cultures are firmly embedded in Cha Ling's DNA. From ingredients to brand philosophy, Cha Ling is inextricably linked to Chinese culture. We will continue to interact with Chinese consumers and develop more innovative products that cater to the local needs to provide Chinese consumers with luxurious skincare experiences as well as genuinely memorable services."