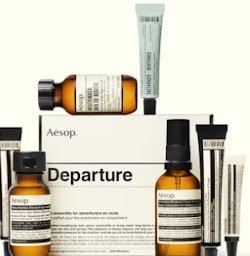 Natura &Co Q3 2022 consolidated net revenue totaled BRL 9.0 billion, a drop of 5.7% compared to the same period of 2021.
Revenues grew in constant currency terms due to a strong performance at Natura &Co Latam (up 10.2%) and Aesop (up 21.5%), but was partially offset by a 19.5% at The Body Shop and 8.1% drop at Avon International (excluding Russia and Ukraine).
Consolidated gross profit for the period of BRL 5.8 billion represented a 64.1% gross margin, down 120 basis points year-over-year.
Consolidated adjusted EBITDA for the period totaled BRL 773 million with a flat year-over-year margin of 8.6%.
Increased costs were reportedly somewhat offset by price increases and inventory management, per the company. 
Fabio Barbosa, group CEO of Natura &Co., said:
Natura &Co posted results in line with the expectations we shared with the market in the previous quarter, with top line trending better, while margins continued to be pressured by the challenging macroeconomic environment marked by high inflation, lower discretionary spending, and foreign exchange impacts.
In Q3, Natura &Co Latam posted solid performance, notably the Natura brand and the Avon CFT segment in the region, while Avon International continued to show a sequential improvement in results and in key channel indicators. Aesop delivered another consistent strong quarter with sales growth more than 20% in CC. On the other hand, The Body Shop continued to post challenging results amid channel decline in the at-home segment and slower franchise recovery.
The Group reorganization that we announced last quarter has made good progress. The Transition Committee that was put in place to streamline the corporate structure has completed its work. We are implementing the steps to significantly reduce operating costs at the Holding and to give each brand more autonomy and accountability for results.
Other structural steps are also in motion, aiming to boost our performance. We are accelerating the integration of the Avon and Natura businesses in Latin America, informally known as Wave 2, starting in 2023 with Peru and Colombia, quickly followed by Brazil. In Avon International, we continue to optimize our geographic footprint, with significant changes in markets such as India and Saudi Arabia. We also announced the closing of Avon's Suffern R&D facility in the US and the outsourcing of Avon's IT infrastructure, which should result in considerable recurring savings beginning in 2023. The Body Shop has taken steps to rightsize its organization and as announced in the Material fact published on October 17th, we continue to analyse strategic alternatives for Aesop.
Taking into consideration the strategic moves mentioned above, the potential alternatives for Aesop currently under study and our expectations of a continued uncertain macro environment in some markets, we are withdrawing our mid-term guidance1 . We will continue to work on the actions we have outlined to deliver sustainable shareholder return and achieve our ambition of making Natura &Co the best beauty company for the world.