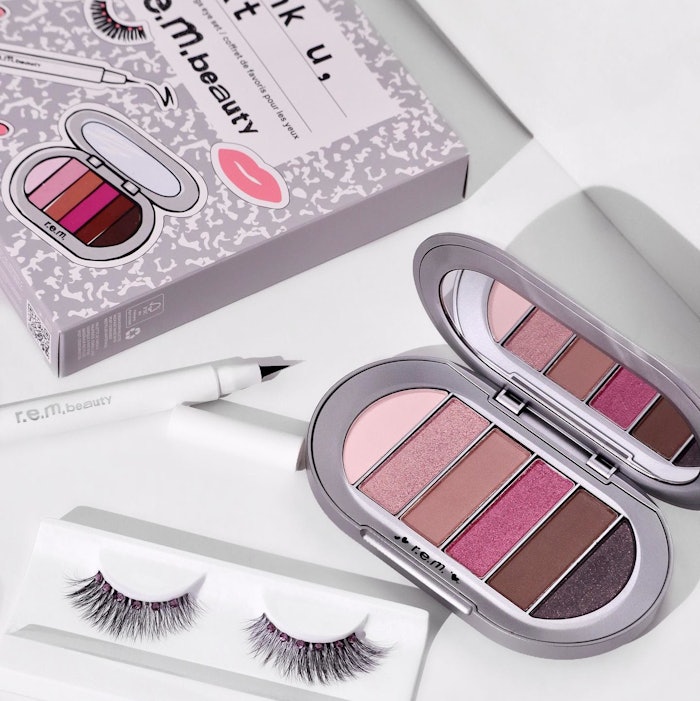 Update (February 2, 2023):  Ariana Grande is reportedly reacquiring her r.e.m. beauty brand from Forma Brands for about $15 million, per Forbes.
The brand debuted in November 2021 with "Chapter 1" of its collection, titled "Ultraviolet." It retails at Ulta Beauty and Selfridges, among other outlets.
Previously (January 12, 2023): Forma Brands has filed for Chapter 11 Bankruptcy and has entered a definitive asset purchase agreement with its lenders, known as the Investor Group. 
The company has received a commitment for approximately $33 million in debtor-in-possession financing from the Investor Group, which, subject to court approval, will be available to support the business and its operations throughout the court-supervised sale process.
The agreement with the Investor Group includes Forma Brands' wholesale operations, online platforms and international Morphe retail stores.
The proposed transaction is expected to significantly strengthen Forma Brands' financial position and provide additional support for the execution of its long-term growth strategy, which will focus largely on the company's global wholesale and e-commerce operations. 
Morphe tweeted, "Our parent company Forma Brands has agreed to be acquired by a group of its investors in a court-supervised sale. This doesn't impact the Morphe products that you love, and we will continue to launch new products."
Just last week, Morphe also announced it was closing all of its U.S. stores. 
The brand wrote on Twitter in part, "We are forever grateful to our store teams for their passion, talent and dedication over the years."
In connection with the court-supervised sale and restructuring process, Forma Brands has appointed Stephen Marotta as chief restructuring officer. He is a senior managing director at Ankura Consulting Group, LLC with more than 35 years of financial restructuring experience. 
Simon Cowell, president of Forma Brands, said:
Over the last year, Forma Brands has been implementing initiatives to stabilize our business and reposition our organization for long-term growth. This agreement is a testament to the strength of our brands most meaningful to our consumers, including Morphe and Morphe 2. We will have additional financial resources available to invest in our multi-category portfolio, product launches and innovative brand and marketing strategy as we advance our vision to inspire creativity, promote inclusivity and connect with consumers around the world through beauty. We appreciate the continued support of our financial partners and believe this is the best path forward for Forma Brands as we position the business for the long term.
We are excited to reinforce our focus on the opportunities we see ahead for our brands and continue bringing our thoughtfully selected beauty products to consumers through our individual online brand platforms, retail partners and Morphe stores outside the [United States]. We thank our stakeholders for their continued support, including our global creators, influencers, affiliate and retail partners and our vendors and suppliers, all of whom play a key role in helping us curate the next generation of beauty brands and products. I also extend my deepest appreciation to our team members for their commitment to Forma Brands and for always going the extra mile to deliver thoughtfully selected products to our consumers.