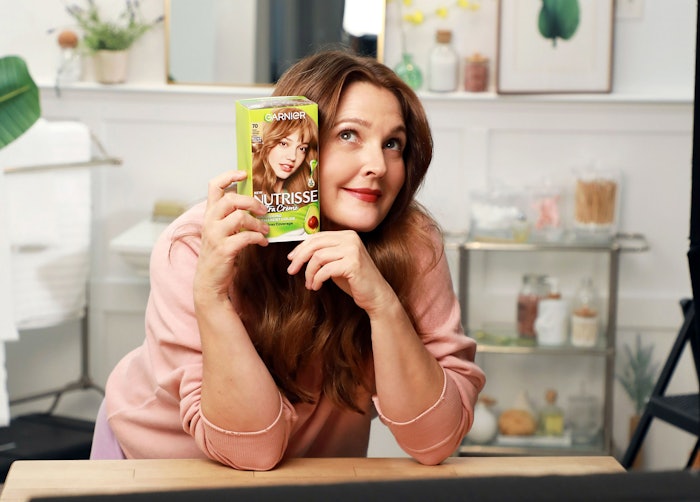 Garnier Nutrisse has named Drew Barrymore its brand ambassador, an expansion of her current role as Garnier Whole Blends' brand ambassador and creative director. 
Barrymore's role debuts with a creative campaign beginning on February 27, 2023, highlighting Garnier Nutrisse's new and improved Nourishing Color Crème formula for nourished hair and better color. It features five fruit oils: avocado, olive, shea, argan and coconut oil. 
Barrymore said, "It's no secret that I've been a Nutrisse user for years. I'm excited to expand my role with Garnier and share my love of the new Nutrisse Nourishing Color Crème. I've been just about every hair color under the sun and the updated formula provides a fab shade that cares while it colors and is so easy to master on your own. My favorite is shade 70 because it's super rich and covers my grays." 
Garnier's senior vice president, Ali Fakih, said, "We're delighted to see our partnership with Drew Barrymore expand into hair color. She is more than a spokesperson for us—she is a true advocate, with the ability to connect and relate to her audience in a way rarely seen in the celebrity world. Her affinity for hair color, and her 'do it myself' nature, made for the perfect choice as our Garnier Nutrisse brand ambassador."