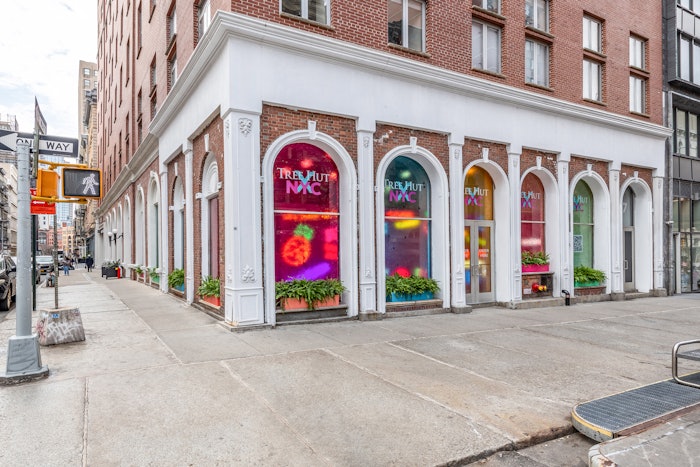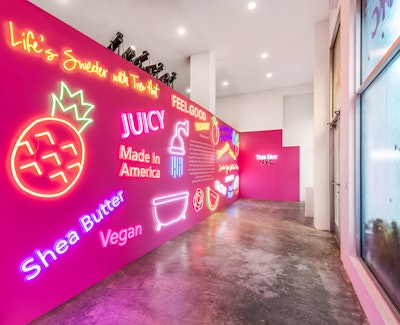 Tree Hut, a scent-forward body care brand aimed squarely at Gen Z and its favorite social platform, TikTok,  has launched its NYC pop-up, running March 24-25, 2023.
In 2022, Circana (then NPD) reported that, in the U.S. prestige skin care space, body product sales grew at more than three-times the rate of facial products.
(Interestingly, the brand highlights its U.S. manufacturing in the experiential space.)
Last year, Numerator ranked Tree Hut on its top 10 list of most popular beauty brands among Gen Z shoppers. Per Numerator, "Each of the CPG brands on this list were purchased by at least 5% of Gen Z buyers, were at least twice as popular with Gen Z vs. other generations, and experienced at least 30% growth in 2022 vs. 2021. "Furthermore, Tree Hut claims it has sold an average of 59 products per minute in February 2023. The brand boasts about 920K TikTok followers as of press time.
The brand retails at Target, Ulta and Walmart and online at Target.com, Ulta.com and Walmart.com, as well as www.treehutshea.com.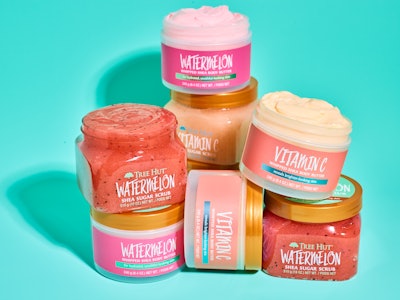 The new pop-up will highlight the new Foaming Gel Body Wash collection, which includes Pineapple, Strawberry, Tropic Glow, glow-boosting Vitamin C, Coco Colada, Watermelon and Moroccan Rose variants.
The space's colorful installations are designed to allow visitors to conceive of their ideal body care combos while generating Instagram- and TikTok-friendly content.
The brand's Foaming Gel Body Wash, Shea Sugar Body Scrub, Moisturizing Shave Oil and Whipped Shea Body Butter are presented in corresponding Cleanse, Exfoliate, Shave, Rinse and Hydrate rooms.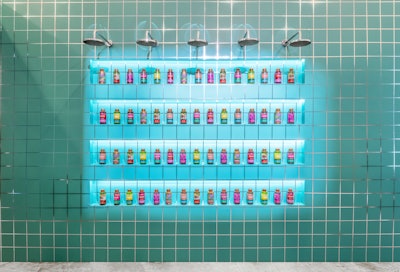 Highlights include a psychedelic bathtub, life-size product installations and a waterless shower walkthrough. The first 100 attendees each day will leave with a set of the entire Tree Hut regimen, while the following 500 attendees each day will receive a new Foaming Gel Body Wash and body scrubber.
"As a brand that has such an impactful and viral digital presence on social media, we wanted to celebrate our loyal fans by giving them a physical branded space to fully immerse themselves in the colorful and imaginative world of Tree Hut," said senior marketing manager, Hazel Smith. "The Tree Hut x NYC Pop-Up is the perfect place for our consumers to learn about new products, experience the best-sellers they already love and create unique content in a vibrant space that brings Tree Hut out of the shower and into the city."