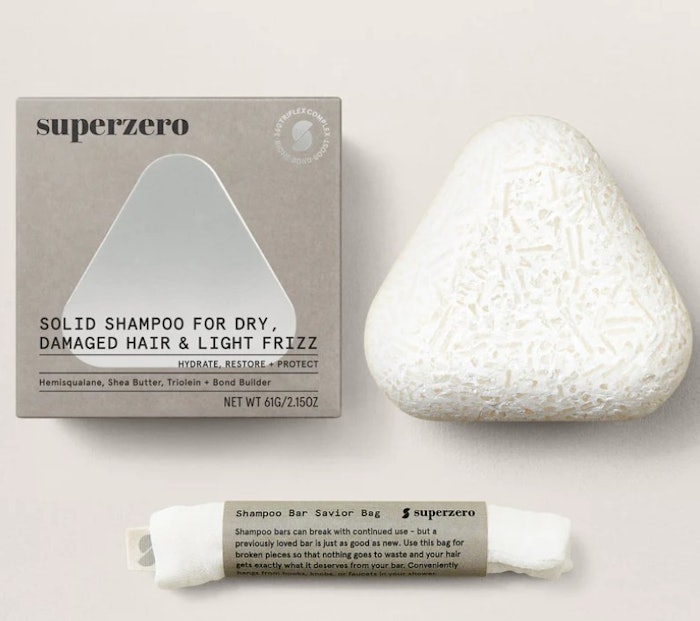 superzero has unveiled its rebrand and reformulated proprietary 360 Triflex Complex on Sephora.com. 
The solid hair care bars feature the 360 Triflex Complex, which combines clinically proven bond building technology with biome-enhancing triolein and bespoke biotech botanicals that are carefully tailored to different hair types.
Each of superzero's shampoo offerings has a lifespan equivalent to two 8.4 oz bottles of liquid, resulting in a more concentrated and potent product for the consumer and less rigid plastic packaging, micro plastics and unnecessary carbon emissions for the environment.
The brand and its products are certified carbon neutral across scope 1, 2, and 3 with Climate Partner. It offsets its remaining carbon emissions through the removal of ocean plastic with the Plastic Bank and the support of wind farm projects.
The bars help nurture your biome, repair your bonds with bond building technology, and boost the hair to new levels of health, shine, and volume by using clinically proven biotech botanicals that match your hair's personality.
A collection of 11 superzero products will be available on Sephora.com and superzero.com:
Solid Shampoo for Fine Hair
Solid Shampoo for Oily Hair
Solid Shampoo for Dry, Damaged Hair & Light Frizz
Shampoo for Flakes + Itches
Solid Shampoo for Thinning Hair
Solid Purple Shampoo for Blonde, Highlighted + White Hair
Solid Shampoo for Curly + Extremely Frizzy Hair
Solid Clarifying Shampoo
Solid Conditioner Light Intensity
Solid Conditioner Medium Intensity
Solid Conditioner High Intensity
Conny Wittke, Ph.D., founder and co-CEO of superzero, said, "We have worked for years on redefining luxury hair care to set a new standard of performance while making it more accessible and sustainable. We have engineered solids that vastly increase the concentration of clinically proven actives and deliver them directly to the biome, the bonds, and the hair; while removing the water which makes up 80% of traditional luxury hair care, delivers watered-down results, makes products expensive, and requires plastic."
Jennifer Lucchese, VP of hair care merchandising at Sephora, said, "We are so excited to introduce superzero to our clients, and welcome this innovative brand to our hair care category. superzero takes a clinical, tailored approach to haircare, with a range of solid bar shampoo and conditioners that improve hair health. We look forward to welcoming this brand into our Sephora community and know that their products will be a great addition to our Clean product assortment."