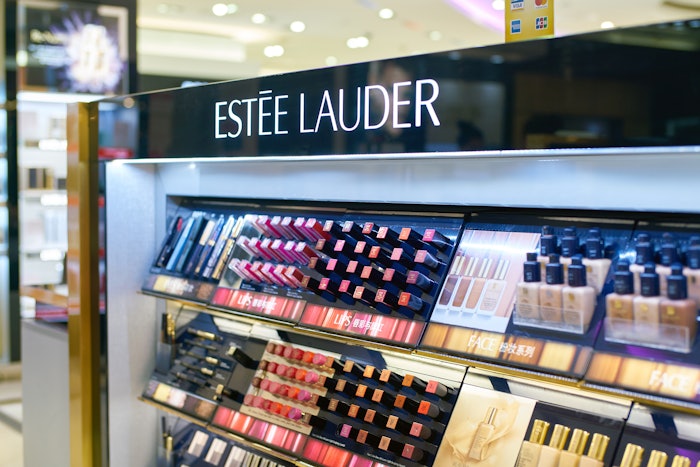 The Estée Lauder Companies Inc. has reported net sales of $3.75 billion for its Q3 fiscal 2023, representing a decline of 12% year-over-year. Results were impacted by foreign currency translations and a drop in Asian travel retail. That said, organic net sales grew in nearly every market, while the fragrance category grew double digits.
Net earnings for the period totaled $156 million, compared with net earnings of $558 million in the prior-year period.
(See below for performance by category.)
Looking ahead, the company estimates that full-year net sales will decline 10-12% year-over-year. Key factors will include the ongoing foreign currency translation challenge, as well as the termination of the company's license agreements for the Donna Karan New York, DKNY, Michael Kors, Tommy Hilfiger and Ermenegildo Zegna.
Those licenses have moved to other firms. For instance, Tommy Hilfiger's license now rests with Give Back Beauty.
"In the context of a quarter which we anticipated to be challenging, we are pleased to have delivered the high-end of our outlook for the third quarter of fiscal 2023," said Fabrizio Freda, president and CEO. "Our developed and emerging markets grew strongly and exceeded our expectations to offset an even slower-than-expected recovery in Asia travel retail. Each of the Americas and Asia/Pacific returned to organic sales growth, bolstered by increases in the United States and China, while the markets of EMEA continued to prosper. Moreover, we continued to grow our prestige beauty share in many markets, including a sequential acceleration in gains in China and Western Europe.Net sales from Clinique rose double digits, benefiting from solid performance in the lip, concealer and eye subcategories. Double-digit net sales growth from Tom Ford Beauty reflected strength from products in the lip subcategory, including Lip Color Satin Matte and Soleil Lip Blush. Makeup operating income decreased, primarily reflecting an increase in cost of sales, including obsolescence charges, and the decrease in net sales from Asia travel retail."
Skin Care Dynamics
Skin care net sales feill 17%, year-over-year.
Declines were led by lower travel retail, which lead to weakness at La Mer, Estée Lauder and Dr.Jart+.
This was offset somewhat by growth from The Ordinary and M·A·C.
Makeup Dynamics
While most markets grew, Asial travel retail continued to drag. Weakness was also seen in the Estée Lauder brand (impacted by travel retail declines), while M·A·C, Clinique and Tom Ford Beauty performed well.
Fragrance Dynamics
Fragrance net sales grew double digits, driven by growth in every region, as well as double-digit growth from Tom Ford Beauty, Le Labo and Estée Lauder.
Hair Care Dynamics
Hair care net sales increased 3%, led by growth from The Ordinary and offset by a decline from Aveda (particularly in North America).