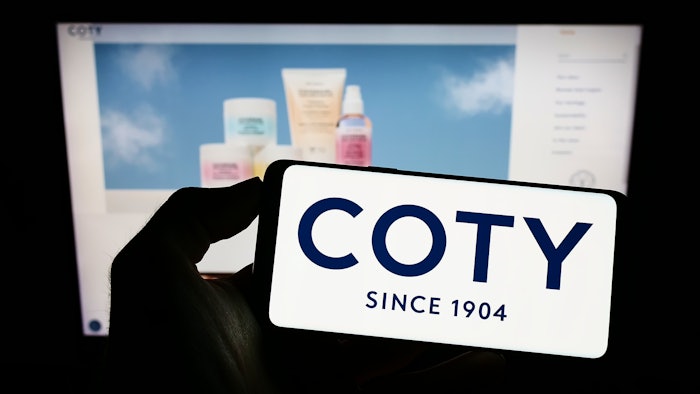 Coty has announced its third quarter 2023 results which showed that net revenue increased 9% to $1,288.9 million. Nine-month results showed net revenue increased 2% to $4,202.5 million.
Q3 2023
Net income was $105.1 million, an increase from $49.6 million in the previous year.
Gross profit was $810.8 million, as compared to $763.1 million in the previous year. 
Nine-Month Results
Net income during the nine-month period was $465.4 million, as increase from $341.5 million in the previous year.
Gross profit was $2,697.8 million, as compared to $2,647.1 million.
Prestige Segment
Prestige net revenue in Q3 was $799.7 million or 62% of Coty sales, increased by 10% on a reported basis as compared to the previous year.
During Q3, growth in the prestige fragrance category across North America and Europe accelerated sequentially.
The prestige segment generated a reported operating income of $102.4 million in Q3, as compared to $83.8 million in the previous year.
Nine-month net revenue for the segment was $2,620.9 million, as compared to $2,605.1 million in the previous year.
Consumer Beauty Segment
Consumer beauty net revenues in Q3 were $489.2 million, or 38% of Coty sales, increased by 6% as reported compared to the previous year.
The total Coty consumer beauty business continued to gain market share globally resulting in five consecutive quarters of market share gains. 
Coty saw strong momentum in Q3 and year-to-date in most of its key brands, with double digit revenue growth across CoverGirl, Rimmel, Max Factor, Monange and Paixao, fueled by increases in volume, impactful innovations and pricing execution.
Nine-month net revenue for the segment was $1,581.6 million, as compared to $1,531.0 million in the previous year.
Sue Y. Nabi, Coty's CEO, said:
We are once again proud to report strong operational and financial performance, with today's Q3 results marking the eleventh consecutive quarter of results in-line to ahead of expectations. We are delivering on our balanced growth agenda, with strong LFL growth across both divisions and all regions, with growth contribution from volume, price and mix, and from our key categories including fragrances, cosmetics, and body care.
In a complex global environment, beauty remains an advantaged category with consumers, at the sweet spot of affordable luxury, self-care, and confidence boosting. This dynamic reinforces our confidence in global beauty consumption outperforming in a variety of macroeconomic scenarios, with Coty well placed to succeed, supported by our positions as a leader in fragrances and cosmetics, and significant untapped potential in skin care, China and Travel Retail.
In Prestige, demand for prestige fragrances accelerated in the quarter across developed markets, once again confirming the structural changes in global consumption as more consumers enter the category, use fragrances more frequently, and opt for longer-lasting and more premium products. Against this backdrop, we continue to grow the fragrance category and premiumize our business through our portfolio of icons and leading launches, such as Burberry Hero and Her, Gucci Flora Gorgeous Jasmine and Gorgeous Gardenia, Boss Bottled Parfum and Chloe Atelier des Fleurs. This momentum is underpinned by the growing agility of our supply chain, as we've increased supply and expanded our dual-sourcing initiatives in the midst of continued constraints in fragrance components.
In Consumer Beauty, our brands are delivering strong and consistent growth across developed and developing markets. Our launches are resonating with consumers, whether it's CoverGirl's Clean Fresh Yummy Gloss which has become the #1 Lip launch this spring in the U.S. mass market or Sally Hansen's successful entry into the booming artificial nail category with its Perfect Manicure collection. Our Consumer Beauty business remains a key part of our strategy, consistently offering consumers value through high-quality and desirable beauty products at an affordable price.
The momentum in our established prestige fragrance and consumer beauty businesses, coupled with strong savings generation in the quarter of close to $60M, are fueling the next key pillar in our strategy: our skin care business. While we are in the very initial stages of igniting our focus skin care brands, I am encouraged by the positive initial signals we are tracking, whether it is leading social buzz and product reviews for Lancaster Ligne Princière, or step-changes in philosophy's sales fueled by its new brand equity and newly launched serum, dose of wisdom.
Finally, we are making tangible progress on our sustainability agenda, as our industry-first partnership with Lanzatech to produce fragrance-quality ethanol from upcycled carbon has reached a new milestone with the recent launch of Gucci Alchemist's Garden, Where My Heart Beats, the first globally distributed fragrance using 100% carbon-captured ethanol.
Nine months into FY23, we are continuing to deliver sales growth amongst the best in our peer set, strong profit growth and operating margin expansion, and solid free cash flow as we progress towards our leverage target towards 3x exiting CY23. I am excited by the many initiatives planned for the coming quarters and years, as we continue on our journey to transform Coty into a true beauty powerhouse.