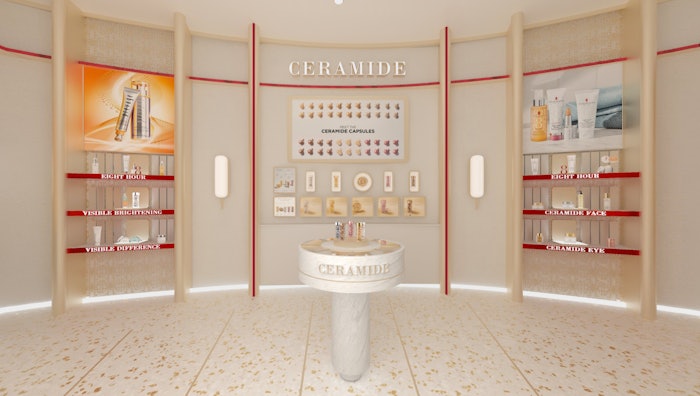 Elizabeth Arden has partnered with e-commerce platform Obsess to launch the brand's first immersive virtual store. 
The virtual store experience brings the brand's rich history to life through interactive content and iconic images that tell the story of its female founder, her impact on the beauty industry and the brand's evolution.
The space features gallery-style art that visitors can jump into to immerse themselves in the historical scenes depicted in the artwork and photos.
Its spa room features several elements designed to educate visitors about Elizabeth Arden skin care, including quizzes and gaming elements to find the best regimen for one's skin type.
In 2022, Laura Mercier partnered with Obsess to launch its virtual store, World of Beauty.
Martine Williamson, global chief marketing officer, said ,"Elizabeth Arden has been a leading beauty industry innovator for the past 120 years and we are thrilled to launch our first metaverse shopping experience in partnership with Obsess. We are truly operating as an omnichannel business to evolve our customer experience and engage a whole new generation of shoppers about our products and legacy through digital storytelling."
Neha Singh, founder and CEO of Obsess, said, "We are honored to work with Elizabeth Arden to bring the brand's cult products and inspiring heritage to life through an immersive virtual shopping experience for the first time. This virtual store experience will delight the brand's customers with one-of-a-kind interactive content and provide new ways for shoppers to discover, learn about and shop for Elizabeth Arden's industry-leading skin care, makeup and fragrances."