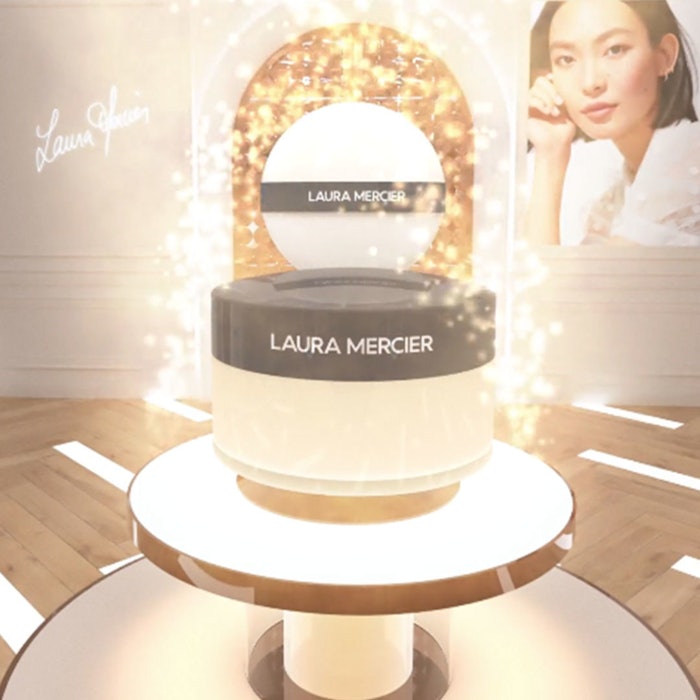 Laura Mercier has partnered with e-commerce platform Obsess to debut the brand's virtual store, World of Beauty, marking its first step into virtually experiential e-commerce.
Metaverse concepts are tapped to be a major theme for beauty in 2023, per  recent Mintel report.
The World of Beauty features three interactive virtual rooms, all designed with the brand's Parisian aesthetic in mind.
The first room offers an introduction to Laura Mercier's accredited "Flawless Face" technique, taking shoppers through the steps and products to achieve the  look, alongside a virtual shade finder.
The second room is a shopping shortcut in which he brand guides consumers to curated selections of products with a direct path to check-out.
The final portion of the experience brings the Laura Mercier holiday collection "Wrapped with Love" to life with an interactive 3D unboxing. 
The platform also offers an interactive hide-and-seek game, providing users with gamified elements to encourage trial via mini product giveaways to encourage purchases.
Diane Kim, global brand president of Laura Mercier, said, "This is an exciting time for our consumers to explore Laura Mercier through a new, digitalized lens, that offers an immersion into the brand and its history. The dynamic shopping experience provides consumers with the opportunity to play, discover, test and trial products, while telling the rich story of this iconic brand."
Pascal Houdayer, CEO of Orveon, said, "Orveon does not sell products, but rather offers experiences to serve our consumers. They crave digital experiences that also provides them with resources to learn more about our heritage. This is an important and innovative milestone for not only Laura Mercier, but the full Orveon brand portfolio as we continue to digitalize, grow revenue, and drive foot traffic to e-commerce, all while reaching existing and new consumers."
Neha Singh, founder and CEO of Obsess, said, "We are thrilled to partner with Laura Mercier to launch an immersive virtual beauty experience that gives consumers a delightful new way to discover, learn about and be inspired by the brand's iconic products and aesthetic. Visitors can do everything from virtually trying on products to find the shades that are their own personal 'perfect match' to discovering great gift ideas for everyone on their list in the interactive holiday gifting room."