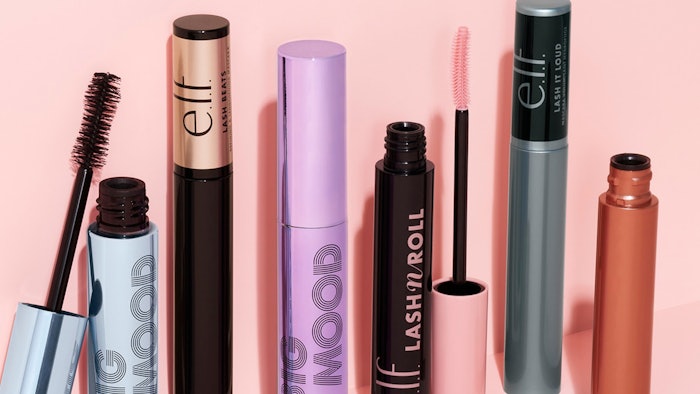 e.l.f. Facebook
"Insurgent" brand e.l.f. Beauty posted Q4 (three months ended March 31, 2023) fiscal 2023 sales gains of 78%, totaling $187.4 million, primarily driven by strength across retailer and e-commerce channels, and a full-year sales of increase of 48% to $578.8 million. Results were also boosted by a significant gain in market share, per the company.
Looking ahead, e.l.f. Beauty is anticipating a 22-24% net sales increase, year-over-year, in fiscal 2024, totaling $705-720 million.
e.l.f. Beauty's Q4 gross margin increased approximately 470 basis points to 69%, primarily driven by pricing, lower transportation costs, product mix and cost savings, per the company. Full-year gross margin increased about 330 basis points to 67%, primarily driven by pricing, cost savings and product mix, partially offset by inventory adjustments.
The company's year-end fiscal 2023 cash and cash equivalents totaled $120.8 million, compared to $43.4 million at the close of fiscal 2022. 
The strong results come as color cosmetics as a whole enjoy a strong comeback. Makeup was the fastest-growing sector of both prestige and mass markets, capturing nearly 1/3 of complete beauty sales revenue in Q1, per Circana. Makeup prestige sales were up 24%, while mass grew 15%.
As seen in full-year 2022, lip products represented the fastest-growing prestige makeup segment, rising 43%. Notably, higher-priced designer brand lip products grew even faster than that.
"Our outstanding results in fiscal 2023 underscore the power of the e.l.f. brand and the world class team at e.l.f. Beauty," said Tarang Amin, e.l.f. Beauty's chairman and CEO. "We grew net sales by 78% in Q4, marking our seventeenth consecutive quarter of net sales growth. We gained 270 basis points of market share in the quarter and increased our ranking to the number three U.S. mass cosmetics brand for the first time, according to Nielsen. As we look ahead, we believe we are still in the early innings of unlocking the full potential we see for e.l.f. Beauty."