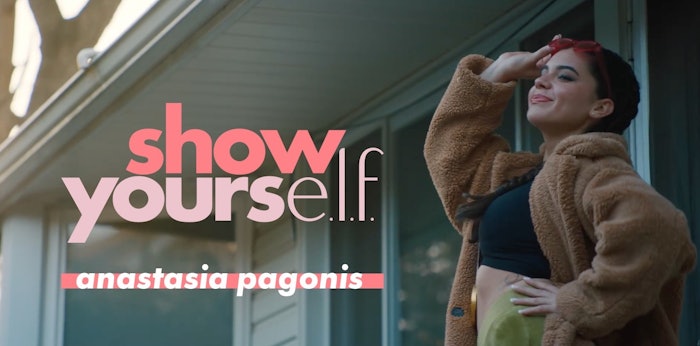 e.l.f. Cosmetics has partnered with paralympic swimmer Anastasia Pagonis for the brand's "Show Your(s)e.l.f." series that features inspirational stories from role models overcoming adversity to help bring more positivity, inclusivity and accessibility to the beauty industry.
A paralympian who set multiple records in 2020, Pagonis lost her vision gradually, becoming blind at the age of 14 due to a degenerative autoimmune disease. 
Now with a social following of more than 2.7 million, she often posts videos about her life, how to navigate being blind, her approach to beauty and her journey as a competitive swimmer in hopes to help her community.
e.l.f. is donating $75,000 to one of Pagonis' favorite organizations, The Hidden Opponent, a nonprofit that raises awareness for student-athlete mental health. This is part of e.l.f.'s plans to donate 2% of its prior year profits to drive positive impact in our communities annually.
The series was created and developed with Oberland, the ad agency for purpose-driven brands.
Pagonis said, "It took me a long time to adjust to who I am and to my blindness. But now I love to embrace it and share my dark humor and my blind girl moments, because that's what makes me, me."
Kory Marchisotto, chief marketing officer, e.l.f. Beauty, said, "e.l.f. doesn't just talk about impacting change, we make change happen. Anastasia makes us better humans, and we hope her story will inspire others. Her profound impact on us inspired us to think differently. We are proud that Anastasia will help guide us on the journey as we work to make our cosmetics and skin care accessible for every eye, lip, face and skin concern."
Lisa Topol, managing partner and executive creative director at Oberland shares, "e.l.f. is a shining example of how championing purpose drives creative growth and bolsters the bottom line. It's what consumers just like Anastasia demand of their brands: high quality products that stand for something more meaningful and don't just pay lip service."