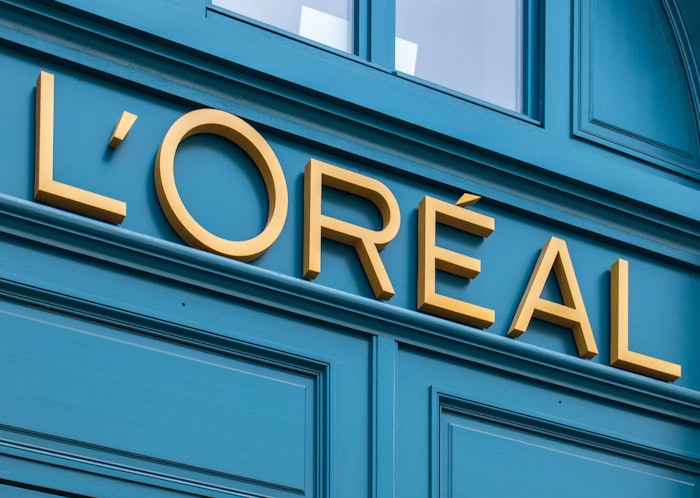 L'Oréal has dedicated Le Visionnaire – Espace François Dalle (link includes a brief video tour) as a space for its employees and partners from all over the world to foster creativity and inspiration, as well as to innovate and invent the future of beauty.
The headquarters at 14 Rue Royale in Paris is the historical address of L'Oréal and is the birthplace of L'Oréal's original métier of professional hairdressing, and the site where many beauty products were invented.
The building structure was entirely reimagined by architect Alain Moatti, whose challenge was to create a symbiotic relationship between legacy and ultra-modernity, reflecting a new purpose for the space: to help write the next chapter of the L'Oréal story and invent the most innovative products to respond to each beauty aspirations.
Collaborators now have innovative technology at their fingertips with a tactile, digital wall powered by AI that projects images and data in real-time to enhance the creative process among teams. 
Le Visionnaire – Espace François Dalle has 21 rooms, all different and unique, across five floors. 
It features a 25-meter tall glass roof made up of 288 steel nodes, assembling 188 glass panels.
There are more than 355 iconic products exhibited. 
Nicolas Hieronimus, CEO of L'Oréal Groupe, said ,"Le Visionnaire is an immersion into our culture and roots, which have always proved a strength towards building the future. It is a true incubator for creativity, collective wisdom, experience and experimentation, powered by the best technology to help inspire and 'seize what's starting', as François Dalle would say. Entirely conceived in a collaborative spirit, it simultaneously allows you to delve into the soul of our Maison, as well as a deep exploration of the wider world, allowing our employees to invent the future of beauty together."
Jean-Paul Agon, L'Oréal Groupe president, said, "Le Visionnaire is the ideal bridge between the past and the future of L'Oréal. The space reflects our values and our absolute belief in innovation and our love of cultural transmission. The futuristic quality of its architecture invites audacity and an avant-garde spirit, with one ambition: to cultivate together our ability to constantly reinvent ourselves, in order to adapt for a changing world. The L'Oréal adventure will continue to write itself here, in the place where it all started."
 Françoise Bettencourt Meyers, principal shareholder, L'Oréal Groupe, said, "4 Rue Royale is a historic and symbolic landmark that for many years, has been synonymous with the name 'L'Oréal'. If the building bears testimony to the products that shaped L'Oréal'sreputation, it also bears the memories of the men and women responsible for their development for over a century. In particular, I think of a handful of leaders who worked and still work to build this company. Among those who made L'Oréal what it is, there is one name that to me is particularly dear today: that of François Dalle. Tireless worker, sensitive, demanding of himself and others, he inspired trust, liked to take charge, to train together, and dispel the limitations that we put on ourselves. François Dalle was exceptionally intelligent and charismatic."
 Moatti, founding architect of the Moatti & Rivière agency, said, "Covered with a reflective lacquer shell, Le Visionnaire offers an ever-changing, almost abstract image, made of reflections of time and light which imprint rhythms and perspectives: the iridescence of mornings, the luminous incandescence of the evening…the spectacular creation of the 'egg' illustrates everything that L'Oréal makes possible."