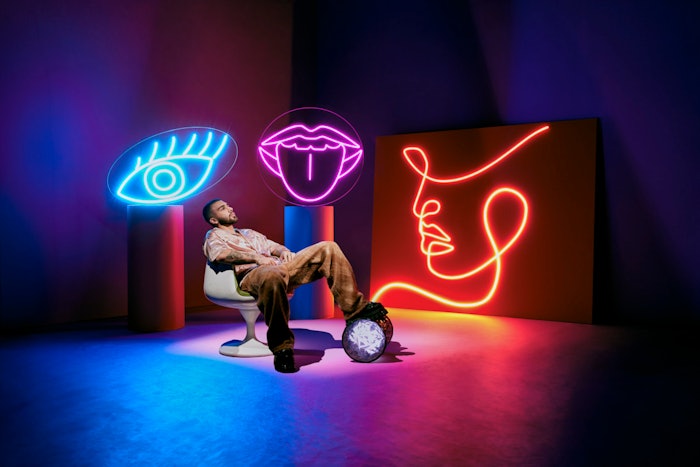 e.l.f. Cosmetics has partnered with Latin artist Manuel Turizo to release a new single, ojos.labios.cara, which means eyes.lips.face. in Spanish.
The song, written by Turizo, tells the story of a Latin woman who captivates the song's narrator not for her physical beauty but for her boldness, confidence and intellectual power. She is unapologetic about who she is and proud of her Latin roots.
Its music video was directed by Madwell's chief creative officer and co-founder Chris Sojka, and based on a story co-written with Madwell creative director Mauricio Galvan.
A dedicated "o.l.c." page on elfcosmetics.com allows fans to watch the video and then learn how to recreate the makeup looks using the Bold Bundle limited-edition collection.
The collection features five products:
Big Mood Mascara
H20 Proof Eyeliner Pen
Instant Lift Brow Pencil
Halo Glow Liquid Filter
O FACE Satin Lipstick
Kory Marchisotto, chief marketing officer at e.l.f. Beauty, said, "At e.l.f., we celebrate every ojo, labio y cara. Our Latinx and Hispanic fans are among our most passionate e.l.f. enthusiasts. This song is created for them, to shine a spotlight on their creativity, to amplify their voices and to give them a stage to live their bold truths."
Turizo said, "It was an honor to work alongside e.l.f. to create 'ojos. labios. cara.' and to have a song written [for the Latin community]. A song where women feel empowered, valued and beautiful. This collaboration is an anthem for them, and I hope you all enjoy this song as much as I do."
Sojka said, "The song is about unrequited love for a woman of such power that she doesn't even need to speak. Just her eyes, lips and face are paralyzing enough, a conduit for a mighty power greater than words. Since the video takes place on an extended reality soundstage, we're able to depict the past and the present contemporaneously, so the viewer can feel the strength of Latina trailblazers through generations."