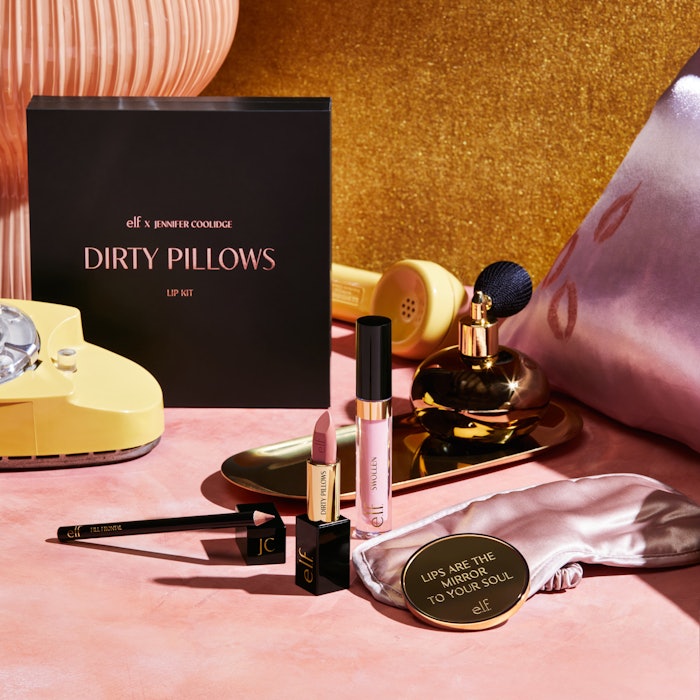 e.l.f. Cosmetics Facebook
e.l.f. Cosmetics has again teamed up with actor Jennifer Coolidge for the brand's launch of Dirty Pillows, a limited-edition lip collection. The collection's name was inspired by Coolidge's own ideas for lipstick shade names. 
The e.l.f. x Jennifer Coolidge Dirty Pillows Lip Kit retails for $25.00 exclusively on elfcosmetics.com and comprises the O FACE Satin Lipstick in the shade Dirty Pillows, the Lip Plumping Gloss in shade Swollen (another name invented by Coolidge), the Cream Glide Lip Liner in shade Fill Frontal and the Lips Are the Mirror to Your Soul Mirror.
"With the launch of Dirty Pillows, we're redefining what it means to be a mass cosmetics brand," said Kory Marchisotto, CMO, e.l.f. Beauty. "We're celebrating Jennifer's unique, authentic voice by inviting her to be her best e.l.f. By taking an unscripted moment and transforming it into a premium lip collection at e.l.f. speed, we go beyond beauty to entertain our community, setting a new standard for brands in today's dynamic beauty landscape."
 "When I get up in the morning my favorite thing to do is put on my makeup because I love the creative process of becoming somebody a little different each day just to keep life interesting," said Coolidge. "A key part of my favorite look is exaggerating my lips by combining lipstick with liner and gloss in just the right colors to make them look bigger. My eyes, my cheeks, and my foundation are changing every day with my mood ... but never my lips because every day I'm asked what products I use to get that look! Now with an e.l.f. x Jennifer Coolidge Dirty Pillows Lip Kit, you can have the exact shades I use every day to give you swollen lips too. I found the perfect partner in e.l.f. because they align with my top values… vegan, cruelty free and affordable! I'm thrilled to share the makeup secrets of my lips with you! You'll know you still have your lips on if you wake up to a dirty pillow!"