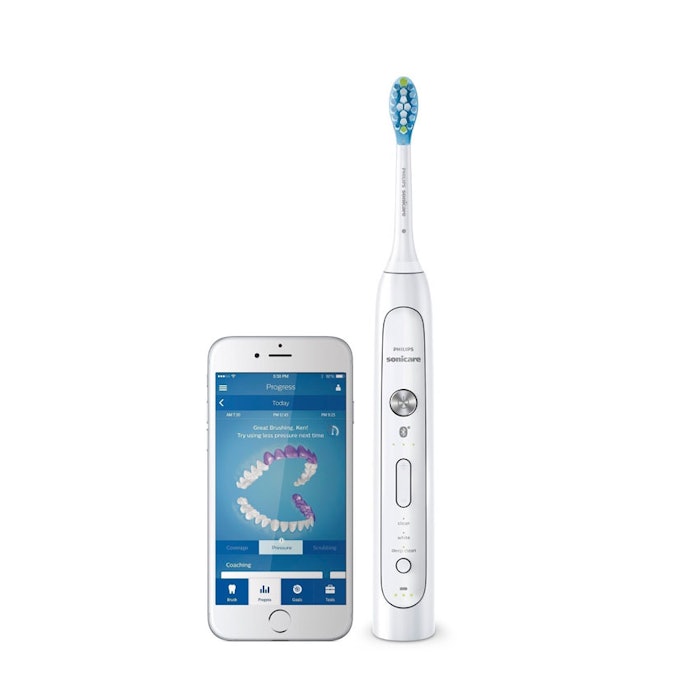 Philips Sonicare has launched an electric toothbrush that has location sensors that inform the user when they miss a spot. The FlexCare Platinum Connected also addresses concerns with excessive pressure and scrubbing and provides real-time feedback to improve technique. This toothbrush takes the guesswork out by delivering a customized oral care routine and points to unique technologies that can help guide personal care and beauty device users.
The power brush uses Smart Sensor technology that tracks the location of the brush and transmits the data to a free Philips Sonicare app via Bluetooth. The 3D Mouth Map identifies the missed spots and guides proper brushing technique so that the user can effectively reach more surfaces during each brushing session. The Touch Up feature prompts the user to revisit missed spots at the end of the two-minute brushing cycle.
Users can also share data with their dental professional who can provide more personalized advice via the Focus Area feature. This will help the user set daily goals and track progress in order to comply with their dentist's advice.
The brush has three modes and an AdaptiveClean Brush Head that gently tracks the gum line for plaque removal.
Alexander Harris, senior marketing director, said, "Working closely with dental professionals, we developed Philips Sonicare FlexCare Platinum Connected to offer people a view into their oral health routine that will ultimately help them achieve optimal cleaning results between dental visits."
"I see this as a homerun for the patient and dental professional alike," said Dr. Richard Nagelberg, Philips key opinion leader and general dentist who has been practicing for more than 30 years. "With the highly intuitive patient-facing components, this product will help meet our end goal: better oral health."