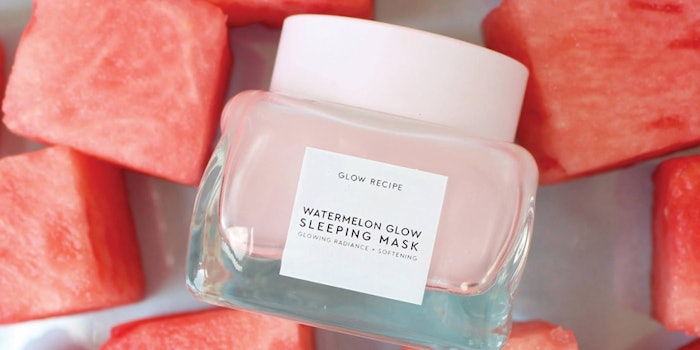 The consumer's interest in natural products is increasing rapidly, driven by the awareness of the potentially harmful effects of some cosmetic ingredients on their health and their environment. These shoppers are now looking for eco-friendly products in every format that are not only good for them, but also for their environment.
Face Mask Demand Decoded: 3 Key Trends
A top Google skin care search term, announced in February 2017a, was "face masks," driven by the countless online articles about natural ingredients multiplying on the internet and in print.
1. Charcoal
According to Google's data, 2017 was charcoal's year. Driven by the interest of consumers in detoxifying ingredients that can fight pollution and stress, this ingredient trend also reveals a less-is-more need for simplicity in formulations with high-quality, less processed ingredients.
2. Clay
Following the charcoal trend, clay masks have recently encountered a great success. Clay, a simple ingredient with acclaimed benefits, comes in many forms and types to treat different skin concerns. Recent launches featuring this ingredient include L'Oréal Paris, with its Pure Clay Mask, and Sephora Collection Clay Mask, which features eight different clays for different purposes.
3. Food-based Ingredients
The premise here is that what is good for your body is also good for your skin. Closely linked to new healthy food habits, an influence of the food industry on face mask formulations has been observed.
Recently, watermelon and coconut have been broadly discussed in the media for their moisturizing benefits. As a result, Glow Recipe's Watermelon Glow Sleeping Mask was out of stock for several weeks. Honey and other ingredients from bees have also been spotted as trendy ingredients. Often combined with other "superfood" ingredients, they've become popular for their great benefits on health.
Popular superfood ingredients include berries, spirulina, turmeric (curcuma)b, avocado, pumpkin, moringa, watermelon and kale.
Sustainability Concerns
Sheet masks have benefitted from the general excitement around the mask category. The global market for sheet masks was valued at $160.4 million in 2015 and is forecast to grow to $336.7 million by 2024c. With the explosion of demand, the impact of these products on the environment is often questioned.
The first concern to take into consideration is the sheet mask's base materials. Solutions exist to replace synthetic fabrics, including natural, renewable and biodegradable materials such as bio cellulose, cotton and Lyocell (first developed by the now-defunct American Enka Co.), which comprises cellulose fibers from wood harvested in certified sustainable managed forests.
Natural Formulation Breakthroughs
Usually, one sheet mask requires 20 g of lotion, which represents a huge quantity when multiplied by the number of sheet masks produced. That's why many marketers have begun to focus on improving the natural profile of sheet mask lotions.
It is now possible to produce "preservative-free" lotions containing between 95% and 98% of naturally sourced ingredients, or with up to 92% certified organic raw materials, according to the new ISO 16128d international norm.
Packaging Improvements
Finally, it is possible to further improve face masks' eco-friendly status by reducing the weight and the carbon footprint of packaging by eliminating the aluminum foil in the laminate, while keeping the product quality at the highest standards.

Footnotes:
aGoogle unmasks the skin care trends of 2017; www.thinkwithgoogle.com/consumer-insights/skin-care-trends-2017-beauty-marketing/
bChloe Metzger, Reddit Is Obsessed with This Two-Ingredient DIY Mask for Clear, Smooth Skin, October 11, 2017; www.marieclaire.com/beauty/a12820272/honey-turmeric-face-mask/
cTransparency Market Research, "Sheet Face Masks Market - Global Industemspan www.transparencymarketresearch.com.
dGuidelines on technical definitions and criteria for natural and organic cosmetic ingredients and products; www.iso.org/standard/62503.html
Camille Mansuy, the co-author of this article, can be reached at [email protected].