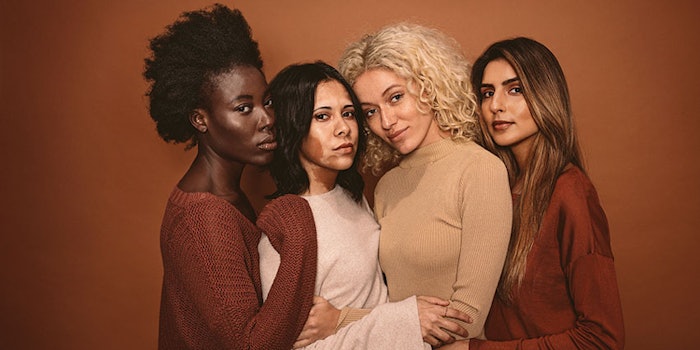 Think your target consumers are feeling a little sensitive these days? You're right. According to The NPD Group's 2017 Women's Facial Skincare Consumer Report, more and more women perceive their skin as sensitive—48% among facial skin care users in 2017, versus 44% in 2015. In more recent research on consumers and wellness, the research group found that consumers overwhelmingly associate "good for sensitive skin" with the trend toward healthier, more holistic lifestylesa.
Concurrently, shoppers are increasingly looking for products free from ingredients of concern, which are believed to exacerbate skin issues. They may also seek out simpler formulas. As The NPD Group discovered, wellness is a movement against "too much," one which prizes simplicity above complexity.
This inevitably leads to two key questions: Why do consumers have more sensitive skin issues today than ever before? Are these truly new issues, or are consumers simply beginning to self-identify as sensitive? It's difficult to know for sure, but one's environment may certainly be a factor when it comes to an uptick in reports in skin care issues.
"Due to the daily exposure to chemicals, stress and pollution, there is an increasing number of people that either have, or believe they have, sensitive skin," says Marie Ollagnier, strategic marketing manager of Lubrizol Corporation. "For these reasons, the demand of products addressing sensitive skin needs will continue to increase."
Chasing the Sensitive Skin Market Growth
The increased focus around sensitive skin issues has driven investments. Recently, Unilever led the Series A financing for Gallinée, a brand that leverages a patented combination of pre-, pro- and post-biotics to create personal care items targeting issues such as acne and eczema for sensitive skin. The brand is carried at department stores and pharmacies in the United Kingdom and France, such as Harvey Nichols.
Elsewhere, Burt's Bees made a splash when its Sensitive skin care line received The National Eczema Association Seal of Acceptance. The line comprises a Sensitive Facial Cleanser, Sensitive Eye Cream, Sensitive Daily Moisturizing Cream and Sensitive Night Cream, all of which are fragrance-free and made with gentle, nutrient-rich natural ingredients like rice, aloe and cotton extract.
Redness & Inflammation Remedies
"All skin can be sensitive at times, albeit with varying degrees of sensitivity," says Shaheen Majeed, worldwide president of Sabinsa Corporation. "Skin often becomes sensitive when the natural barrier function is impaired, or when nerve endings in the top layer of the skin become extra-sensitive, or when it becomes intolerant to various triggers or a combination of all of these conditions."
The results can mean redness and inflammation—and a need for an ingredient that can counteract it. For example, Mibelle Biochemistry's Pinolumin calms sensitive and irritated skin, visibly reduces redness and age spots, creates a more even toned skin and protects from the effects of environmental stress, according to the manufacturer.
"This ingredient is an extract of Swiss Stone pine, which calms skin hypersensitivity and reduces local skin redness and color irregularities resulting from inflammation," says Dr. Franziska Wandrey, research and study manager, Mibelle Group.
Less high-tech ingredients like shea butter have also been shown to help with these issues.
"Shea butter is a rich emollient that moisturizes and provides anti-inflammatory benefits that can help calm inflammation and irritation," says Funlayo Alabi, CEO of Shea Radiance. "We created a line of highly effective natural moisturizers and body wash products using clean and simple food-grade ingredients that address sensitive skin."
This includes a creamy whipped shea body butter, blended with rice bran oil and oatmeal.
Lubrizol has also leveraged ancient grains for skin relief. The company offers the Actiguard advanced botanical ingredient, a sustainable natural extract obtained from the bran of the sorghum cereal and known to reduce skin inflammation.
"Actiguard attenuates the release of inflammation mediators induced by PAR-2 activation and inhibits the collagenase effect to prevent tissue damage, therefore relieving sensitive skin," explains Ollagnier.
Itch & Irritation Erasers
Skin that overreacts to environmental factors and results in stinging, itching and other irritation is perhaps the biggest issue in need of a solution.
"This is the most common type [of skin] in otherwise healthy individuals, and is usually the definition of what is commonly regarded as sensitive skin," says Wandrey.
Mibelle Biochemistry's SensAmone P5 addresses this very issue.
"Scientific research has shown that the venom of sea anemone contains a protein that inhibits the pain receptor in the skin that is responsible for sensitive and overreactive skin," Wandrey explains. "In collaboration with the company Venomtech, we developed a five-amino acid peptide that contains this pain receptor inhibition activity of the sea anemone venom protein."
Lubrizol's Delisens hexapeptide, reduces itch while repairing damaged skin. "Delisens peptide helps calm and restore sensitive skin," says Ollagnier of the peptide, which decreases pain sensation, discomfort and itching.
Of course, what one leaves out of the finished product may also come into play when treating sensitive skin as well.
"Most of the skin care applications available in the market today contain chemicals that may be too rough on sensitive skin," says Majeed. "Sabinsa offers high-quality, paraben- and gluten-free, and hypoallergenic products, which are suitable for sensitive skin."
The company's Johara line of skin care, sun care, body care, fragrances and cosmetics are all made without harsh or irritating chemicals and are designed to soothe and protect the skin as naturally as possible.
Ceramedx, a skin care line launched in January 2018, is fragrance-free and made without parabens or petrolatum. The line also touts the Riceramide-3 Complex, a plant-based ceramide technology that helps heal dryness, improve moisture retention and prevent flaking and irritation from recurring.
Blemish & Breakout Fighters
In many cases, consumers identify as having sensitive skin when they find themselves prone to breakouts, blemishes, dryness or other assorted unpleasant conditions. Many of these conditions are due to environmental factors—and the skin care industry is here to help.
"Fresh out of the oven, [Lubrizol's] Fensebiome peptide reinforces urban and sensitive skin by helping improve the skin's bacterial protective shield and the physical epidermal barrier, as well as by promoting a healthy biome," says Ollagnier.
The peptide has also reportedly been shown to help prevent dehydration and restore sensitive skin to normal.
Japanese brand LenaJapon, which was recently introduced to the US market, gives special attention to healing sensitive skin. To moisturize and relieve dryness, the company recommends a regimen with the LJ Moist Bar, a facial foaming soap infused with quince seed extract and extract of chardonnay, followed by LJ Moist Balance, a lotion created to protect skin from environmental factors. Both products are free from alcohol and artificial colors, and designed for sensitive skin.
While dryness can be a problem associated with sensitive skin, so can its opposite—oiliness. Sabinsa developed its demo formula, Oil Control Moisturizer with Policosanol, to counteract excess oiliness while producing moisturizing effects, resulting in increased overall smoother skin.
Keeping It Simple
Across the board, the experts interviewed for this story agreed that the fewer ingredients a product contains, the less likely it is to cause concern for those with sensitive skin. Shea Radiance's Alabi concludes, "The key is to simplify the number of ingredients and keep it transparent so the customer can identify known irritants and make the choice that's best for them."
Footnote:
aFor the full consumer data report, turn to Page 16.
Lisa Doyle was formerly the associate editor of Global Cosmetic Industry and is a freelance writer in the Chicago area. Her work has also appeared in Skin Inc., Salon Today, Modern Salon, Master Barber and Writer's Digest.