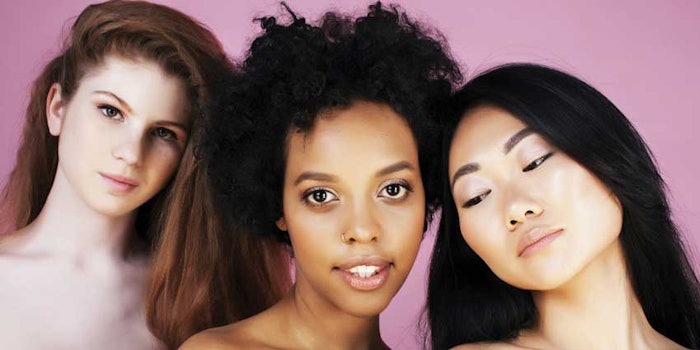 For a beauty brand dedicated to healthy aging, the undisputed target market is the baby boomer population, currently aged in their early fifties through early seventies. It would follow then, that a proactive brand would look at gen Xers as their up-and-coming customers, and focus their future formulation and marketing efforts toward this demographic. Right? Well, not necessarily.
Millennials, currently on the cusp of 20 through their mid-thirties, are prone to many of the same risk factors as their boomer counterparts, including damage from sunlight, pollution and lifestyle, which can lead to serious skin concerns years down the line. That's why savvy industry leaders are creating the pro-aging solutions that resonate with millennials today for healthier skin tomorrow.
Let There be Less Light
UV is one of two key light-based risk factors for skin. Healthy aging demands a response.
"Millennials, regardless of skin color, must protect skin against harmful UV rays," insists Funlayo Alabi, CEO of beauty brand Shea Radiance. "Use of sunscreen is no longer negotiable."
While boomer skin care tends to focus more on reparative solutions, skin care targeted to millennials can urge them to take a proactive approach.
"The most important factor for reducing excessive skin aging is to block UV exposure, and to modify DNA at the cellular level by influencing DNA integrity," says Brien Quirk, director of R&D at Draco Natural Products, based in San Jose, California. "Our Telomere gene restoration botanicals—Cynomorium, Astagalus, Portulaca oleracea, Epidemium and white willow bark—can actually stop or reverse the aging of the skin at the DNA level by restoring telomere length."
Emitted from phones, tablets and other electronic devices, blue light represents an emerging threat and marketing claim.
Lucas Meyer Cosmetics recently launched MelinOil, a biomimetic peptide designed to improve natural cell UV and visible light protection by melanin, and promote DNA repair to limit photoaging. As a bonus, it can be incorporated into multiuse products, satisfying the millennial need for a quick and easy skin care regimen.
"The outstanding results in cell protection, enhancement of tan and reduction in sun-induced erythema allow manufacturers to answer the trend of active sun care products," explains Isabelle Lacasse, global marketing director, Lucas Meyer Cosmetics.
Artificial blue light is the second type of common emission that can harm skin. Emitted from phones, tablets and other electronic devices, blue light represents an emerging threat and marketing claim. For instance, Murad's City Skin Age Defense Broad Spectrum SPF 50 PA++++ mineral sunscreen offers UVA and UVB defense, along with protection against the blue light from electronic devices.
"Citystem is an anti-pollution active ingredient, and it is a global solution against different forms of pollution," says Pascaline Criton, technical marketing manager of Sederma, based in Le Perray-en-Yvelines, France.
Sederma's Citystem, a plant cell culture extract, reportedly protects the skin against the harmful effects of screen light by neutralizing toxic oxidation factors and reducing inflammatory potential into skin cells.
Skin Smoothing and Brightening
In addition to providing protection to keep their skin looking fresh years down the line, millennials also seek skin care products that will keep them selfie-ready today.
"Millennials look for personal care products containing antioxidants, but also, their concerns are around having an immediate effect against skin imperfections such as oiliness, acne and dark spots," says Elena Cañadas, global marketing and communications manager, active ingredients, of Lubrizol Skin Essentials in Barcelona. "Matmarine blue ingredient can be used in any type of formulation for the daily routine to reduce pore size and mattify the skin, leading to a more uniform complexion."
"Millennials are all about personalization, so it is important to develop ingredients specifically for the age and gender that not only target aging, but skin health in general," says Lacasse. To that end, Lucas Meyer Cosmetics offers Miniporyl, a pore minimizer active that also refines skin texture and reduces sebum production.
According to Alabi, a skin brightening regimen should be maintained throughout one's twenties. "Products that deliver skin brightening, smoothening and tightening benefits appeal to millennials looking for smooth, even-textured skin," she says. Among this category of products in the Shea Radiance line is the Advanced Brightening Body Cream, enhanced with vitamin B3, vitamin C and pumpkin extract.
Recently, DSM unveiled a Wrinkle Rebel demo product based on its small synthetic peptide, which reportedly helps to quickly reduce the appearance of wrinkles and laugh lines around the forehead, mouth and lip.
"Millennials are all about personalization, so it is important to develop ingredients specifically for the age and gender that not only target aging, but skin health in general."
The company's demo also included a biotech-developed microalgae that offered instant skin tightening and a long-term firming effect, as well as Amphisol K, which stabilizes formulations and offers a luxurious skin feel. DSM noted that the Wrinkle Rebel fights the signs of aging before they've formed, offering millennials with a fast-acting, preventative solution.
Similarly, millennials who are looking to contour their faces for fuller lips or cheeks will find that beginning injection regimens at a young age could have negative unintended consequences. Therefore, topical alternatives offer a way to tap into this critical consumer base with offerings that deliver non-invasive, natural-looking solutions.
During the recent Cosmoprof North America event, Fillerina displayed its Swiss-manufactured Dermo Replenishing Treatment, a topical filler alternative to hyaluronic acid injections. The Swiss dermocosmetic brand uses six sizes of hyaluronic acid molecules to penetrate to the dermis layer of the skin. The 14-day treatment course reportedly reduces the appearance of wrinkles and enhances the appearance of the cheek bones. Results last up to three months.
The two-phase treatment can be precisely applied to target areas using the syringelike applicator. The first phase, the Replenishing Gel Preparation, is a plumper that reduces wrinkle depth and creates volume in the cheekbones and lips, while the second phase, a Nourishing Film, leaves a soft feel to the skin via ingredients such as vitamin E, meadowfoam seed oil and shea butter.
The Fillerina Dermo Replenishing Treatment is available in three grades of intensity, depending on age and need—ideal for millennials just dipping into the anti-aging game—and priced between $150 and $175. The treatments can be supplemented and prolonged by the Fillerina Night Cream and Fillerina Lip Plump.
Be Millennial-Friendly
Among the most important things to consider when targeting the millennial demographic is ensuring that the holistic product experience—from shopping through consumption—exceeds their expectations.
"A product appropriate for a millennial should be developed with their online shopping habits in mind," says Alabi. "The online experience should incorporate technology that allows the user to enter in their anti-aging/skin care challenge and have a regimen prescribed for their very specific need. Also, it's critical to engage tastemakers and influencers, as they tend to create videos and solicit product reviews that help market brands via word of mouth. Product reviews are key in purchase-making decisions."
In addition to marketing it correctly, the product should take into account the millennials' need for speed and efficiency.
"For millennials, the routine must fulfill the experience as 'fast and fun,'" says Cañadas. "Multifunctional ingredients are needed for offering as many benefits as possible with less time, and quick absorption is an important factor as well. Following the selfie culture, millennials are more appearance-conscious with instant effects than the older generations."
As with any market, education about why your products matter—and why consumers need to be proactive about skin care at a young age—is key to drawing in millennials.
Lacasse concludes, "The sooner millennials protect their skin against the damage caused by sun exposure, pollution and blue light from their phones, the better the quality their skin will be in the long run."
______________________________
Lisa Doyle was formerly the associate editor of Global Cosmetic Industry and is a freelance writer in the Chicago area. Her work has also appeared in Skin Inc., Salon Today, Modern Salon, Master Barber and Writer's Digest.