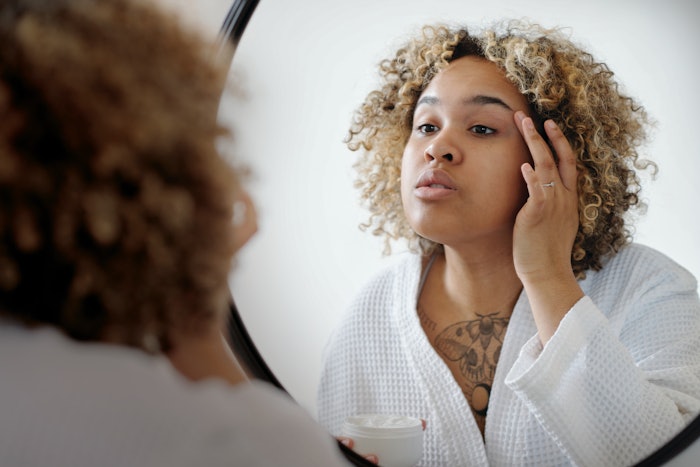 In the past, beauty consumers often fell into one of two categories: those who want the most medically backed, science-based personal care, and those who want the most all-natural, organic, responsibly sourced products. Today, both demands can often be served with the same offering.
For instance, Milan-based DF18+, a new luxury range of plant-based skin care designed to bio-hack beauty, features powerful naturals such as Vitalab's skin rejuvenating Vita Nova, derived from Lotus japonicus somatic embryo cultures; Green Coffea Vita, which boosts skin cell renewal, reinforces the epidermal barrier, lightens the skin, prevents water loss and accelerates skin repairing properties; and Vitalab's VitaLight, a pore minimizer and skin brightener derived from Cirsium eriophorum cell suspension cultures. In addition to offering a skin quiz to ensure optimal product and routine selection, the brand offers cutting-edge ingredients to lift, plump, reduce the appearance of wrinkles, combat hyperpigmentation and much more.
Such marriages of science and nature will continue to escalate, particularly, as Mintel has noted, 53% of U.S. beauty and personal care consumers research beauty ingredients to understand product effectivenessa.
Tapping Sacred Rituals
Based on a quick search of the retailer's website in January 2023, Sephora currently offers 20 products touting Ayurvedic properties, including selections from brands such as Moon Juice, Tatcha and Ranavat. Indeed, use of the science of Ayurvedic traditions has been growing steadily in personal care in the past few years. The newly launched brand Vedic Tiger takes the science to the next level.
For the full article, check out Global Cosmetic Industry's February 2023 digital magazine