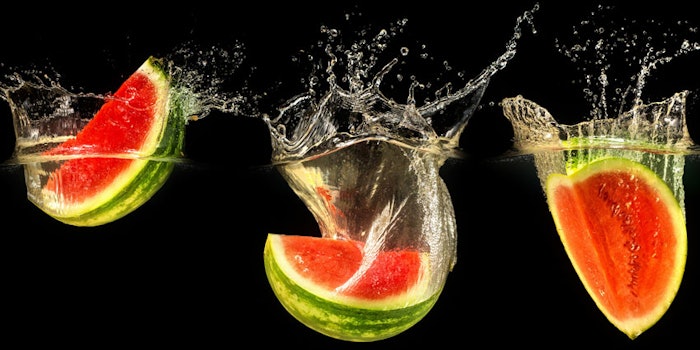 As consumers continue to express a desire for naturally-derived ingredients in their beauty and personal care products, brands are taking notice and incorporating ingredients that are both natural and excellent additions to a fruit salad. Intrigued?
In a recent blog post from Mintel, the market research company suggests "as new sources of water are emerging, beauty brands can enrich their formulations with various fruit, vegetable and herb waters that offer an element of distinctiveness and reassurance, promising extra benefits and a layer of glamour."
Watermelon Water
The blog post stated that watermelon water, with its vitamins and moisturizing benefits, can act as an alternative to coconut water. In fact, it was recently used in Estée Lauder's Double Wear Water Fresh Makeup. 
The post states that the use of watermelon water in essences, toners and hair rinses would also do well. Beyoncé would most likely agree. 
Banana Water
The post goes on to say that banana water is an excellent source of vitamin C, potassium and magnesium, making it an option for skin and hair care products. Up to this point, it has been banana extract and puree used in such products as Korea's Su:um 37. However, the use of banana water could be another derivative worth exploring. 
Cactus Water
 A small number of skin care products, including Nature's Republic Soothing & Moisture Cactus 92% Soothing Gel, have also utilized prickly pear cactus extract as a plant water. The blog post explains that cactus water's fragrance and composition could make an interesting option for body sprays, splashes and lotions. 
For the full blog post, please visit www.mintel.com