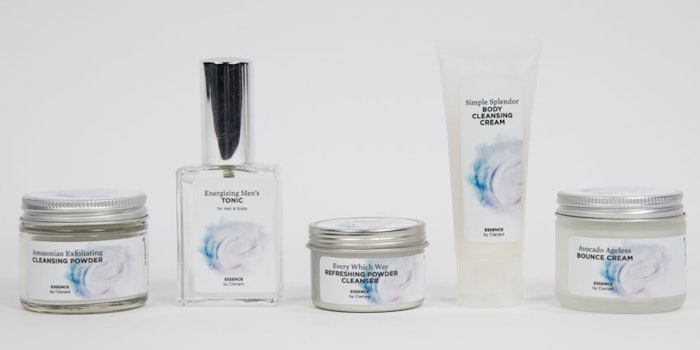 Clariant has introduced Essence by Clariant, a range of personal care products formulated with consumer-friendly ingredients. All products were developed without parabens, formaldehyde donor, MIT/CMIT, sulfates, betaines, silicones, petrolatum or mineral oil.
Each developed product in this collection was inspired by the consumer insights of Clariant's BeautyForward trend guide and by natural ingredients. The range features a clear shampoo, a hydrating hair mask, makeup serum, face cream, hand foam, shaving foam and diaper cream.
The launch also features five "hero products," which include:
Amazonian Exfoliating Cleansing Powder, a natural exfoliator and cleanser formulated with Amazonian white clay and organic quartz crystals;
Avocado Ageless Bounce Cream, containing omegas 6 and 9 and phytosterols to protect skin against aging, balance moisture and improve firmness;
Simple Splendor Cleansing Cream, combining three sulfate-free surfactants to create a body cleanser, helping nourish and clean skin;
Energizing Scalp Tonic, specifically developed for the men's care segment, helping wash away dead skin cells building up in hair with bamboo extract and using ginger extract to relieve dry scalp; and
Every Which Way Refreshing Men's Powder Cleanser, ideal to use as a wash pre-shave to condition coarse, dry bears or wash post-shave for a cleanse, leaving skin feeling smooth and nourished.
"Consumers are demanding the luxury experiences they love without the use of certain ingredients," said Vincent Gass, head of marketing at Clariant business unit industrial and consumer specialties. "Essence by Clariant shows formulators and brand owners the possibilities to go 'free-from' and give consumers something they haven't experienced before. The enthusiastic response we received at [California SCC] Suppliers' Day [2017] highlights the interest there is in taking this extension of the natural trend to new heights."