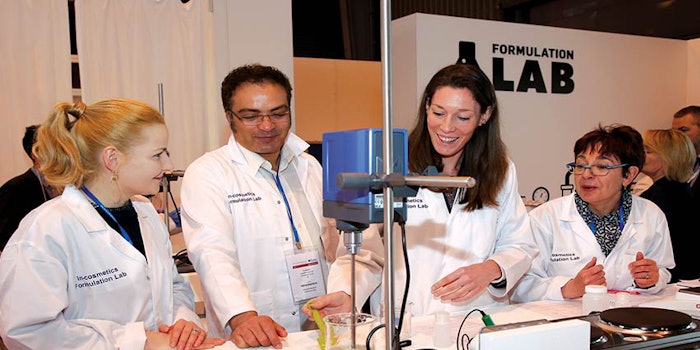 By 2020, premium will add an additional $20 billion to the beauty market, led by consumers in the United States and China, according to a presentation by Euromonitor analyst Irina Barbalova at the 2016 in-cosmetics event in Paris.
Barbalova added that, at the same time, mass is slowing down. This trend will be a boost for lifestyle-focused brands, a diverse spectrum of consumers, digital engagement and niche offerings. Today, consumers are focused on experience, particularly as time has become a luxury commodity, as well as mindful enjoyment of life.
Millennials will comprise 50% of the worldwide workforce by 2020.
As a result, brands will have to change their thinking. Overall, Barbalova argued, beauty companies will innovate less, but in a way that is more impactful—what she described as "frugal innovation."
To illustrate, suppliers, such as Croda, presented simplified, low-cost formulations, so-called "Beauty in Simplicity," comprising fewer ingredients and requiring little or no modifications—without sacrificing efficacy.
The implication of this and other trends was the focus of in-cosmetics, which welcomed 9,726 personal care industry professionals from 131 countries and presented innovations from 784 exhibitors, offering a broad view of where the industry is going.
What's Growing?
The fastest-growing brands include fast-fashion, derma/health brands, and regional and Korean brands, according to Barbalova. She added that millennials, currently 30% of the global population, will be drivers of future growth.
Millennials spend the most online, she noted. This group will comprise 50% of the worldwide workforce by 2020 and are experiential, fragmented, digitally activated and best of all, willing to try new products and brands. According to the Euromonitor figures cited, color cosmetics perform best in the digital channel.
Millennials' purchases are more individualistic and experiential, according to Barbalova. As a result, these consumers have high preference for luxury that is personalized. In such an environment, brands must fit lifestyle priorities in order to succeed. One example, Barbalova noted, were face masks, which fit easily into millennials' lifestyles.
The Human Side of Beauty Tech
No matter how sophisticated it becomes, technology in the beauty space will always require the "human touch," explained Sava Marinkovich, co-founder of mySkin, which has produced OKU, a mobile-connected skin assessment device that generates product recommendations.
Marinkovich spoke as part of an in-cosmetics roundtable, "Smart Beauty & Consumer Empowerment," which also featured Anastasya Georgievskaya, co-founder and research scientist at Youth Laboratories, which is behind the first beauty competition judged by the robot jury, Beauty.AI, and the age-tracking app RYNKL, and was moderated by GCI editor in chief, Jeb Gleason-Allured.
Millennials' purchases are more individualistic and experiential.
Both experts discussed the leveraging of personal data to create product recommendations or boost machine learning, while also highlighting the ways in which their product discovery platforms are partnering with brands without sacrificing the neutrality of their respective technologies' assessments. In every aspect, trust is crucial.
Elsewhere, brands are using digital platforms to build R&D and brand intimacy, according to Barbalova. For instance, Glossier has prepared the launch of a crowdsourced skin care product driven solely by digital consumer engagement.
Meanwhile, new beauty devices are being introduced to allow consumers to self-analyze the condition of their skin. Innovations in the space include the Mushu skin detector and OKU personal skin care coach.
Destressing Beauty
According to figures provided by Givaudan Active Beauty, 33% of people in the United States experience extreme stress, the effects of which cost as much as $200 billion per year in medical costs, according to figures cited in a 2015 Forbes report.
Stress elevates the level of cortisol produced by the body, which can cause premature aging, increased oiliness and other skin conditions.
Stress elevates the level of cortisol produced by the body, which can cause premature aging, increased oiliness and other skin conditions. Givaudan Active Beauty's Neurophroline, which won the in-cosmetics Innovation Zone Best Ingredient Award, stimulates "feel-good" beta-endorphins to counteract cortisol and, therefore, battle the effects of stress and environmental aggressors, such as pollution.
The material can be applied to body care, baby care and facial care, according to the company.
Caring Tech and Other Emerging Trends
A Clariant BeautyForward event held in conjunction with in-cosmetics centered on inspirational trends from around the globe, featuring collaborations with teams from New York, Barcelona, Sao Paulo and Shanghai.
The collaborators noted the rise of what they termed "caring technology," the phenomenon of technology becoming an extension of humanity, which could affect beauty, including a more "connected" form of men's grooming.
The collaborators also found that a subset of consumers are focused on the "new glamour," epitomized by social media luminaries, such as Kim Kardashian. These consumers embrace radiant skin and shiny hair and believe that beauty is about being noticed.
Consumers seek out new textures and sophisticated and refined products.
Clariant created a beauty balm for this consumer type, which provided a radiant complexion, as well as a perfume mist with suspended gold "sparks" inside and a pearlescent hand sanitizer that offered consumers shimmer and a luxurious afterfeel.
Clariant's global teams also identified the "pure" trend, in which consumers look for perfection and focus on what is best in life. These consumers seek out new textures and sophisticated and refined products. To illustrate, Clariant developed a demo moisturizing skin gel that was fragrance-free and quick-absorbing for a longlasting effect.
Finally, the group explored the implications of the "new feminist," who is true to herself, looking for challenges and who views beauty as a personal, individualistic statement of strength. These consumers seek protective products, for instance a demo body cream with an ice cream texture that defends the skin and offers instant moisturization.
Time is Beauty
Time-starved consumers around the world are creating new demands, according to Barbalova. Increasingly, how consumers feel is directly tied to beauty and mindfulness, which is about a more enjoyable lifestyle, improvement of aging and overall health.
One manifestation of this trend is the adult coloring book phenomenon, which highlights a slowing down and concentration on freeing the mind. The focus on time is also creating routine expansions around the world. Traditionally, Asia's beauty markets—particularly Korea—centered on multi-step beauty rituals. Now, this more elaborate approach to beauty is spreading.
Consumers are incorporating wellness into every aspect of their lifestyles.
Barbalova noted that 30% of Latin Americans use two or more hair products in their ritual. The expansion of rituals has led to the rise of oil formats in Asia and the Middle East, with Korea as the top market in oil-format facial cleansers. (Oil formats are also appearing in hair coloring products in China.) About 20% of Asian female consumers are using facial mists and sprays daily, while 10% of Indian consumers use powder format facial cleansers.
These trends and the embrace of oil formats in skin and hair care, as well as cushions and face masks, have benefited regional players, like Amorepacific and Natura. These companies are expanding new markets and leveraging cross-regional inspiration.
Reconciling With Time
In-cosmetics featured a range of anti-aging approaches, some of which focused on a more naturalistic outlook on getting older.
Lipotec's biotech-derived ingredient was specifically designed for mature women 50 and up. Inspired by a marine creature that lives in extreme conditions, the material can repair the mature skin's communication among cells, which, when it breaks down, can lead to dryness, wrinkles, age spots and more.
The result is a delayed aging appearance of the skin. Lipotec also produced a booklet on "serene beauty," which focused on how healthy aging allows women to be true to their age and reconcile with time.
Alban Muller presented its vegetal Borealine Expert anti-aging active, while Crodarom's Elfe Flower offered anti-inflammatory, antioxidant, antibacterial, anti-aging, anti-fatigue and moisturizing activity.
Naturex's Cherry Blossom Eutectys counteracts photo-aging and has anti-inflammatory benefits, in addition to antioxidants in order to firm and regenerate the skin for improved barrier function.
Rahn's Liftonin-Xpert natural actives, botanicals, essential oils and plant extracts purportedly boost collagen and support anti-aging.
Ashland introduced PhytoRNx Baobab, a natural extract inspired by small RNAs. The ingredient is associated with increased collagen expression in vivo and can lead to age-defying effects and the recovery of skin homeostasis. It also has lasting skin moisturization activity. Formulated at 1% in a cosmetic preparation, the ingredient is associated with increased skin hydration up to 24 hours after application in vivo.
BASF, meanwhile, introduced an anti-aging plant epidermal growth factor that increases skin elasticity, reduces roughness and wrinkle appearance, promotes skin regeneration, increases young and mature collagen, causes elastin to increase and is applicable in any skin care applications.
Beauty Gets Well
Consumers are incorporating wellness into every aspect of their lifestyles. Barbalova noted that many beauty websites, such as Into the Gloss and Goop, are becoming more focused on health and relaxation and promoting niche brands.
Wellness lifestyle shifts are boosting the application of food ingredients in beauty, she continued, as well as natural ingredients in general, in addition to cruelty-free, organic, botanically derived and similar claims.
Product benefits, meanwhile, are incorporating unique wellness ingredients such as bamboo charcoal and becoming more solution-based, for instance making specific claims for post-workout, energizing, cooling, relaxing, destressing, etc.
Texture Hacks for Beauty
Texture—a key component in the consumer experience—was a core focus of in-cosmetics. The event's Sensory Awards recognized breakthroughs from various suppliers.
The gold went to Capsum with Epure IsoBulle. The silver went to Nikkol Group with Meguri Series, which offered "dynamic textures" that evolved and changed during application to highlight the importance of massage in the East Asian regimen for blood circulation stimulation and facial muscle softening for improved skin tone and firmness."
The bronze went to Technature with Leaf Mask, which contained green tea and mint.
In-cosmetics featured a Sensory Bar that focused on texture and sensations, including transforming and hybrid textures, milky emulsions and leading-edge pigments.
SEPPIC presented a range of concepts that highlighted possibilities for textures including a foaming powder to which consumers could add their desired amount of water in order to create anything from a cleanser (highly diluted) to a shampoo (low dilution), offering a unique take on no-water products that save on water use and transport. It also formulated a novel "algae spaghetti" makeup remover concept that pushed the envelope on format.
The company's Jugaad (the Punjabi word translates as "hack") detox product offered a minimalist formula of seven ingredients, including two actives, for body care. The cold-processed cream gel featured EASYNOV and the quick-break effect ingredient, GELTRAP. The moisturization came from the inclusion of AQUAXYL, while the detoxification came from the BIOPLASMA FA.
Clariant's BeautyForward event focused on new formulations and textures for the personal care sector that offered refinement and sophistication. The company's Metamorphosis by Plantasens put forth texture transformations, such as lotions that turned from a balm to a powder or oils that became milk.
A pearlescent hand sanitizer containing the polymer Aristoflex AVC stayed intact in the jar and then disappeared on the skin's surface to moisturize and cleanse the skin.
Clariant's gold sparks perfume presented a glittering fragrance mist with low viscosity, yet enough density to suspend gold particles in the bottle. A bounce cream contained a mix of rheology modifiers (ingredients included the emulsifier Hostaphat KW 340 D and Aristoflex) to provide a bouncy texture that delivered skin hydration.
The company also presented a skin-repairing ice cream texture cream that melted on the skin and contained the organomodified silicone SilCare Silicone 41M65, Aristoflex HMB and the preservative blend Phenonip XB.
Alban Muller presented Limolami ER, an ingredient that offers "extreme softness," providing a feeling of softness with a non-sticky, smooth and silky texture. Lipolami ER can be formulated with natural, melting, smooth and non-sticky cosmetic products.
NuSil Technologies' CareSil CES ingredient was introduced to allow brands to create skin care products from cool, light-as-water serums to gels and creams for multi-step beauty routines, which are increasingly popular in Asia and elsewhere. The encapsulated silicone emulsion, made without surfactants, creates transformative textures with no tacky or oily after-effect.
Resolving skin texture, Gattefossé's Gatuline Renew smooths, hydrates and softens the skin for a younger appearance.
Meanwhile, Ashland highlighted its insights into how texture changes as a product is applied to the skin or when it goes through various levels of heat or humidity, or even variations in skin chemistry.
The company's texture solutions included esters, hydrogels and hybrid polymer technology, which allow Ashland to adjust viscosity, create new texture profiles, optimize the sound of the product in-use and even maintain a product's signature texture in the case of regulatory-induced reformulations.
BASF's inspiring textures included the ability to create a powdery cream that feels powdery and dry and which will transform to oil when applied to the skin. This creates an element of surprise, which can delight consumers.
Univar focused on a range of trends and created products in response, including a shimmering jelly-jiggle texture that could be applied to eye shadow.
Croda's new formulas, meanwhile, included a cloud formulation that transforms from a unique marshmallowy texture that becomes more like water when rubbed on the skin. Another gel formulation turned into an oil when rubbed into skin.
Urban Pollution Driving New Innovation and Claims
Beyond experience, consumers are preoccupied with emerging beauty threats. For instance, air pollution and UV exposure are growing concerns.
Once centered in Asia, worries over environmental stressors and sun exposure have gone global. Pollution—specifically skin-damaging 2.5 µm particles—is thought to prematurely age the skin, causing inflammation and other negative effects. Now, ingredient companies are stepping up to offer marketers a new range of ingredients and claims. 
"There was so much going on at in-cosmetics 2016," said Barbara Olioso, director of UK-based consultancy The Green Chemist. "The event presented the latest information on pollution and new materials."
Indeed, ingredients and concepts aimed at counteracting the effects of urban pollution and other environmental stressors ruled the event. For example, SEPPIC presented a responsibly sourced palm anti-pollution cream featuring MONTANOV 68, a "green" oil-in-water emulsifier that is RSPO-grade. The ingredient works with all oily phases and provides a sensory impact of richness and softness in skin and hair care.
Evonik's formulation concepts focused on counteracting damage from pollution, UV rays, dust and air conditioning/dry air. The supplier's City Defense Purifying Mild Facial Cleanser was formulated to remove pollution particles from the skin, while the Anti-Pollution & Intensive Hydration Sleep Mask was formulated with SK-influx V, which boosts the protective barrier function of the skin.
Finally, Evonik's Daily Anti-Photoaging Cream SPF 15 UVA comprised the moisturizing emulsifier TEGO Care PBS 6, while the quick-absorbing Dry Touch Hand Moisturizing Cream SPF 20 UVA was developed for the outdoors, traveling and driving.
On the ingredients side, Ashland took a unique approach to battling blue light pollution from computer screens and cell phones with its biofunctional Theobroma cocoa seed extract, Blumilight. According to the company, the ingredient "is associated with a better resistance to blue light stress, compared to conventional cocoa polyphenols, in vitro."
BASF's Lys'Sun defends against solar elastosis, which deepens lines in the skin. The witch-hazel extract stimulates the synthesis of LOX-L, restoring the production of functional elastic fibers and helping to bring back a youthful appearance. The product can be applied to day and night creams.
Lipotec's Pollushield functional ingredient improves the cleansing of pollutants from the face. It can also be used in moisturizing products and creates a barrier that is antioxidative.
SILAB's Mitokinyl anti-pollution natural active (biotech yeast-derived) regulates pollutant stress, forms a functional barrier, and optimizes complexion tone in Caucasian and Asian skin. The ingredient can be applied to skin creams.
The company's Filmexel natural biopolymer creates a film that protects the skin from pollution irritants and allergens. It also has a lifting effect to smooth and attenuate wrinkles. Available in a powder format, the ingredient allows brands to avoid using a preservative.
Codif Laboratories unveiled its EPS White, which is intended to "reduce the appearance of the 'pigmentary torch' effect." The ingredient is derived from a marine exopolysaccharide and protects the skin from UV- and pollution-induced inflammation. 
Algues & Mer presented Invincity, high-molecular-weight fucoidans found in brown seaweed harvested off the coast of France. The ingredient battles pollution-induced skin aging by triggering the expression of genes controlling oxidative stress, inflammation and melanogenesis. Invincity reportedly reduces redness and dark spots and restores skin brightness.
Gattefossé's Gatuline Renew "relaunches the cell renewal mechanism" to hydrate, smooth and improve skin texture impacted by age, pollution and UV exposure.
Meanwhile, Sederma's Citystem counteracts and prevents the penetration of pollutants and removes and neutralizes oxidant species. The China-compliant material refines skin grain and leaves it looking "purified" and smoother feeling.
IBR Ltd. introduced IBR-Pristinizer, an aqueous extract of Asteriscus graveolens, which shields skin against pollution. The ingredient has antioxidant and anti-inflammatory activity and "protects cells from air pollution induced cell death by reducing the expression of cell death related genes and stimulating expression of detoxifying phase I enzymes such as cytochrome p450," according to the company. 
Sustainability Can Be Simple and Efficient
Throughout in-cosmetics, suppliers highlighted the need for simplicity and economy in creating sustainable products. Ashland presented multifunctional sustainable formulation concepts that incorporated fewer ingredients and hybrid technologies, leveraging multiple chemistries to simplify formulas that are also more stable and cost-efficient.
Similarly, SEPPIC noted that the green trend is ramping up in the U.S. and Canadian markets, while biodegradability is a plus for Asian markets, while green concepts are cropping up in Korea. The company presented a concentrated purifying anti-pollution face cream developed with sustainable palm oil.
SEPPIC also presented a four-in-one shave care product that requires no rinse, while adding moisture to the skin without a greasy skin feel. The company also showed a cold-processable detox cream gel, which were created to minimize environmental impact, as well as an eco-friendly deodorant and an algae-based makeup remover. A purifying cream utilized green chemistry.
New Tools for Boosting Sustainability
On the ingredients side, in-cosmetics presented its Green Ingredient Awards to SEPPIC with Ephemer (gold), Sederma with Majestem (silver) and IBR with IBR-Pristinizer. The event also featured ingredients positioned to improve the sustainability profile of cosmetics and personal care products.
BASF hosted a sustainability roundtable event to discuss strategies to partner along the value chain in order to boost sustainability and increase transparency for customers. Palm oil was a particular focus for the company. BASF also introduced Plantasil 4V, a cold-processible silicone alternative for conditioning shampoos. The product has good performance on wet hair and is compatible with other conditioning polymers.
Ashland's polyploid complexes that can create a structure like a gel matrix and be used in conditioning and styling, particularly for curly hair. The heat-activated materials hold definition over time. The complexes can be used in clear conditioners and are cold-processed.
During in-cosmetics, Ashland experts discussed the production of ingredients in a sustainable manner. The company is developing biofunctional products by fractionating key actives out of plants. The resulting plant waste can be dispensed back to the field, making the most of the waste stream.
Evonik's TEGO Solve 55, a solubilizer for essential oils and perfume, is PEG-free and ideal for water-based systems. Based on renewables, this biodegradable material has low odor and is highly stable. The ingredient also has mild cleansing and makeup removing properties, as well as moisturizing benefits.
SEPPIC, which will cut its environmental footprint by 20% and have 100% of new products delivering at least one health or environmental benefit by 2020, has launched two new ranges of biodegradable emollients produced by Total Special Fluids, EmoSmart and EmoGreen. The China-compliant materials are applicable in skin and hair care, makeup, sun care and cleansing applications and can be used under extreme conditions, including high or low pH.
INOLEX unveiled SustOleo, a complete system of palm-free ingredients. And INOLEX, in cooperation with ieS Labo, launched PhytoTrace, a line of traceable, sustainable extracts. The line includes: PhytoTrace Carrot, PhytoTrace Fig, PhytoTrace Lemon Verbena, PhytoTrace Olive, PhytoTrace Rice and PhytoTrace Saffron.
All That Glitters
Color also proved to be a key element in the consumer experience focus at this year's in-cosmetics. BASF showed off new effect pigments inspired by simplicity, serenity and purity. Flamenco Summit Aqua, a natural mica, had a blue shade with intense brightness ranging "from frosted white to deep digital blue." The color has a fine, satin appearance appropriate for makeup and skin care applications.
The company's Reflecks Dimensions Brilliant Gold borosilicate had an intense gold hue and a sparkling effect and chroma. Used at low levels, the pigment produces a low glow and shimmer ranging from pink to strong gold, appropriate for the nude trend. The glamorous color can be used for hair and body.
BASF's Chione HD synthetic mica range was displayed in two concepts, one for radiant skin care and one for rinse-off and soap applications in which it has a "glowing" effect. DSM Personal Care's Valvance Touch 250 brings a glimmer for an instant effect in formulations, such as makeup (lipstick, foundation, blush, etc.), skin care and sun care.
Merck KGaA's Timiron Halo White (INCI: not available) is an effect pigment for personal care applications, giving lotions, foundations, creams and makeup products a natural shimmer.
Sun Chemical presented its SunCROMA portfolio of bright and bold pigments. The company also launched SunSHINE (INCI: designation Synthetic Flourphlogopite), a line of pearlescent pigments for skin and hair care formulations.
What's Next?
The 2016 in-cosmetics event signaled that the industry is heeding the call for more relevant innovation that centers on the consumer's desire for experiences. It will be fascinating to see what comes in 2017, when in-cosmetics Global reconvenes at London's ExCeL, April 4–6.
Honoring the Innovators
This year's Lifetime Achievement Award went to Kevin Gallagher, retired president, Global Personal Care & Actives, Croda, and columnist for Cosmetics & Toiletries magazine. Gallagher was recognized for his contributions to the personal care industry. The event's Innovation Zone Best Ingredient Awards honorees are as follows:*
Best Functional Ingredients
Gold: Agrimer with Seaweed Caviar
Silver: Sigmund Lindner with SiLiglam Nature
Bronze: Ashland with Polyelectrolyte Complex Three
Best Active Ingredients
Gold: Givaudan with Neurophroline
Silver: Lucas Meyer for Minoporyl
Bronze: Solabia Group for Redyless
*Additional honorees detailed within this article.