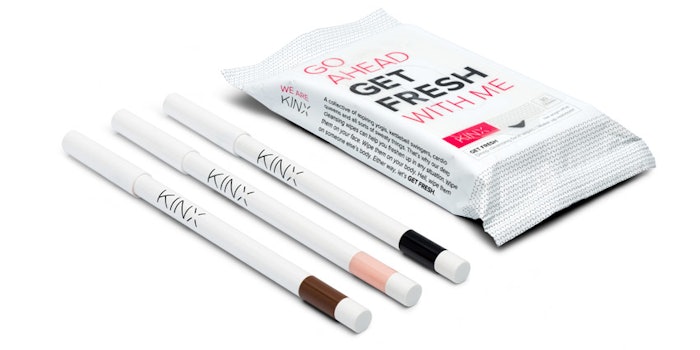 The line between athletic wear and leisure has become increasingly blurred, so it was only a matter of time before the trend carried over to the cosmetics market, spawning a range of beauty solutions for active lifestyles. Now, Kinx Active, an active wear cosmetic company, which launched in October 2016, is working with Athleta in a promotional capacity to bring athleisure cosmetics to the Gap brand's customer base in the future. (Read our full 2017 wellness beauty report.)
The brand currently offers two cornerstone products: eyeliners and makeup wipes, with nail lacquers and gels coming next.
The eyeliners are designed to stay on all day, feature a creamy consistency with a built-in sharpener and are available in black, syrup and cream. Key ingredients include cyclohexasiloxane, cyclopentasiloxane and trimethylsiloxysilicate.
The makeup wipes are packaged in a small, four-inch by 2-inch 30-sheet packs, and can be used as either makeup wipes or cleansing towelettes. Key ingredients include honeysuckle flower extract and nymphaea alba flower extract.