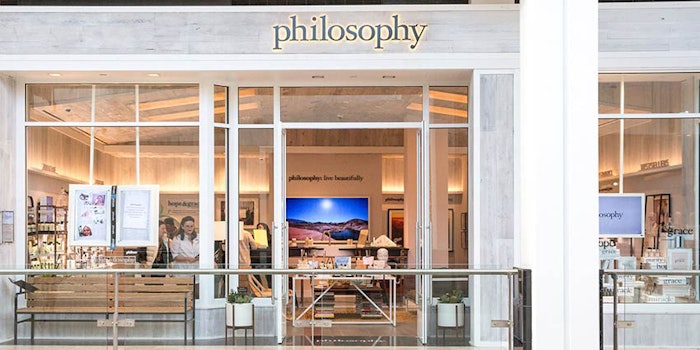 If "feeling good is the new looking good," as a recent McKinsey-BoF reporta noted, it's no wonder that Pantone's 2017 Color of the Year, Greenery, is a tribute to all things wellness.
According to Pantone, the tone "is a fresh and zesty yellow-green shade that evokes the first days of spring when nature's greens revive, restore and renew." Leatrice Eiseman, executive director of the Pantone Color Institute, noted, "Satisfying our growing desire to rejuvenate and revitalize, Greenery symbolizes the reconnection we seek with nature, one another and a larger purpose."
The selection mirrors an increasing focus on proactive approaches to supporting the mind, body and spirit of consumers—in other words, wellness. As defined by the Global Wellness Institute (GWI)b, in line with the World Health Organization's definition of health, wellness is: "a state of complete physical, mental and social well-being." And, increasingly, it's big business for the beauty and personal care industry.
It's no wonder that, increasingly, beauty companies are pursuing a convergence of their traditional businesses with wellness. But are they doing it well?
A $1 Billion Opportunity
Over the last 30 years, consumers have gradually expanded their sense of wellness from physical fitness to a more holistic approach that encompasses every element of their lifestyles, including beauty, physical and mental fitness, apparel, nutrition and travel.
"[T]he consumer segment is interested in personal, transformative experiences, often on the journey to a 'better you'."
Today, the global wellness economy—comprising preventative, complementary and alternative medicine; tourism; thermal/mineral springs; spas; workplace wellness; healthy foods, beverages and weight-loss aids; mind and body fitness; and wellness lifestyle real estate—is valued at more than $3.7 trillion, according to GWI. Of that, beauty and anti-aging comprise about $1 billion. So it's no wonder that, increasingly, beauty companies are pursuing a convergence of their traditional businesses with wellness. But are they doing it well?
Appealing to the Whole Consumer
In practice, wellness brands address physical and mental health and fitness, spirituality, sustainability issues and ethical business practices—but few encompass all of these elements simultaneously.
In its recent wellness analysis, McKinsey-BoF warned that this fragmented approach renders many brands uncompetitive, adding, "The more of these attributes that a brand can reflect and connect to, the stronger it will be, and the deeper the relationship it can create with the consumer … [T]he consumer segment is interested in personal, transformative experiences, often on the journey to a 'better you'."
Look At Me: Beauty at the Heart of Wellness
"I think there are many reasons why beauty and anti-aging are such a huge portion of this [wellness] industry," said Laura Frerer-Schmidt, publisher of Women's Health, during a recent Women's Marketing presentation.c "It's a very easy thing to change in your life. A face cream is something you can … transform your life with. I also think that beauty is one of the main ways that people visually judge health."
She continued, noting that consumers' sharing of marathon participation and fitness tracker stats on social media had also fed into the overall performative nature of wellness and beauty.
"In fact, 53% of them value health and wellness above work, spirituality and even friends …"
Schmidt added that, while traditional brands such as Pantene have stepped up their approach to wellness marketing, the movement has extended to the beverage sector, including Juice Generation, Juice Press and WelleCo, as well as nutricosmetic-type brands that offer elixirs that promote healthy skin and hair benefits.
Wellness-obsessed Millennials
During the Women's Marketing presentation, the firm's executive VP, marketing and insights, Marlea Clark, noted that 70% of surveyed women said that their health and wellness were priorities.
"What I found really fascinating is that millennials are leading the healthy lifestyle movement," she said. "In fact, 53% of them value health and wellness above work, spirituality and even friends … Eighty-four percent of millennials exercise at least once a week, and 69% take vitamins, minerals and supplements."
85% of women in the U.S. believe that age is becoming less relevant.
And, Clark said, even as they age, millennials will continue to focus on mindfulness and conscious consumption.
Wellness Is an Ageless Movement
"The reason [wellness is] such a large trend is that it reaches beyond millennials," Clark explained. "It really runs the gamut from millennials all the way to [baby] boomers and generation X.
Clark noted that, according to research conducted by Olay, 85% of women in the U.S. believe that age is becoming less relevant. This portends a shift in thinking for marketers from demographics to psychographics in which consumers are viewed through the lens of their actions and beliefs, rather than simply their date of birth. Clark added that older consumers are living longer and have more leisure time with which to research and discover products, creating "a lot of opportunity" for brands.
28% of Americans say that fatigue is their second highest health concern, behind weight.
"This [older] group has a lot more time to focus on wellness," Clark noted. "They're also staying in the labor force longer, so they want to stay active and youthful because they are going to work frequently and, being part of a vital workforce, they want to stay healthy and well for that."
24-hour Wellness
From morning to night, Monday to Sunday, beauty brands are innovating to provide solutions tailored for specific day parts.
A recent analysis by Mintel's Sharon Kwek noted, "[B]eauty brands are syncing with the body's natural rhythms to provide solutions throughout the day. As a result, a new generation of products are being launched to enhance consumers' lives from the moment they wake up in the morning until their heads hit the pillow at night."
1. Wakeup Call
According to Mintel's Sarah Jindal, 28% of Americans say that fatigue is their second highest health concern, behind weight. As a result, an increasing number of brands are focused on providing the look and feel of energy and vitality, including:
Dirty Lemon's Energy offers consumers vitality via a formula containing green tea and "adaptogenic herbs."e
Hum Nutrition Raw Beauty Green Superfood Powder, which "supports energy, radiant skin and a healthy metabolism," and contains ginseng, astragalus, licorice, ashwagandha, eleuthera and rhodiola, which reportedly allow consumers to "energize and relax."
Origins GinZing Energy-Boosting Moisturizer, which is "fortified with legendary skin-boosters like panax ginseng and coffee bean to jumpstart hydration levels."
Clarins Booster Energy drops, which contain ginseng "to revive skin's radiance and minimize the signs of fatigue."
Blithe Energy Yellow Citrus & Honey Splash Mask, which is "formulated with citrus extracts and honey, aiding in brightening and energizing dull, tired skin."
2. Hit the Gym
Jindal explained that 42% of consumers ranked physical wellness—vitality, quality sleep, and an absence of aches and pains—as their top wellness factor, followed by mental health and sharpness, and nutrition.
In fact, Mintel found that 64% of consumers reported exercising regularly, with 44% doing it to look better. In response, brands are incorporating fragrances and cooling and warming effects to help consumers get amped up for their workouts or to cool down and sooth sore muscles afterward.
2A. Workout-proof Beauty
A range of brands have produced beauty products that can withstand even the most intense workouts, including:
Sweat Cosmetics Translucent Mineral Powder, available in Natural Finish, "a lightweight, water- and sweat-resistant mineral powder sunscreen with SPF 30 and skin-friendly ingredients in [a] refillable, washable, twist brush." The translucent mineral powder is water- and sweat-resistant up to 40 minutes, according to the brand. Sweat Cosmetics claims that, in clinical tests after one hour of workout activity, "84% of women felt that the product was still intact."
Kat Von D Lock-It Powder Foundation is a smudge- and sweat-proof product that "won't cake of crease."
Make Up For Ever Mist & Fix Setting Spray is sweat-proof and designed to keep makeup looking fresh.
Smashbox Studio Skin 15 Hour Wear Foundation is "exercise-resistant and sweat- and transfer-proof for a flawless finish."
Madison Reed Root Touch Up hides roots and locks in color "even through workouts and rainstorms."
2B. Post-workout Beauty Routines
Logically, a far greater portion of beauty and personal care products are poised to provide benefits after workouts. Brands include:
Dry shampoos such as Sachajuan Dark Dry Powder Shampoo, Drybar Detox Dry Shampoo and Christophe Robin Detox Hair Ritual Kit.
Jack Black Performance Remedy Turbo Wash Energizing Cleanser for Hair & Body, which reportedly "jump-starts the body, awakens the mind, and helps revitalize the immune system," and contains juniper berry, which the brand says "assists in post-workout recovery, helping to eliminate lactic acid build-up in muscles."
Origins Warm Down Warming Lava Scrub to Detox and Smooth, which reportedly "relaxes sore muscles and detoxes skin post-workout."
Murad Clarifying Body Spray is an acne treatment spray that can be used for post-workout refreshment.
Sweat Cosmetics Skin-Balancing Cleansing Wipes contain vitamin E, coconut water, green tea extract and provitamin B5 and are designed to offer a cool-down post-workout for the face and body.
First Aid Beauty Hello FAB Gym Bag Essentials Kit is a mobile set for healthy post-workout skin and includes a Face Cleanser, Ultra Repair Lip Therapy, a cooling Vital Greens Face Mist and moisturizing Coconut Skin Smoothie Priming Moisturizer.
Giovanni Cool Mint Lemonade Salt Scrub "tingles with fragrance and is an invigorating body exfoliator that polishes the skin's surface, removing cellular debris," ideal for post-workout rituals.
3. Sweet Dreams
On a daily basis, the media seems to be touting a new study on the benefits of sleep, from academic performance to mental wellbeing to general cognition and even income.f No wonder television and social media channels seem to be flooded with a growing number of mattress ads from established and emerging companies, all promising a good night's sleep.
Mintel's Jindal explained that consumers are increasingly focused on brands that will help them get up in the morning feeling refreshed and re-energized and ready for their day. For example, wellness brand Salty Bath recently introduced its Salty Box beauty box program, touted as its own "mini spa." The offerings include small-batch bath soaks, body products, healing crystalsg, candles, soaps and bath bombs.
"A person who is able to work out three hours a day has a schedule that doesn't resemble yours, I'm guessing …"
"Studies have shown that women, who exercise regularly, eat right, get sufficient sleep and find satisfaction in their work and personal lives have less depression, anxiety and illnesses, such as heart disease," Salty Box noted in an official statement. Co-founder Tami McCarthy added, "If we do just a few things regularly, to renew our energy and revitalize our spirit, we can be fully present in our own lives, enjoy life more, and provide for our families from a place of abundance … With Salty Bath, we want to be the transformation agent that helps you get the job of self-care done, because we know it will help you reduce stress, and sleep better ..."
Meanwhile, Dirty Lemon's Sleep makes a restful proposition with rose water, herbs and magnesium, while VitaFusion offers natural Beauty Sleep Gummies, which are powered by vitamin D and melatonin for sleep support and "awaking refreshed." Similarly, Hum Nutrition's Beauty zzZz offers a vegetarian tablet containing melatonin for "restful beauty sleep."
Wellness for the Masses
Whether it's Gwyneth Paltrow's Goop, wellness spas or yoga retreats, it's clear that many wellness lifestyle elements have their origins in the premium and luxury space.
Recently, Julianne Escobedo Shepherd, writing for Jezebel.com, observed in "Athleisure Is Not For You" that, "A person who is able to work out three hours a day has a schedule that doesn't resemble yours, I'm guessing … Workout culture is inextricably tied with celebrity and wealth, this glamorous, nebulous luxury afforded only to the group we might as well call the idle fit."
However, Mintel's Jindal explained that, while wellness trends emerge in the prestige space, they do trickle down. For instance, Target has touted many natural beauty and personal care brands in recent years, including Dr. Bronner's Shea Moisture, W3ll People, Yes To and Burt's Bees. Shea Moisture, one of the fastest-growing hair care brands in the market, offers products that reinvigorate tired skin or destress the hair.
66% of consumers were willing to pay extra for products and services that came from companies that were committed to positive social and environmental impacts.
The brand's Detox Hair & Scalp Gentle Shampoo retails for $10.99 and comprises shea butter, activated charcoal, ginger and other ingredients that offer a gentle cleansing and revitalization.
Much of this trickle down can be attributed simply to the broad consumer trend toward more natural products. According to a recent analysis from Persistence Market Research,g the global natural and organic personal care products market will reach a value of $11,057.1 million in 2016, representing year-over-year growth of 9.7%. By 2024, the market is expected to be worth $21,776.9 million.
Such growth is the marker of a trend that has expanded far beyond niche. In fact, according to recent Kari Gran research, 35% of women surveyed plan to purchase more "all natural" beauty products in the next two years than they currently do, with 48% of millennials answering in the affirmative. To illustrate the interest among younger consumers, Kari Gran found that 73% of millennials believe it's important to choose natural beauty products, compared to 59% of women aged 35–44.
Marketing Your Ethics
Speaking during the Women's Marketing presentation, Clark cited Nielsen figures that found 66% of consumers were willing to pay extra for products and services that came from companies that were committed to positive social and environmental impacts.
"They'll be looking for eco-friendly products and services across the different industries as well as ethically sourced and produced products," she noted. "They want transparency—that's a word we hear so often and we hear it across category. They really want to feel that if Walmart or Costco is going to be offering them organic, they know where that's from … and they are telling the truth."
In response, global brands have expanded their communications around sustainability and ethics. For instance, the Estée Lauder Companies recently published "Future Beautiful: Our Progress on Sustainability and Citizenship in 2016," which outlined how its efforts had impacted products and packaging, employee wellbeing, operational efficiency and citizenship. The company highlighted its charitable efforts to improve girls' education around the world, its matching program for employee volunteers and monetary donations, and its 2020 net-zero greenhouse gas emission target.
According to Avon, wellness comprises 33.5% of total direct channel sales and grew at 16.3% in 2015.
Meanwhile, numerous beauty brands have attained B Corp. status, which certifies for-profit companies that "meet rigorous standards of social and environmental performance, accountability and transparency." B Corp. beauty players currently include Davines, Antica Roisterer SpA A, Pour le Monde Parfums, Beautycounter, Teadora, Dr.Hauschka and many more.
The demand for high-profile ethics has inevitably trickled down to the supplier level, as with DSM Personal Care, which recently had its Vouvry, Switzerland, site awarded the "Fair Trade" seal of approval according to the ESR Standard, which comprises ethical pricing, "creditable" working conditions, and agricultural education and sustainability for farmers.
Food Inspiration
Consumers have become increasingly aware of the ties between nutrition and skin health, creating a greater focus on the connections between diet and overall wellness. At the same time, Frerer-Schmidt noted, consumers continue to express concerns over the safety of synthetic/industrial ingredients and are seeking more "natural" and "gentle" ingredient lists. As such, brands have drawn formulation inspiration from the food, drink and nutrition world, including:
acai (ex: Sugar Acai Age-Delay Body Cream, Perricone MD Super Berry with Açaí - Dietary Supplement Powder, Chosungah 22 Click Click Click Multi Color Lip & Cheek Tint, Sol de Janeiro Brazilian Bum Bum Cream, Fresh Brown Sugar)
almond oil (ex: L'Occitane Cleansing And Softening Shower Oil With Almond Oil, Bumble and bumble Hairdresser's Invisible Oil Primer, Nude Skincare ProGenius Treatment Oil)
argan oil (ex: Josie Maran Warm Apple Cider Argan Oil Body Collection, Bumble and bumble Hairdresser's Invisible Oil Conditioner, Ren Moroccan Rose Gold Glow Perfect Dry Oil, Nails Inc. Superfood Nail and Cuticle Repair Oil)
bilberry (ex: Cover FX Mattifying Primer With Anti-Acne Treatment, Peter Thomas Roth Cucumber Gel Mask, Bareminerals Oil Obsessed Total Cleansing Oil, Ole Henrksen Invigorating Night Crème, Herbivore Moon Fruit Superfruit Night Treatment, Hanae Mori Hanae Mori Butterfly Eau de Toilette)
coconut oil (ex: Bumble and bumble Hairdresser's Invisible Oil Primer, Herbivore Coco Rose Coconut Oil Body Polish, Kopari Coconut Melt)
chia (Perricone MD Chia Serum, Herbivore Phoenix Cell Regenerating Facial Oil, DevaCurl Low Poo Delight)
flaxseed oil (L'Occitane The Secret to Beautiful Hands, Moroccanoil Intense Hydrating Mask, DevaCurl Low Poo Delight)
goji berries (Smashbox O-Gloss - Intuitive Lip Gloss With Goji Berry-C Complex, Hourglass Opaque Rouge Liquid Lipstick, Lancome Énergie de Vie The Overnight Recovery Sleeping Mask, Bvlgari Omnia Coral)
kale (Youth To the People Kale + Spinach + Hyaluronic Acid Age Prevention Cream, Farmacy Hydrating Coconut Gel Mask – Soothing, Bite Beauty Amuse Bouche Lipstick, Nails Inc. NailKale Nail Polish)
kombucha (Fresh Black Tea Instant Perfecting Mask, GlamGlow PoutMud Fizzy Lip Exfoliating & Wet Lip Balm Treatment Duo, Murad Anti-Aging Moisturizer SPF 30 PA+++)
pomegranate (Wen By Chaz Dean Pomegranate Strength & Hydration Kit, Korres Pomegranate Balancing Cream-Gel Moisturiser, Sephora Collection Sleeping Mask – Pomegranate, Klorane Color Enhancing Anti-Fade Shampoo with Pomegranate)
quinoa (Briogeo Be Gentle, Be Kind Avocado + Quinoa Co-Wash, Bareminerals Revamped Lash Domination Volumizing Mascara, DevaCurl One Condition Decadence)
spirulina (Bumble and bumble Seaweed Shampoo, Nails Inc. Overnight Detox Nail Mask, Erno Laszlo Firmarine Double Cleanse Travel Set, Origins By All Greens Foaming Deep Cleansing Mask)
Mintel's Jindal noted that many brands are seamlessly blending food-derived ingredients with peptides and functional ingredients such as hyaluronic acid, giving consumers the best of both worlds.
Beauty Care Restructuring for Wellness
"Wellness is a way of life and a rich opportunity for brands," Clark noted during the Women's Marketing presentation. "And the psychological needs are sparking their broader lifestyle choices, so think about that when you think about how can your brand offer an experience rather than feeling that they're just satisfying a short-term acquisition or need."
Clark added that brands must be proactive in engaging consumers on their preferred print, digital, mobile, e-tail and social channels, using a consistent brand voice that feels authentic, honest and transparent.
She concluded, "That's important so that consumers feel they know what you stand for..."
According to Avon, wellness comprises 33.5% of total direct channel sales and grew at 16.3% in 2015. In response, the company has created a new role, president of health and wellness, and appointed Anjana Srivastava. Launching this year, the new initiative will focus on strategic partnerships, new product launches and innovation for the marketplace.
"As we transform New Avon into the leading social selling company in North America, we look forward to establishing a health and wellness destination valued by consumers, while maximizing the opportunity for our representatives to grow their businesses and their earnings," said Avon CEO J. Scott White.
Srivastava, who previously held product, marketing and scientific roles with companies such as NeoLife International and Shaklee Corporation, noted, "As the company for women, Avon is committed to taking a leadership position on the issues that matter most to women—and her family's health and nutrition is a top concern. An increasing number of consumers are seeking ways to improve their health and vitality as they are becoming aware of worsening obesity trends and incidence of chronic diseases."
Meanwhile, Shiseido has established a new group, Shiseido Venture Partners, which will invest as much as 3 billion yen/$26.3 million in innovative businesses with technology that can enhance Shiseido's brand offerings, including in the wellness space.
First up is an investment in dricos, Inc., which is "developing a supplement appliance that provides necessary nutrients, individually selected based on the analyzed biometric/anthropo­metric data." Shiseido noted that, "Going forward, Shiseido will strive to develop new services utilizing the products and services of dricos."
The new business unit will also serve to educate Shiseido's staff on the rapid innovation culture of the venture industry, "as well as the process and speed of commercialization of original business ideas."
4 Ways Brands Are Getting Well
1. Experiential Retail That Gives Back
philosophy recently unveiled its concept wellbeing beauty workshop in the Westfield Garden State Plaza in Paramus, New Jersey. According to an official press release, "the environment invites you to mindfully engage the senses on an individual level through touch, sight, sound and scent." The store carries the brand's skin care, fragrance, and bath and body brands, and supports its hope & grace initiative, which donates 1% of all U.S. sales to mental health programs.
"The hope & grace initiative represents an unprecedented and unending commitment by philosophy to support mental health and well-being," the company announced on its website. "Mental health issues are one of the greatest challenges women face."
The philosophy concept store offers various experiences for consumers, including personalized consultations, "discovery stations" for various elements of the brand and guided meditation delivered via virtual reality.
2. Wellness Delivered
Riding the popularity of monthly beauty subscription boxes, Salty Bath has launched its own mini spa version targeted toward niche consumers who are more focused on a healthy mind, body and spirit. Each Salty Bath box (which start at $27.95 per month) comes with a variety of small-batch bath soaks, body products, healing crystals, candles, soaps and bath bombs.
"If we do just a few things regularly, to renew our energy and revitalize our spirit, we can be fully present in our own lives, enjoy life more and provide for our families from a place of abundance," said Salty Bath co-founder Tami McCarthy.
Similarly, Love Goodly provides a monthly beauty box containing four to six full-sized cruelty-free, organic, non-GMO, eco-friendly and vegan products that "are safe for ourselves and our families at a reasonable price," and "are better for our planet." The brand donates 5% of every purchase to a charitable cause. Subscribers can shop for brands individually at the company's site.
Meanwhile, Credo is working to onboard novice consumers to clean beauty by providing an easy, accessible Discovery Kit containing products such as deodorants, shampoos and bath products. The kit allows consumers to experiment with select products, making the process of transitioning their cabinets to clean beauty easier. Credo will soon launch additional kits that target specific parts of the regimen.
3. DIY Wellness
In the age of Blue Apron cook-it-yourself delivery kits, it was only a matter of time before similar beauty models emerged. Oleum Vera, a "home-cooked" beauty brand, offers cleansing, moisturizing, body care, spa-style pampering, hair care and men's body care kits that allow consumers to whip up their own products.
Each organic, non-GMO kit comprises plant-based oils and essential oils, powdered clays (when applicable), algae and dried flower petals, and comes with a how-to booklet. The brand said that it "takes inspiration from bountiful nature to create products that empower consumers to reclaim their beauty regimen, using fresh ingredients from their pantry and fridge, natural clays, and organic butters and oils."
Oleum Vera added that it is "providing women and men with the ingredients and the knowledge they need to re-appropriate their body care routine and tailor it to meet their own unique skin and hair needs…"
The range, which touts its sustainability and customization, is currently available in France via OleumVera.com and BienManger.com.
4. Brand-retail Partnerships
Beauty and personal care brands and retailers have begun forming unique collaborations to capture millennials, gen-Xers and Latinas, who are the future of the industry. U.S. millennial households spent $461 million on beauty products in a single year, while gen X households spent $337 million in the same period, according to Nielsen figures cited by analyst firm GMDCh. In addition, Latinos comprised 16% of total hair care sales, 14% of fragrance sales and 13% of cosmetics sales.
GMDC recently issued an analysis of a collaboration between Unilever and CVS, which effectively "connected beauty care, health care and self-care in the skin care aisle." The program was designed around CVS' two core skin care shoppers: the advanced regimen/high-end consumer and the basic product/limited regimen consumer.
The brand and the retailer paired skin care brands—Dove, Vaseline and Simple—with non-branded skin health information curated by dermatologist Dr. Mona Gohara via the "Love Your Skin" campaign. The program currently includes the following segments: Face (moisturizer, wipes, cleansing), Shower (bar, body wash) and Body (creams, serums, lotions, lips).
What's Next?
As seen with CVS and Unilever, the intersection of wellness and beauty will lead to new partnerships between brands, Jindal explained. For instance, a fragrance brand could pair up with an athletic wear brand to offer a collection of products that rely on aromatherapy or other sensory triggers to manage one's energy levels throughout the day.
In addition, the continuing overlap between beauty and functional drinks will create new offerings for consumers, such as topical products that work hand-in-hand with a beverage. Similarly, technology brands and beauty firms can continue to find new ways to collaborate for a more connected version of wellness.
And, more generally, consumers will seek out brands that 1) can stand up to their active lifestyles on the go, in the gym and beyond, 2) that offer functional benefits, 3) offer a safe/clean/natural formulations and 4) are easy to use and carry around during their busy day.
Whatever's next for the industry, it's clear that the winners will offer consumers a "better you."
_____________________________________________________________________
2017's Top 4 Beauty Wellness Trends
Wellness media trendsetter Well+Good recently published its 2017 Wellness Trends, which spanned multiple industries, including food, fitness and travel. Beauty and personal care dominated much of the list, so Global Cosmetic Industry dug deeper to see how these trends are already manifesting in the industry and maretplace.
1. Cleaning Up
As consumers increasingly scrutinize product labels (see Food Inspiration), beauty and personal care brands are stepping up with a focus on clean, natural and organic formulations. Those preferences are impacting every element of the industry, including M&A activity.
Recently, Alliance Consumer Growth (ACG), which has invested in healthy and green brands in the food and beauty space, including Tata Harper and NudeStix, took a minority stake in Pacifica Beauty, which markets vegan and cruelty-free skin care, cosmetics, bath and body, fragrance, hair care and nail care products.
Julian Steinberg, managing partner of ACG, noted that the firm doesn't have a natural product-focused investment thesis. Rather, ACG is simply following the growth, driven by demographic changes, the rise of the millennial generation, and evolving consumer preferences for better-for-you products and brands. (By Steinberg's estimation, Pacifica could grow to 10 or 20 times its current size.) He added that, today, better-for-you is merely a baseline for growth. In order to attract investment dollars, brands must offer this, plus something extra.
2. Legalize It
Marijuana was the clear winner of the 2016 U.S. elections, with recreational use of the drug legalized in California, Maine, Massachusetts, Nevada, Colorado, Washington, Oregon, Alaska and the District of Columbia, while medical marijuana was legalized in Florida, Arkansas and North Dakota.
Financial services firm Cowen Group has forecasted that "consumer spending in the legal [U.S.] cannabis market will grow to $50 billion by 2026." As a result, Well + Good found that brands are looking to exploit the public's growing appetite for all things cannabis, including natural beauty and personal care products.
For instance, Skinvisible Pharmaceuticals, Inc., has licensed the exclusive world rights to its topical and transdermal cannabis products formulated with Invisicare to CannaSkin, LLC, a cannabis product licensing
company. And Growblox Sciences, Inc., has announced that it has acquired two Medical Marijuana Establishment licenses in Clark County, Nevada, and formed GB Sciences Las Vegas in order to acquire these two licenses, which allow Growblox to convert cannabis plants to oil, which can be used to manufacture beauty aids, cosmetics and other products. And Canadian Zeolite Corp. has partnered with Isodiol to research and develop cannabidiol- and zeolite-infused products, including anti-aging skin care.
3. Drink Yourself Beautiful
Functional beverages—mixes and RTDs—are nothing new, but their popularity is expanding rapidly, growing at 11.4% through 2021 and totaling more than $1.1 billion by the end of the forecast period, according to a Market Data Forecast report.
Aimed at women and teenagers and promising healthier skin, leading brand innovators include Bella Berry Beauty, Skinade, Blossom Du Jour, The Beauty Chef and MoonJuice. Top claims in the space include: anti-aging, radiance, detoxifying and vitality. Top ingredients include: vitamins, minerals, fruit extracts, coenzymes and proteins.
From great skin to healthy nails and joints, collagen has grown in popularity, particularly in the beauty drink space. Examples include Dirty Lemon Skin+Hair, Vida Glow marine collagen supplements derived from red snapper scales, Fountain The Phyto Collagen Molecule drink and Bella Berry, which comprises super fruits such as pomegranate and acai, as well as vitamins, antioxidants, collagen and green tea extract.
4. Natural-ish
Alicia Keys' no-makeup appearance on The Voice was a high-profile moment in the #nomakeup trend, but it's safe to say that reports of makeup's death have been greatly exaggerated.
No7 Match Made Service spokesperson and feminist novelist Chimamanda Ngozi Adichie perhaps put it best: "I love makeup, and its wonderful possibilities for temporary transformation. And I also love my face after I wash it all off. There is something exquisitely enjoyable about seeing yourself with a self-made new look. And for me that look is deeply personal. It isn't about what is in fashion or what the rules are supposed to be. It's about what I like. What makes me want to smile when I look in the mirror. What makes me feel slightly better on a dull day. What makes me comfortable."
Indeed, while many women ditch makeup on occasion and share their natural looks on social media, the no-makeup makeup look has risen up to bridge the desire for authentic beauty and the impulse to boost one's natural looks. The trend has given rise to countless product categories and SKUs, including Bareminerals Gen Nude Matte Liquid Lipcolor, Marc Jacobs Beauty New Nudes Sheer Gel Lipstick, Buxom True Nude Lip Foundation.
_____________________________________________________________________
*Additional reporting by Nicole Urbanowicz
awww.businessoffashion.com
bwww.globalwellnessinstitute.org
cwww.womensmarketing.com
dAdaptogens reportedly promote homeostasis, for example by reducing cellular sensitivity to stress.
ewww.washingtonpost.com/news/wonk/wp/2016/11/13/the-more-you-sleep-the-more-money-you-might-make/
fWell + Good's 2017 wellness trend overview noted that, "for a generation raised on yoga, meditation, and green juice, formerly fringe 'woo woo' wellness concepts are becoming downright mainstream," and added, "Crystals are increasingly celebrated as life-enhancing, whether as jewelry or in home design, by everyone from Jennifer Aniston and hip-hop stars to fitness phenom Taryn Toomey"; www.wellandgood.com.
gwww.persistencemarketresearch.com
hwww.gmdc.org