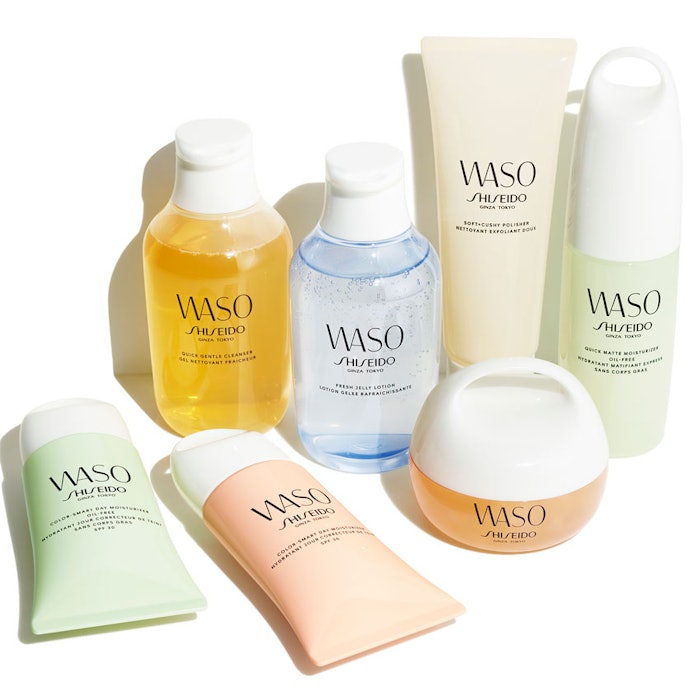 Shiseido recently added a new skin care collection, WASO, featuring products containing traditional natural ingredients from Japan. Products include ninjin (carrot), Biwa no ha (loquat leaf) and tofu. The full product line, targeted at millennials, is available online in the United States in July, and will expand throughout 2017 and 2018:
Clear Mega-hydrating Cream: A hydrating clear cream that uses whole carrot cells for needed moisture. The cream plumps and nourishes throughout the day and can be used under or over makeup.  
Quick Matte Moisturizer Oil-free: Instantly mattifying you skin, this oil-balancing clear gel leaves your skin matte, smooth and hydrated with the use of loquate leaf cells.
Color-smart Day Moisturizer: A daily moisturizer that brightens and enhances skin tone for lasting hydration and glow. The moisturizer also contains SPF 30 and is available in an oil-free formula.
Soft + Cushy Polisher: A gentle exfoliator with a tofu-like texture to clear complexion and leave skin smooth.
Quick Gentle Cleanser: A honey-like gel, formulated with honey and royal jelly from bees that will foam without water to remove makeup and impurities without stripping away moisture.
Fresh Jelly Lotion: A hydrating lotion made with ingredients derived from white jelly mushrooms. It starts as a jelly-like texture that becomes a lotion on your skin and plumps from within.  
Products are available through the Shiseido website, found here.