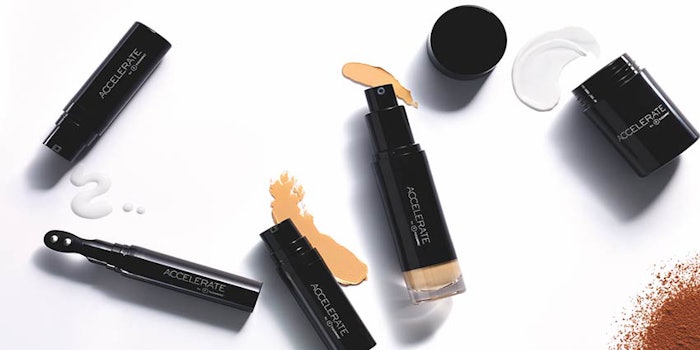 As Jason Jennings and Laurence Haughton wrote in 2002, "It's Not the Big That Eat the Small...It's the Fast That Eat the Slow." That's why Fusion PKG recently launched its Accelerate turnkey solutions for skin care and hybrid products.
In the age of fast-fashion makeup brands, which has generated the acquisitions of nimble players such as Too Faced and Nyx by Estée Lauder and L'Oréal, respectively, as well as blink-and-you'll-miss-it K-beauty innovations, brands of every size are increasingly focused on identifying and executing on trends more quickly.
Doing so requires a shortening of the production cycle, which is particularly difficult in the skin care sector, where even smaller brands may require nine to 12 months to reach the market.
Fusion PKG's Accelerate program seeks to boost companies' speed-to-market by pairing its packaging innovations with on-trend skin care and hybrid product formulations that have been pre-tested for stability and packaging compatibility.
Fast, On-trend Formulas
The company's program offers skin care solutions such as cleansers, toners, serums, moisturizers, lotions, blurring creams, brightening pads, gels masks, peels, essences/oils, acne control products and balms, as well as hybrid product formulations such as primers, foundations, self-tanners/bronzers, concealers, 2-in-1 benefit products/CC creams and cheek tints. All formulations can be tweaked to meet brands' unique requirements. 
During the recent Cosmoprof North America show, Fusion PKG demoed a K-beauty-inspired two-step fermented serum and oil for super hydrating anti-aging for morning and/or night. The formulation was housed in the Hook Up airless bottle, which comprises two 15 ml connected bottles. The first bottle contained the serum. The second bottle contained the oil, which can be applied once the serum is firmly worked into the skin, thus locking in hydration and leaving the skin feeling smooth—not oily.
Brands can quickly identify white space or line extension opportunities and launch in a quick timeframe.
A micro peel treatment formula was housed in a travel-friendly airless direct applicator featuring nodules that allow the user to get into hard-to-reach areas. The formulation removes congestion from the skin and is ideal for the blackhead area, according to the company. The micro peel treatment can be used once to twice a week and offers instant results.
In another demo, Fusion PKG used its Hybrid airless packaging to house a 7 g jar of blurring powder atop a 30 ml jar of sculpting cream. The bottom jar features a push-up control that allows the user to self-select their dosage. The cream is an everyday lotion featuring a small amount of blurring powder. Used alone, it can deemphasize imperfections. Users can add additional powder to the cream in the dispenser well or on the back of their hand as needed to boost and customize the blurring effect.
The company's vitamin C brightening lotion concept leveraged the Hybrid airless system to offer a powder vitamin C booster atop a lotion, ensuring the delivery of high levels of vitamin C without damaging the key ingredient by housing it within the emulsion.
Faster Innovation = Faster Brands
Fusion PKG's Accelerate turnkey solution is targeted toward smaller brands that don't have in-house resources for extensive stability testing or in-depth market and consumer trend reports. By partnering with an external resource, brands can quickly identify white space or line extension opportunities and launch in a quick timeframe—especially in the traditionally slower moving skin care sector. In addition to speed, the turnkey service may allow brands to keep their in-house teams a little leaner and to focus on marketing, branding, social media, operations and other critical elements of the business.
Trends for an Ever-changing Market
With trends evolving from seasonality to a more rigorous 52-week cycle driven by social media and influencers, Fusion PKG has developed its packaging and formulations around a range of emerging concepts.
By understanding trends, the company believes it has an edge in understanding how resulting products can be relevantly marketed and in identifying strategies for clients' future launches. The key trends Fusion PKG recently highlighted at Cosmoprof North America included:
Autocorrect: a concept built around luxurious formulations and textures that deliver blurring effects or self-healing tonics for acne-prone or sensitive skin.
Instaglam: selfie-ready beauty, powered by blurring and illuminating primers.
Anti-pollution: solutions to correct or defend against the formation of dark spots and discoloration of the skin.
Wellness: vitamin-rich, good-for-you formulations.
Transformational textures: experiential formulations, such as a cryo plump complex that offers a cooling shock to awake the skin.
Rituals: creating new skin care regimens built around cleansers, serums, lotions and more.
Farm to skin: edible textures, detoxifying and exfoliating formulas, and good-for-you ingredients.
Nature-inspired beauty: natural meets tech with enhanced natural concepts, high tech applications and natural brand stories.