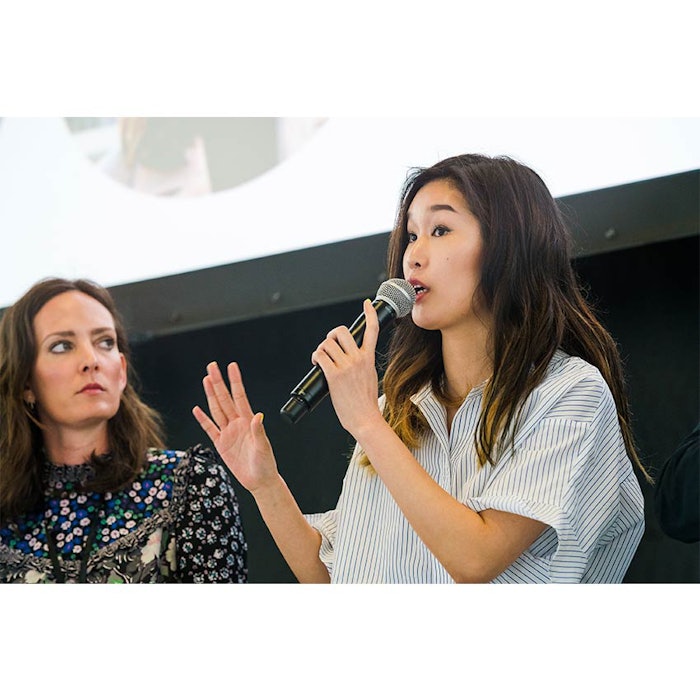 FounderMade Beauty recently presented a look at the world of independent beauty, including founders, investors, the latest startups and retail leaders. Like FounderMade's Wellness Summit, the event pointed to the key trends shaping the industry. This story is part of a multi-part feature covering the key topics from the conference.
Soko Glam bills itself as "the most trusted Korean beauty shop" by curating a slim, easily navigable selection of 27 brands, including Klairs, Neogen, Erborian, British M and Etude House. Chief curator Charlotte Cho co-founded the portal in 2012 with her husband with a mission to make beauty education more fun. (Interestingly, in a major pivot, Memebox recently repositioned itself as an education hub for K-beauty, ceding the bulk of sales and shipping to external retail partners.)
Cho realized that K-beauty's focus on high-quality products with affordable prices (aided in part by low-cost labor) satisfied a need in the U.S. market. But there was significant consumer confusion in the West. Because SoKo Glam was an early mover in K-beauty, it was able to establish relationships with some of the country's biggest brands and became a go-to hub for consumers seeking products that they would actually use and which were genuinely effective.
Today, Cho spends roughly 1/3 of the year in Korea to keep track of the rapid-fire market by visiting retailers, dermatologists and brands. The Korean beauty industry is proud of its proficiency, so experts are happy to share their insights. In addition to discovering new brands, Cho's trips to Korea allow her to better tell product and brand stories, which are critical for consumer education.
K-beauty Education
Cho noted that Soko Glam was born not only to cut through the clutter of launches coming out of Korea, but to help educate Western consumers about skin care. Compared to their Korean counterparts, it is generally understood that these consumers tend to have a more remedial idea of how to care for their skin.
K-beauty brands have taken advantage of the less crowded U.S. market to stand out from the pack.
K-beauty offers a high level of innovation and unique products and categories. With the right education, Cho believed she could change Western consumers' mindsets toward preventive skin care. Thus, she founded the Klog, Soko Glam's informational platform. The blog includes education on skin care steps and routines, as well as insights into specific product categories. About 70–80% of the Klog's audience is non-Asian, according to Cho.
What's Happening in Korea?
Korean beauty consumers have no brand loyalty, Cho told Global Cosmetic Industry. Shoppers are simply not replenishment-focused. As a result, Korean brands have to launch new products or even change packaging as frequently as every six months to maintain consumer interest. This atmosphere creates significant amounts of innovation.
Cho cautioned, however, that not everything coming out of the K-beauty space is translatable to the West, whether for cultural or educational reasons. She added that focus groups are critical for ensuring brands are making the right decisions.
What the West Can Learn from Korean Retail
For the Korean beauty consumer, it's about the product and the experience, said Cho. Therefore, the market is filled with concept shops, such one brand that created drinks based on its core ingredients. K-beauty mainstay Etude House recently opened its flagship store, which featured several unique color experiences, including photo op areas in-store, a Personal Colour Studio that allows consumers to use a color meter to generate a personalized color palette, and a Colour Factory that provides consumers with an opportunity to create their own lipsticks by choosing their preferred colors and design.
Cho noted that Korea is densely populated, which supports a greater amount of brick-and-mortar retail spaces, compared to the United States. That said, Korea may be due for a retail reckoning—even K-beauty has its limits on demand.
K-beauty's Impact in the West & What's Next
Over the last few years, K-beauty has expanded from a niche beauty junkie fixation to a mass market phenomenon. Today, K-beauty brands are ubiquitous, with SKUs turning up in retailers such as Walmart and CVS. Cho noted that, as U.S. consumers have begun to embrace K-beauty, she has built curation partnerships with retailers such as Sephora, Birchbox and Urban Outfitters.
Cho added that some K-beauty brands have taken advantage of the less crowded U.S. market to stand out from the pack, while also benefitting from wider margins. For instance, Dr. Jart+ has created a significant market in the United States and has even created products specifically for the market.
As for what's next for K-beauty, Cho noted that brands are beginning to push beyond skin care to makeup that offers skin nourishment. She added that, eventually, the K-beauty dust will settle and the brands left standing will be those that can consistently deliver meaningful innovation for consumers both in Korea and abroad.
A Bootstrapper's Advice
Cho and her husband built Soko Glam out of their apartment in Korea, shipping products to the United States themselves. While that worked for a while, Cho said she received excellent advice: once you reach a certain scale, your time as founder is better spent on things other than operational matters like fulfillment. That advice led Soko Glam to hire a third-party fulfillment house, which allowed Cho and her husband to focus on more strategic elements of the business.
In addition, Cho eventually admitted to herself that she couldn't be involved in every element of the business, which allowed her husband to take certain tasks off her plate and enable her to be more strategically focused. As for her advice to startups? No is never no forever.