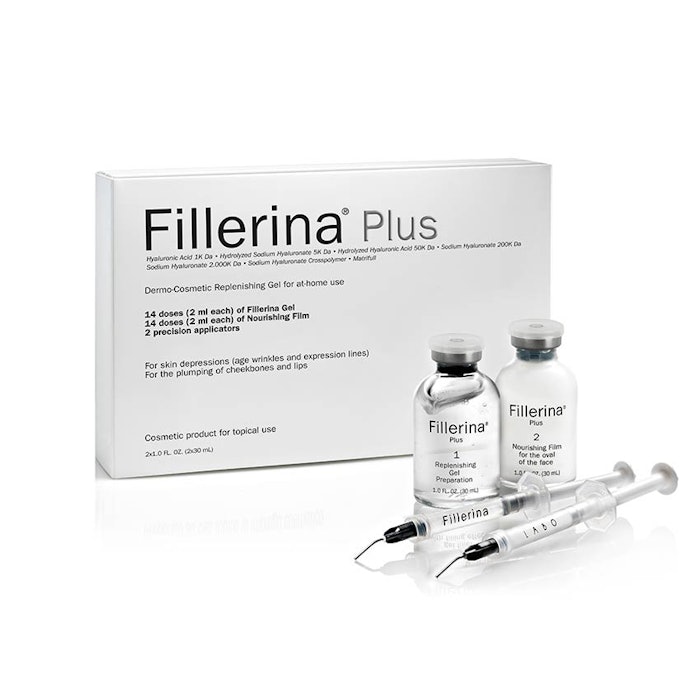 Cosmoprof North America 2017 hosted 1,278 exhibitors and more than 36,000 visitors. This year, the event enhanced its focus on emerging brands in the consumer and professional space, multicultural beauty as well as a significant focus on 49 "green brands."
What's next: • Belleza y Salud Bogota, September 27-29, 2017 • Cosmoprof/Cosmopack Asia, November 14-16, 2017/November 15-17, 2017 • Cosmoprof Bologna, March 15-18, 2018 • Cosmoprof North America, July 29-31, 2018 • Cosmoprof Mumbai, September 10-11, 2018 • July 29th through 31st, 2018.
Millennials are looking to contour their faces for fuller lips or cheeks, but beginning injection regimens at a young age could have negative unintended consequences. Therefore, topical alternatives offer a way to tap into this critical consumer base with offerings that deliver non-invasive, natural-looking solutions.
The Fillerina Dermo Replenishing Treatment is a topical filler alternative to hyaluronic acid injections. The Swiss dermocosmetic brand uses six sizes of hyaluronic acid molecules to penetrate to the dermis layer of the skin. The 14-day treatment course reportedly reduces the appearance of wrinkles and enhances the appearance of the cheek bones. Results last up to three months, according to the brand.
The two-phase treatment can be precisely applied to target areas using the syringelike applicator. The first phase, the Replenishing Gel Preparation is a plumper that reduces wrinkle depth and crates volume in the cheekbones and lips, while the second phase, a Nourishing Film, leaves a soft feel to the skin via ingredients such as vitamin E, meadowfoam seed oil and shea butter.
The Fillerina Dermo Replenishing Treatment is available in three grades of intensity, depending on age and need, priced between $150 and $175. The treatments can be supplemented and prolonged by the Fillerina Night Cream and Fillerina Lip Plump. The supplements can also be applied to skin that has been treated by injectables, according to the brand.
The brand, which is manufactured in Switzerland, retails in apothecaries, derm stores online, med spas, Lord & Taylor and other outlets. It recently won NewBeauty magazine's Beauty Game Changer honor during the publication's seventh annual Beauty Choice Awards.