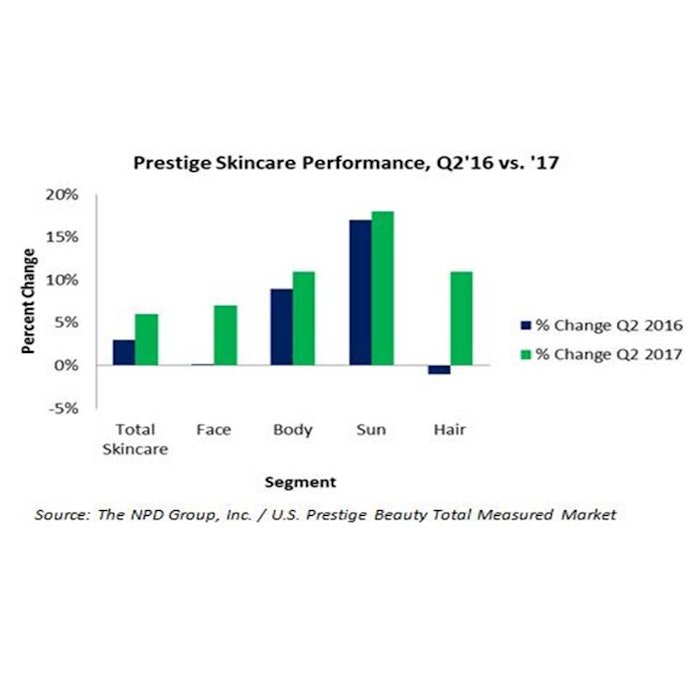 Prestige makeup has been getting the majority of headlines lately, but it looks like prestige skin care deserves some serious attention. U.S. prestige beauty sales totaled $4.2 billion in the second quarter of 2017, according to new data from NPD. This represents a year-over-year gain of of 4%. But the real story is the rise of skin care relative to other beauty categories (see figures for details).
Growth in makeup slowed, while every skin care segment expanded during the quarter, NPD noted. Makeup growth had slowed in 2016, which has continued this year, the firm noted. Growth in palettes and sets -- value items -- has been offset by weakness in the lip category.
Interestingly, the ailing nail category fell 1% during the period, but there was growth in base and top coats, which rose 13%, and nail care, which jumped 6%. Like other categories, it appears that functional products are behind the expansion.
In fragrance, men's fragrance sales growth outpaced that of women's scents, 4% to 1%.
"Skin care's accelerated growth is being driven by newer brands and products that are capturing greater market share," said Larissa Jensen, executive director and beauty industry analyst, The NPD Group. "This is a continued trend as we have seen a lot of excitement and innovation in skin care coming from smaller, more limitedly distributed players, which resonate with the consumer desire for discovery and uniqueness."