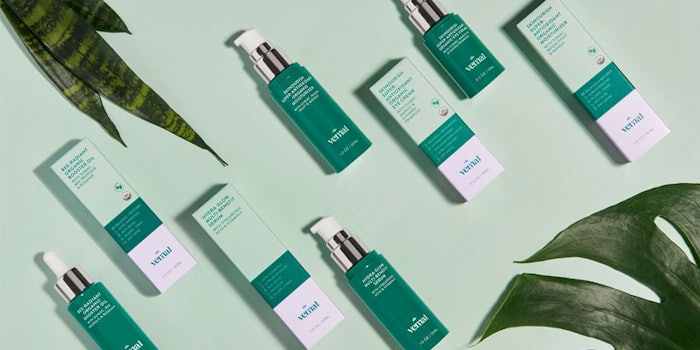 Vernal Beauty's collection of USDA certified organic formulas boasts products derived from antioxidants, cold-pressed oils, super fruits and plant-based botanical extracts. The line includes:
Bee Radiant Organic Face Oil ($45): Formulated with sumac, rosehip and bee propolis, Bee Radiant Booster Oil is an antioxidant-rich elixir for the skin. The oil provides a weightless mix of bio-absorbable micronutrients, high-potency antioxidants, vitamins and minerals that deliver healthy, youthful looking skin.
Hydra-Glow Multi-Benefit Serum ($46): The serum combines hyaluronic acid with vitamin C to protect, repair and deliver a radiant glow. Formulated with amla, or Indian gooseberry, the serum helps repair damaged skin while visibly lifting, toning and brightening, as well as boosts collagen for plump, smooth skin.
SKINourish Super-Antioxidant Organic Eye Cream ($43): The eye cream is designed to help nourish, protect, brighten and repair the eye area. The cream leaves a thin, yet dense protective layer that helps prep the eye contour area for smoother makeup application. The multi-tasking benefits also include hydrating, boosting elasticity, and diminishing puffiness, dark circles and signs of aging.
SKINourish Super Antioxidant Organic Moisturizer ($44): Enriched with vitamins C and E, the rich but lightweight daily moisturizer feeds skin with superfruits, hydrates with exotic butters and provides natural cellular renewal, leaving skin smooth, nourished and glowing. Multitasking skin care benefits help to lock in moisture, reduce signs of aging, increase elasticity, and diminish and prevent skin discoloration from acne, free radicals and sun damage.