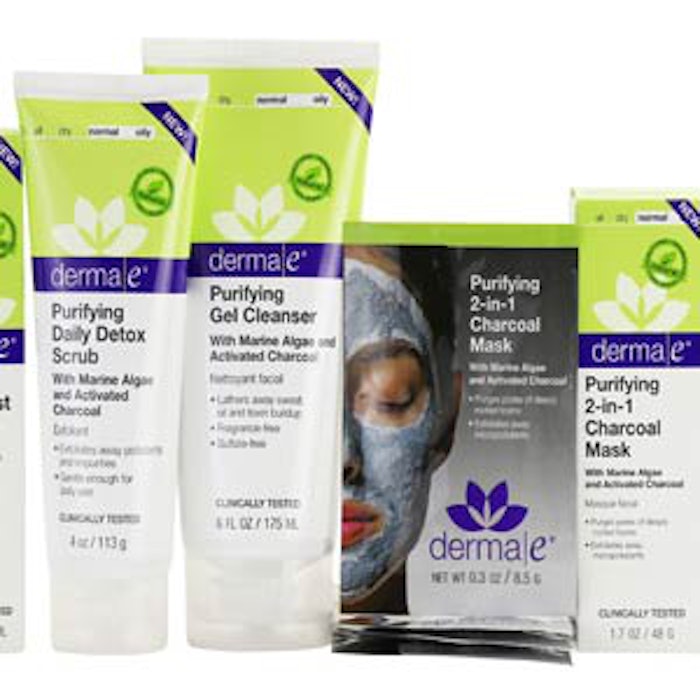 The brand: derma e Purifying deep detox skin care regimen
Products: Purifying Gel Cleanser (MSRP: $15.50 for 6 fl. oz), Purifying Toner Mist (MSRP: $15.50 for 2 fl. oz.), Purifying Daily Detox Scrub (MSRP: $15.50 for 4 oz.), Purifying 2-in-1 Charcoal Mask (MSRP: $19.50 for 1.7 oz.), Purifying Youth Serum (MSRP: $29.50 for 1 fl. oz.) and Purifying Oil-Free Moisturizer (MSRP: $29.50 for 1.7 fl. oz.).
Claims: The regimen's formulas draw out toxins, replenish nutrients and restore the skin's resistance to oxidative stress. The products are designed for oily, active and urban skin types for a healthy, youthful glow. Cruelty-free and vegan.
Ingredient highlights: Marine extracts, including Kimarine wakame and bladderwrack, activated charcoal, green tea and aloe leaf juice.
Retailers: Available at 550-plus health food stores nationwide, including Whole Foods Market, Vitamin Cottage, Fruitful Yield and Lassen's. The line is also available on DermStore.com, LuckyVitamin.com, Vitacost.com and dermae.com.