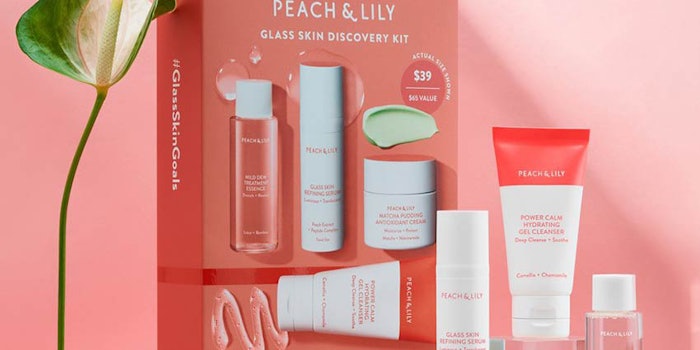 Peach & Lily has launched the Glass Skin Discovery Kit, established by the creators of the cult-favorite Glass Skin Refining Serum, which is now available alongside three other transformative, hydrating products. The four-product kit includes Power Calm Hydrating Gel Cleanser, Wild Dew Treatment Essence, Glass Skin Refining Serum and Matcha Pudding.
Step 1: Power Calm Hydrating Gel Cleanser: Dissolve impurities and cleanse thoroughly while hydrating skin with this low pH, sulfate-free cleanser.

Camellia, chamomile, and Centella asiatica extracts help soothe skin.
Peach extract brings its wealth of vitamins and minerals to help nourish and brighten skin without irritating or stripping it dry.

Step 2: Wild Dew Treatment Essence: Tone and drench skin with hydration for radiant, dewy skin.

Essences hydrate and re-balance the skin while also using highly concentrated levels of active ingredients, enabling deeper penetration into the skin barrier.
Helps fight breakouts, improve skin's radiance, and impart long-lasting hydration thanks to lotus, bamboo, radish and niacinamide.

Step 3: Glass Skin Refining Serum: Delivers poreless, luminous and translucent looking skin.

Peach extract provides essential fatty acids, vitamins, and minerals that help nourish and support skin.
Other ingredients include madecassoside (soothing and healing properties), niacinamide (anti-inflammatory and brightening properties), and mountain yam extract (potent antioxidative properties), a proprietary hyaluronic acid complex to help hydrate all layers of skin and a proprietary peptide complex to help firm skin and minimize the appearance of pores.

Step 4: Matcha Pudding: This deeply moisturizing formula, chock-full of antioxidants and skin brighteners hydrates without sitting heavy on skin.

Packed full of matcha, one of the richest sources of antioxidants, which help fight free radical damage caused by environmental stressors.
Also contains cape lilac extract, niacinamide, and adenosine, which help brighten and firm skin.