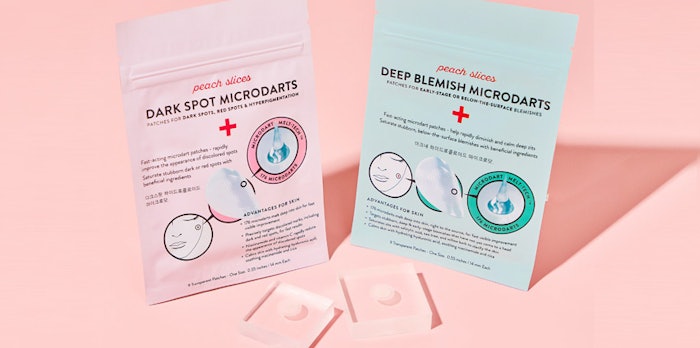 Peach Slices has two new facial products to complement it's Acne Spot Dots with the launch of Deep Blemish Microdarts and Dark Spot Microdarts.
Further reading: L'amarue Series One Collection Redefines Skin Care
The brand's microdart melt-tech technology has 176 microdarts that are said to dissolve deep into the skin to target blemishes. Application every eight hours is recommended as needed.
Deep Blemish Microdarts key ingredients include: 0.4% salicylic acid, willow bark extract, tea tree oil, hydrating hyaluronic acid, niacinamide and cica.
Dark Spot Microdarts key ingredients include: 4% niacinamide + licorice + vitamin C, hyaluronic acid base + K-beauty star ingredient, cica, hydrators + soothers.
The spot microdarts cost $8.99 for a pack of nine patches.