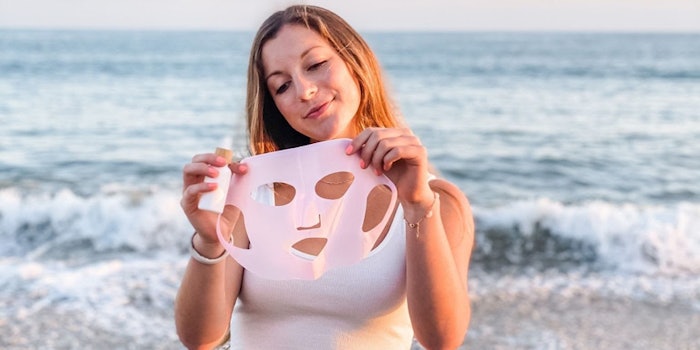 Mantra Mask has launched two new products, the Silicone Reusable Mask and CBD Collagen Serum.
Related: [interview] The Team Behind Selfless by Hyram Speaks Out
The Mantra Mask CBD Collagen Serum is formulated with natural emollients, organic aloe vera, hyaluronic acid, and plant amino acids as well as Abrotanum extract, MSM and non-animal collagen biopeptides.
The Reusable Silicone Mask draws moisture to itself and creates a barrier to repair the skin's natural barrier. It is said to lock in moisture and help the skin absorb the CBD Collagen Serum.
All Mantra Mask sheet masks and products are natural, vegan and cruelty-free, with no toxins, parabens or phthalates, and contain anti-inflammatory CBD.
Kim Wellen, founder of Mantra Mask, said, "I love that sheet masking makes me slow down and take some time for self-care. But let's face it, life is busy, and we don't always have that kind of time, but we still want the benefits of hydrated skin. I wanted to be able to wear a sheet mask consistently, even when I don't have the time for a relaxed self-care moment."