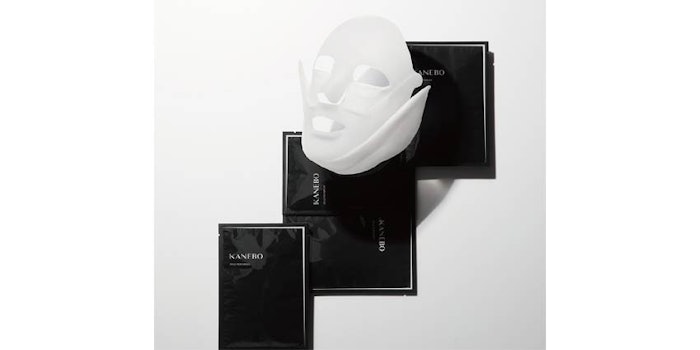 Kanebo is releasing a sheet mask that is said to add radiance and bounce to the skin, creating a smiling impression.
Related: Kanebo Cosmetics Launching 5 Base Makeup Products
The sheet mask, called the Smile Performer, is designed to bring a natural smile to the face by lifting the cheeks, the corners of the mouth and jawline. The mask is designed to be worn for about 10 minutes.
Kanebo is also releasing its latest beauty products in addition to the sheet mask. The products are inspired by its "I hope" brand theme.
For reduced environmental impact, the sheets are made entirely from cotton by-products with biodegradable properties.
The items will be released in Japan throughout August and September. The same items will be released overseas in stages.
Masae Uchikawa, the brand manager of Kanebo, said, "Two lifters on either side of the lower half of the mask generate a gentle pressure to pull the skin up towards the temples. Our test group has reported pleasing results, including firmer and more radiant skin. Beauty care face masks have stayed as popular as ever during the COVID19 pandemic in Japan. If anything, rigorous skin care using face masks seems to be coming into its own."
The Kanebo products include:
Kanebo Smile Performer
33 ml x four sheets
¥5,500 (¥6,050 with tax)
Formulated with mallow flower extract, moon peach leaf extract, rice bran extract and methylserine
Fruity floral fragrance that blends lily of the valley, rose, and jasmine accented with "Teatopia" tea flower
Kanebo Lift Serum
50 ml
¥20,000 (¥22,000 with tax)
Refill: One type, 50 ml
¥19,500 (¥21,450 with tax)
Kanebo Enriched Off Cream
130 g
¥3,500 (¥3,850 with tax)
Kanebo Refreshing Creamy Wash
130 g
¥2,500 (¥2,750 with tax)
Kanebo Clear Cleansing Toner
180 mL
¥3,000 (¥3,300 with tax)
Kanebo Eyebrow Shade Pencil
2 colors
¥4,000 (¥4,400 with tax) each
Refill: 2 colors
¥2,000 each (¥2,200 with tax)
Kanebo Eyebrow Duo
3 types (including one limited
edition)
¥2,300 each (¥2,530 with tax)
Kanebo Clear Eyebrow Fixer
one color
¥3,000 (¥3,300 with tax)
- A gender-inclusive design that allows for use on the eyebrows and men's beards.
Kanebo Moisture Rogue Neo
five new colors (including four limited
edition)
¥4,000 each (¥4,400 with tax)