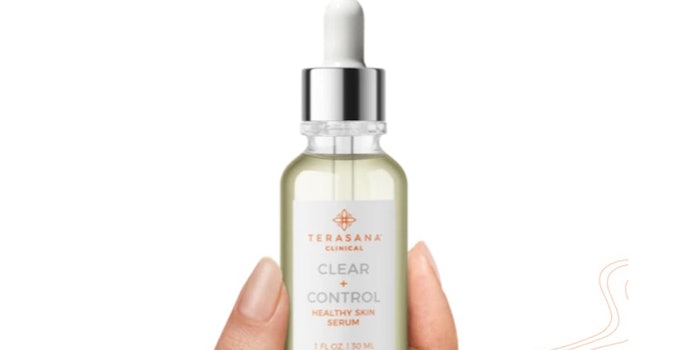 Amyris is launching Terasana Clinical, a clean skin care brand. The move follows Amyris' acquisition of cannabinoid expert Terasana in January 2021.
The brand's first product, Clear + Control Healthy Skin Serum, addresses dry skin, skin flaking, irritation and redness with its moisturizing and anti-inflammatory properties, which are designed to clear and balance the skin's appearance. 
Clear + Control Healthy Skin Serum comprises a patented formulation that combines two of Amyris' sustainably sourced ingredients, squalane and cannabigerol (CBG).
Squalane is said to have demonstrated skin therapy benefits in clinical and consumer studies. It contributes to skin health by improving the skin's microbiome and enabling the penetration of cannabinoids and other skin care actives to enhance product performance. 
CBG is an anti-inflammatory and antimicrobial non-psychoactive (no THC) minor cannabinoid.
The Clear + Control Skin Serum is formulated without parabens, phthalates, synthetic fragrances or mineral oils, and is non-toxic, vegan, cruelty-free and ethically sourced.
Mamina Turegano, MD, triple-board certified dermatologist and Terasana Clinical brand ambassador, said: "I am excited to be involved with Terasana Clinical. This is the only skin care brand I know of that combines highly effective, proven ingredients to clear blemishes and breakouts quickly while also nourishing the skin at the same time. The primary ingredients in Clear + Control Healthy Skin Serum, squalane and CBG, are sustainably sourced and have been clinically tested. The innovative technology used to develop this product provides consumers a chance to experience clear skin with reduced concern for irritation or dryness." 
John Melo, president and CEO of Amyris, said: "CBG has a variety of proven skin benefits and through our well-established fermentation technology, we are able to manufacture CBG at scale and at a much lower cost than existing alternatives. We believe that clean CBG has opened up new avenues for innovation in sustainable and effective skin care and that it has the potential to be a breakthrough in addressing the acne market. We are on track to launch three new clean beauty consumer brands this month which is a testament to the consistent performance and execution by our team. We continue to build on our current sales growth momentum in the third quarter and expect the new brands and consumer activity to contribute significant new revenue during the second half of this year."