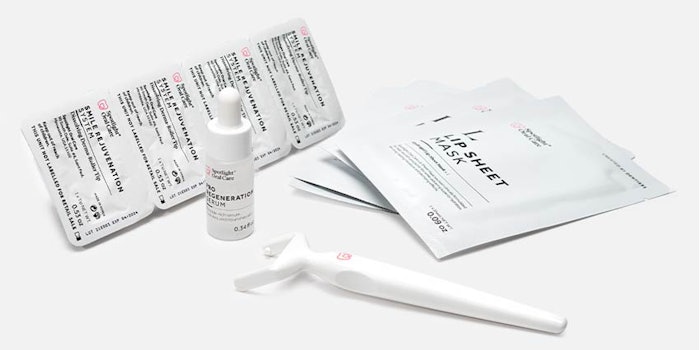 Spotlight Oral Care has launched its first skin care product—the Smile Rejuvenation System—marking an expansion for the brand beyond oral beauty.
Related: Spotlight Oral Care Receives €12M Funding
The Smile Rejuvenation System was created by cosmetic dentists and is intended to enhance and nourish the skin surrounding the mouth in three steps: activating, replenishing and hydro-pumping.
Spotlight Oral Care claims the collagen and elastin in the system also work to tighten jawlines, nourish lateral cheek lines, reduce the appearance of fine chin lines and add hydration to fill hyper-mobile chin lines.
Recommended use is weekly for a month in conjunction with Spotlight's other smile-enhancing products. It is suitable for sensitive skin.
Spotlight Oral Care's Smile Rejuvenation System includes four single-use Derma-roller Tips, four hydration-boosting Lip Masks and the peptide-enriched Pro-regeneration Serum. It is available at spotlightoralcare.com for $180.
Vanessa Creaven, MFDS, co-founder and CEO of Spotlight Oral Care, says, "As dentists, we really feel strongly about approaching oral health in a holistic way. This approach results in the best treatment outcomes for our patients and customers. A beautiful individual smile is a lot more than just teeth! It is lip support, side profile assessment, symmetry, and tissue volume. We have seen the impact of using micro-needling to support these tissues to really improve the look of the lower third of your face, and it can be done at home. That's why we created this fool-proof system for improving your smile beyond your teeth."
Lisa Creaven, MFDS, co-founder of Spotlight Oral Care, says, "In our practice, we have seen the huge additional benefits that come from supporting the muscles around the mouth. In particular, we see a lot of issues like reduced collagen, vertical lines or smokers lines around the mouth, laxity, or looseness in the muscles creating that drooping effect. Loss of collagen is a normal part of aging, and so stimulating that collagen is really important to keeping your smile as rejuvenated as possible. Our range of products is designed with the end consumer in mind. We recognize that we are an oral health and beauty brand, and we want to meet our customer's needs."
Ingredients
Serum: water, glycerin, niacinamide, trehalose, sodium, polyacryloyldimethyl taurate, betaine, citrus nobilis (mandarin orange) peel extract, panthenol, allantoin, sodium phytate, caprylyl glycol, sodium hyaluronate, madecassoside, adenosine, citric acid, dipotassium glycyrrhizate, acetyl hexapeptide-8
Derma-Roller Tip: sodium hyaluronate, trehalose, citrus nobilis (mandarin orange) peel extract, caprylyl glycol, madecassoside, acetyl hexapeptide-8
Lip Mask: water, glycerin, 1,2-hexanediol, agar, ceratonia siliqua (carob) gum, xanthan gum, peg-60 hydrogenated castor oil, carrageenan, allantoin, sucrose, ethylhexylglycerin, rose flower oil, propanediol, sodium hyaluronate crosspolymer, hydrolyzed glycosaminoglycans, sodium hyaluronate, butylene glycol, benzyl glycol, natto gum, hydrolyzed hyaluronic acid, hyaluronic acid, raspberry ketone, citronellol