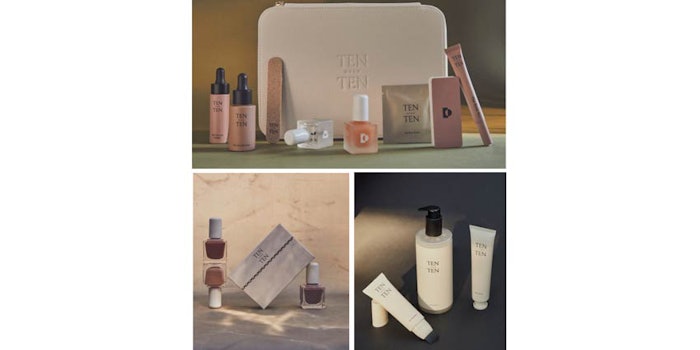 Tenoverten is relaunching its brand with product expansions, a growing DTC and retail presence, and a marketing shift toward being a product-first brand. Tenoverten's latest products focus on at-home treatments and include a new category of tools with salon-grade solutions.
Related: Ellen DeGeneres Debuts Kind Science Brand
Tenoverten worked with The Outset to develop a new brand identity and web experience. With art as inspiration, branding elements reference the building blocks and shapes of Bauhaus and the color fields of Rothko.
Tenoverten's new skin care range focuses on nail, hand and foot care, including The Rewind Exfoliator hand scrub, The Cocoon hand and foot cream and The Sleep Mask overnight treatment for hands.
Its salon-grade tools include The Nip cuticle trimmer, The Push Back 2-in-1 nail cleaning tool, The Right Foot callus-removing file, The Eco File and others. The tools are available individually or in three kits: The Manicure Kit, The Pedicure Kit and The Tool Kit.
Tenoverten offers polish in more than 40 shades, including The Rose Soak and The Rose Oil—formulated with rose flower oil and vitamin E.
According to the brand, its DTC revenue increased by 151% in 2020. Its products are available at Target. Tenoverten also owns salons in New York City that offer nail care services, including a new Central Park location.
Nadine Abramcyk, co-founder of Tenoverten, says, "At Tenoverten, we have always believed in better, which was the impetus for us to start our non-toxic nail salon business back in 2010 and pioneer that category. Now, over a decade later, there is an exciting opportunity to bring a wider range of consumers better nail, hand and foot care products made from ingredients that are both healthy and effective."