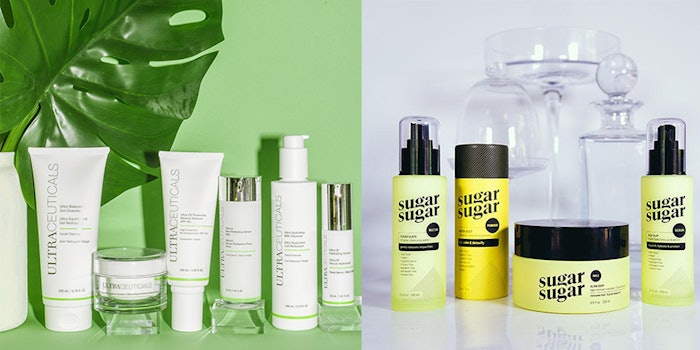 Sugar Sugar has launched with an at-home, reusable, sugaring hair removal product, while Qür has launched with a line of lip balms. In addition, Ultraceuticals Skincare has announced its U.S. launch.
Related: Hero Cosmetics Announces Investment and Product Launches
The Sugar Sugar Wax Collection debuted with four products: 
Clean Slate–Micellar Cleansing Water: This incredibly gentle formula removes impurities, removes makeup and aids in the prevention of breakouts. It can be used to balance the moisture and pH level of the skin is critical for sugaring prep. 

Detox Dust–Moisture Absorbing Powder: This powder helps keep moisture and sweat toxins at bay. Packaged in a recyclable paper shaker, this talc-free powder contains kaolin clay powder, baking soda, tapioca starch, chamomile flower powder, as well as lime, grapefruit, bergamot and frankincense pure essential oils. 

Glow Goop–Sugar Hair Remover and Exfoliant: A sugar wax made of three natural food-grade ingredients: cane sugar, water and lemon juice. The formula adheres only to dead cells, which make up hair, fuzz and dead skin. 

Silk Slip–Face and Body Serum: This triple hyaluronic acid serum was created for use on both the face and body. This finishing product provides a nourishing barrier to moisturize and protect freshly waxed skin.
All Sugar Sugar products are packaged in 100% recyclable packaging, leaving behind zero carbon footprint. 
Sugar Sugar Wax founder, Salome Sallehy, said,  "It all started in Australia while I was traveling with my family and met my Sugar Guru who would ultimately change my life. This woman showed me that one doesn't have to suffer through painful waxing, and that there was a safe, natural, and gentle way to get rid of unwanted hair-sugaring!  During my travels, I learned sugaring is as much of an art, as it is a science, and I not only became empowered by it but determined to pay it forward."
Qür debuted with two types of lip balms. The products are formulated with shea butter, almond oil, jojoba oil and coconut oil, and feature SPF 15 defense. They are also free of parabens, PEGs, phthalates, silicones and sulfates, and are not animal-tested.
The brand has launched with:
360: This patented 360 lip balm has a smooth rounded shape, flat profile, and slide mechanism. With no cap or twisting necessary. It is available in two different flavor duo packs including Balance, a sweet citrus, and Journey, a sweet vanilla, or Shine, lemon verbena, and Marine, a mint crisp. 

Clip Balm: Designed for on-the-go, this balm clips to a belt, purse, backpack or yoga pants. It is available in two different flavor duo packs, including Clarity, fresh mint, and Uplugged, rose, or Uplift, cherry vanilla and Rise + Grind, lemon coconut. 
Qür head honcho, Giselle Kaplan, said, "It's a very different world and by examining and understanding today's consumer we were able to differentiate our collection by developing a lineup that offers a better user experience,"
Finally, the Australian skin care brand, Ultraceuticals Skincare, has announced it will be available in the United States, making it available in five countries, including Australia, New Zealand, Russia and Ireland. 
Under the leadership of Karen Wilkin-Donachie, CEO and beauty industry veteran in the United States, Ultraceuticals has assembled a nationwide team of U.S. distributors that will carry and circulate the product range in the medi-spa and salon/spa channels. Ultraceuticals will also be available direct to consumer through its website.
Wilkin-Donachie said, "We operate an omni-channel business model which means our relationships are the most important aspect of our business. True partnership is the cornerstone of our mission - including our relationship with the consumer, esthetician, and distributors."
Ingredients (Detox Dust–Moisture Absorbing Powder): Kaolin Clay Powder, Sodium Bicarbonate (Baking Soda), Manihot Utilissima Starch (Tapioca Starch), Chamomile Flower Powder, Pure Essential Oils of Lime, Grapefruit, Bergamot and Frankincense.