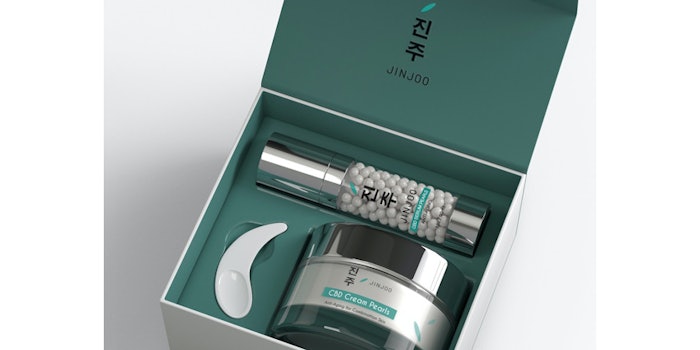 Jinjoo Labs, Inc. has announced its new skin care line that combines Korean skin care ingredients and cosmetics technology with cannabidiol, or CBD.
Previously: Vital You CBD Mists Tone, Hydrate Skin with Aromatherapy
Jinjoo has exclusive rights to use South Korean cosmetics manufacturer Korea Particle Technology's (KPT) patented "pearls" to deliver CBD and enhance the delivery of rice germ, honey and purslane.
In addition to internal testing at KPT and Jinjoo Labs, the new products were also tested at the Miami Skin Institute in Florida.
Jinjoo products will begin shipping in August. The startup company is taking preorders.
Rene Shin, founder of Jinjoo Labs, said: "Korean beauty is defined by luminous skin, so the women there are extremely knowledgeable and downright obsessive about what they put on their skin. Korean women's willingness to try new products fuel competition among skin care manufacturers, so innovation is the norm."
She continued, "KPT was originally founded to apply pharmaceutical techniques to the production of cosmetic ingredients at about the same time that we were learning about the medicinal benefits of CBD, which made them the perfect partner. If you think about why certain medications absorb better into your body, KPT developed similar techniques so creams and lotions absorb better into the skin, making it much more effective. I'm thrilled that we now have exclusive rights to their patented pearl technology to use for CBD skin care."
Marja Vongerichten, Jinjoo's spokesperson and chief brand advocate, said: "Rene and I have been friends for years. We've got that Korean connection going on.I have sensitive skin, and I love that Jinjoo uses so many natural ingredients. Jinjoo looks and feels like it's improved the texture and appearance of my skin. It's why I'm happy to promote the brand."