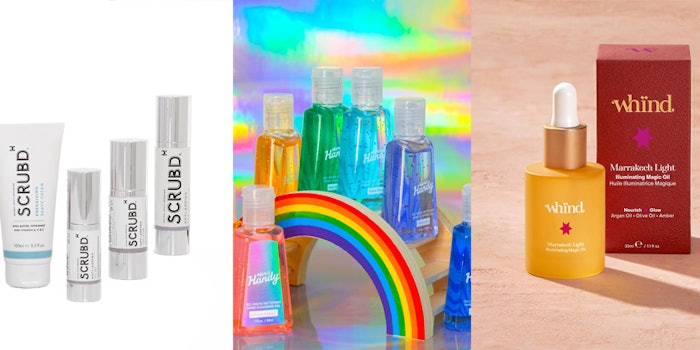 Numerous brands have announced new skin care, hair care and personal care launches, including ElastinTech, Aveda, Item Beauty and Merci Handy. Scrubd and Kana Skincare have also announced retail expansions.
Related: New Launch Roundup: Skin, Hair and Body Care
ElastinTech
ElastinTech Inc. has announced the launch of its Neolastin line of anti-aging skin care products.
Developed with a team of scientists from Clemson University, Neolastin products are powered by Nuflex Technology, a scientifically proven blend of ingredients including elastin, collagen and hyaluronic acid.The technology works by stimulating elastin and collagen while hyaluronic acid attracts and infuses the skin with moisture.
The three-step skin care system includes the Face and Neck Regenerative Serum, the Revitalize and Firm Eye Cream, and the Rejuvenate and Hydrate Moisturizing Cream. 
Vincent Sordello, CEO of ElastinTech Inc., said, "Our goal was to create a truly revolutionary anti-aging skincare that brings disruptive technology and innovation to the personal care marketplace. We are passionate about empowering women to be the best possible version of themselves. The Neolastin products are the culmination of our vigorous pursuit of the most innovative ingredients and breakthrough formulations that are optimized to complement the modern woman's lifestyle and make her look as youthful on the outside as she feels on the inside."
Aveda
Aveda has launched its limited-edition Shampure Nurturing Shampoo Bar. 
The shampoo bar is 94% naturally derived* and is said to provide weightless, long-lasting nourishment while infusing hair with its signature Shampure aroma. 
*From plants, non-petroleum minerals or water.
Item Beauty
Item Beauty, co-founded by Tik Tok star and actress Addison Rae, has announced the brand's entrance into skin care. 
Item Beauty's skin care formulas are free of synthetic fragrance, sulfates, parabens, phthalates and mineral oil.
The collection features four products:
Fast Pass: AHA Gel Cleanser: This gentle, skin-balancing cleanser removes daily grime. It is made with botanical extracts like aloe leaf and cabbage rose flower, a blend of natural AHAs and sodium hyaluronate.

Slick Type: Replenishing Cleansing Balm and Makeup Melter: This cleansing balm melts away makeup and dirt without stripping skin. It is enriched with natural emollients including olive fruit oil, grape seed oil and rosehip oil. 

Lite Sauce: Balancing Gel Moisturizer: This gel moisturizer hydrates and balances skin with glycerin, tiger grass extract, murumuru butter and ceramides.

Overdew: Xtra Intensive Moisturizer: This moisturizer hydrates with tiger grass extract, argan oil, murumuru butter and magnolia berry.
Addison Rae said, "When I moved to Los Angeles from Louisiana, my entire attitude about skin care changed. I went from a super humid environment to a drier climate, which forced my entire skin care routine to change. I tried a lot of products and did so much research–I was struggling to find the perfect products. When I launched Item, I knew that I wanted it to expand into skin care so we could create products that were effective, clean and easy to use. Makeup and skin care go hand in hand in my mind. My goal with our debut skin care line was to make it a great first step for young people and easy to use, starting with cleansers and moisturizers for all types of skins."
Whind
A new skin care brand, Whind, has launched with two facial products. 
The brand is PETA-certified, cruelty-free, and has either vegan or vegetarian credentials for products. It is also certified carbon-neutral, uses biodegradable ingredients, and plans to get to 100% recyclable or recycled materials across all of its packaging.
Whind's product launches include:
Marrakech Light Illuminating Magic Oil: A face oil infused with its blend of nine sun oils: argan, desert date, olive, jojoba, sweet almond, apricot, prickly pear, meadowfoam and Crambe abyssinica. 


Sahara Silk Vanishing Cream Exfoliator: A non-abrasive exfoliant mask enriched with its signature Mirage Enzyme Complex (pomegranate enzymes, rhassoul clay and rice bran), combined with nourishing argan and prickly pear oils.
Merci Handy
Merci Handy has teamed up with LGBTQ+ youth organization, It Gets Better Project, to launch the Merci Handy Rainbowtiful set. 
A portion of sales from this co-branded set will be donated to supporting the organization's efforts to grow its community and empowering LGBTQ+ youth.
The set will feature eight colorful hand sanitizers made with 98% natural ingredients like aloe vera. This includes:
Namaste: A clean fragrance with neroli flower and both soft and musky notes. 

Flower Power: A combination of fruits and lily of the valley, enveloped by musk notes. 

Coco Rico: Sweet coconut with notes of marshmallow and white flowers.

Dolce Vita: A light and feminine scent with sensual musk, orange blossom and neroli facets.

Hello Sunshine: A sensual monoi with vanilla touches. 

Into The Wild: A refreshing and fruity green tea accord.

Chérie Cherry: The scent of cherry blossoms is highlighted with tangerine and violet flower notes. 

Mystic Fruits: A fruity and gourmet vanilla and caramel notes. 
Louis Marty, Merci Handy co-founder and CEO, said, "At Merci Handy, we encourage an inclusive community that expresses their individuality and brings the colors of the rainbow to their everyday life. With the set's success in France, it was a natural choice to launch it in the United States, but we wanted to share the success with a deserving organization that shares Merci Handy's core-values. It Gets Better Project's mission is one that we wholeheartedly support and are proud to align with for our first United States collaboration."
Scrubd
Scrubd, a men's grooming brand, has appointed strategic retail property consultancy Harper Dennis Hobbs (HDH) to support the global launch of its sustainable cosmetics products into the travel retail sector.
Following the launch of its wholesale distribution channel, HDH's travel retail team will assist the expansion of Scrubd to new travel and duty-free audiences, including airports, luxury cruise ships and international train stations.
All of Scrubd's ingredients are sourced from environmentally friendly and sustainable sources.
Darren Williams, executive chairman of Scrubd, said, "We are thrilled to be launching our products into the travel retail sector with HDH. There is a gap in the market for sustainable, effective, and natural products designed specifically for men's skin. We're confident that our much-loved vegan soap blocks and Energising and Anti-aging ranges will be a huge hit with travellers of all ages."
Simon Black, executive managing director at HDH Travel Retail, said "We are delighted to be working with Scrubd to promote the launch of this fantastic brand into the global travel retail sector. More brands are seeing the significant benefits of a presence in travel retail, which offers vast expansion opportunities. Our wholesale distribution channel offers brands a complete solution to enter a sector that may not have considered previously. We are all looking forward to travelling when restrictions are lifted, and Scrubd's products are perfectly aligned to a growing, environmentally-focused demographic of customers that will be eager to explore the globe once again."
Kana Skincare
Arrive Market, an online marketplace for lab-tested cannabidiol (CBD) products, has announced that Kana Skincare will be joining its marketplace.
Kana creates clean, high-performance skin care products harnessing the power of K-Beauty, aromatherapy, and CBD.
Its offerings on Arrive Market include: EGF Active Botanical Essence, Lavender Sleeping Mask, LIT Premium Facial Oil and Purple Rice Sleeping Mask.
Emily Lee, co-founder and director of marketing for Arrive Market, said, "We started Arrive Market to establish a curated selection of brands to help consumers easily discover the highest-quality, lab-tested CBD products on the market. Our mission is to demystify the CBD space, making it easy for anyone interested in CBD to easily find high-quality options based on their personal needs. For someone who has never tried CBD before it can be overwhelming to figure out where to start. Kana Skincare's award-winning, spa-grade, clean beauty line is a perfect entry point for those looking to add the benefits of CBD to their skincare routines. We're thrilled to welcome them to the Arrive marketplace knowing their standards for premium ingredients, quality and efficacy align perfectly with our values."