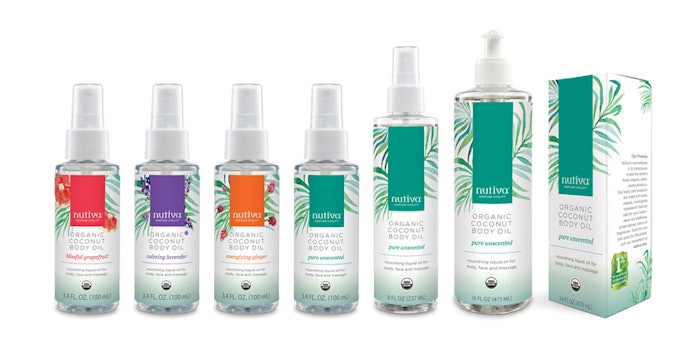 Nutiva, known for its organic superfoods, has launched its first-ever body care line, Organic Coconut Body Oils. 
The line comprises four moisturizers formulated to hydrate skin and give users a healthy glow. Additionally, the products can be used as a make-up remover or massage oil. The new body oils, retailing for $19.99, are non-toxic and free of harmful fillers, including parabens, hexane, petroleum, pesticides, phthalates, artificial dyes, propylene and butylene glycol, sodium lauryl sulfates and synthetic fragrances.
Products include:
Calming Lavender—Organic liquid coconut oil infused with organic lavender essential oils.
Blissful Grapefruit—Organic liquid coconut oil and organic grapefruit essential oils.
Energizing Ginger—Organic liquid coconut oil infused with organic ginger essential oils.
Pure Unscented—Crafted with organic liquid coconut oil.
Steven Naccarato, CEO of Nutiva, said, "Many consumers have already cleaned up their diets and are looking to their skin next, as we see an increasing demand for body care products made without any synthetic ingredients or toxins. People are realizing that what they put on their body is just as important as what they put in it, and with the skin being the body's largest organ, it's vital to be aware of the ingredients used in beauty products, too. Our new Organic Coconut Body Oils are crafted with one to three simple ingredients and contain no harmful fillers or additives. We know many consumers have been using our coconut oils in their beauty routines for years, so creating a line specifically targeting body care needs was a natural evolution for us. We're excited to provide consumers with natural, efficacious solutions for healthy living from both the inside and out."