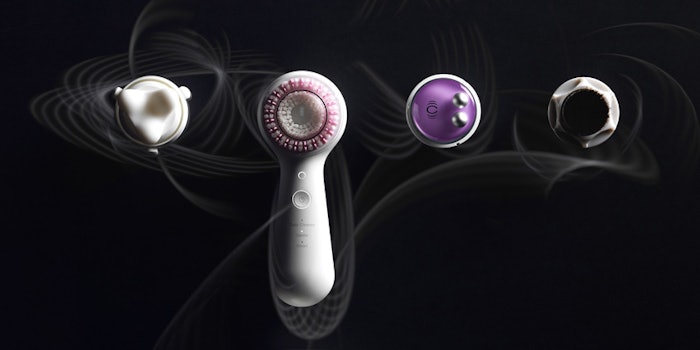 The past few years have been positive for the beauty device market, both in the U.S. and abroad. 
Amidst the steady market growth, Clarisonic launched two new devices—the Mia Smart and Mia Prima.
Mia Smart
The device was designed to compliment all 

face shapes, contours and hand sizes;

The device utilizes mobile app

 connectivity via Bluetooth, "for a truly personalized experience";

The device's three programs include 

Daily Cleanse Mode, Gentle Cleanse Mode and Smart Mode featuring customizable cleansing, firming, eye massage and makeup application protocols;

The device gives users the option of Soft Start Mode, meant to provide 

easy acclimation by starting all cleansing modes at 80% power on the first use and gradually climbing to full power after two weeks;

The device works with the new Sonic Awakening Eye Massager Brush Head, "which runs at the optimal anti-aging frequency to boost micro-circulation and improve smoothness and luminosity around and under the eyes"; and

The device utilizes a 

LED light to indicate which mode is active.
Mia Prima
The device was created "

for daily cleansing with a simplistic, effective approach," according to Clarisonic;

The device's single 60-second Daily Cleanse Mode is reportedly suitable for all skin types via a one-button control;

The device's waterproof handle is meant for all face shapes, contours and hand sizes;
The device also utilizes Soft Start Mode; and
Clarisonic has upgraded its Radiance Brush Head and Sensitive Brush Head with a new shape and design. Both new cleansing brush heads feature a timestrip notification to let users know when it's time to replace their brush heads.