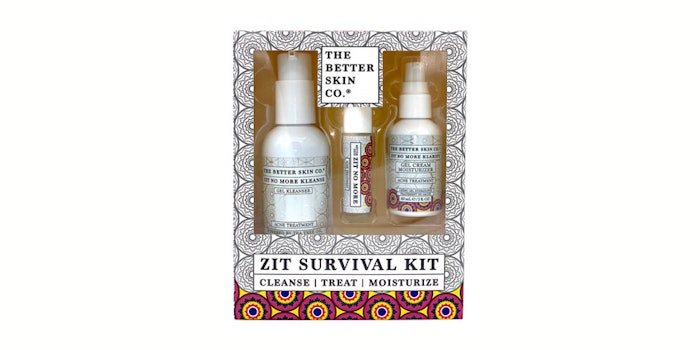 The Better Skin Co. has created a kit for consumers suffering from acne. 
The Zit Survival Kit works to treat, clear and help maintain a blemish-free complexion in a three-step system. This kit includes three products formulated to help clear the skin of acne and blemishes.
Products In this Collection
Zit No More Kleanse: A daily cleansing gel that uses salicylic acid, tea tree oil and kombucha to target and clear acne-causing bacteria while helping with dryness and uneven skin tones.

Zit No More: A solution that combines tea tree oil with essential oils to target and clear the skin of blemishes while being packaged in a roller ball tube.
Zit No More Klarify Moisturizer: A lightweight gel-cream moisturizer that hydrates the skin while providing skin-clearing and clarifying properties.