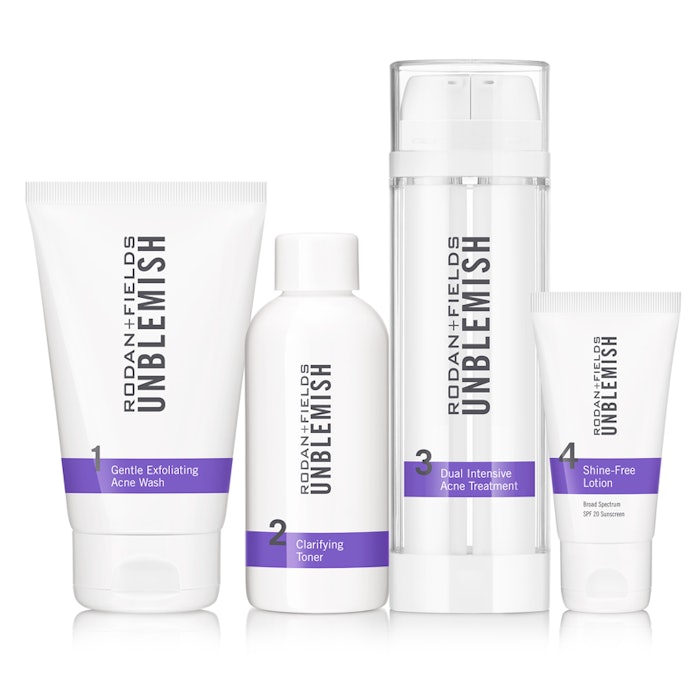 Rodan + Fields has announced the launch of its new Spotless and Unblemish Regimens. 
The Spotless Regimen is a two-step skin care system meant to target the entire acne cycle for teens and young adults. 
How Spotless Works
Step One: The user begins the system by using Spotless Daily Acne Wash, meant to exfoliate for a deep clean to help eliminate breakouts. Key ingredients include 5% benzoyl peroxide, jojoba beads and glycerin.
Step Two: The user applies the Spotless Acne Clearing Treatment, which utilizes a new BPO2 Technology meant to deliver more oxygen and benzoyl peroxide to the pores. The treatment employs a dual-chamber delivery system containing 2.5% benzoyl peroxide along with the company's boosting gel. The gel reportedly acts as a benzoyl peroxide solubilizer and releases the maximum benzoyl peroxide while promoting an increase of oxygen at the skin's surface to neutralize acne bacteria. Key ingredients include blueberry and ginger extracts. 
Spotless will be available mid-February 2019 and will retail for $89.
The Unblemish Regimen was formulated to address the adult acne cycle while also fighting visible signs of aging. 
How Unblemish Works
Step One: The user applies the Unblemish Gentle Exfoliating Acne Wash meant to prevent clogged pores and clear blemishes. Key ingredients include beta-hydroxy acid active salicylic acid and colloidal sulfur.
Step Two: The Unblemish Clarifying Toner is applied to exfoliate dead skin, clear pores and brighten skin tone. Key ingredients include alpha-hydroxy acids, hyaluronic acid, green tea extract, witch hazel and aloe vera. 
Step Three: The user then applies the Unblemish Dual Intensive Acne Treatment, which helps clear and prevents blemishes via a dual-chamber system that delivers 2.5% benzoyl peroxide. 
Step Four: The Unblemish Shine-free Lotion Broad Spectrum SPF 20 Sunscreen is a mattifying, shine-free formula that helps to reduce the appearance of oiliness. In addition to combating UVA and UVB rays, it was created to brighten the skin for a smoother, healthier-looking complexion.
 Unblemish will be available in February 2019 and will retail for $186.